Pendekatan Analisis Manajemen Kebijakan Dalam Pengelolaan Limbah Rumah Sakit
Muhammad Fais Satrianegara




(ID)
Abstract
Rumah sakit sebagai upaya penunjang pembangunan dalam bidang kesehatan merupakan sarana pelayanan umum, tempat berkumpulnya orang sakit maupun orang sehat yang memungkinkan terjadinya pencemaran lingkungan, gangguan kesehatan dan dapat menjadi tempat penularan penyakit.
Kata Kunci : policy analysis,  dampak limbah RS, limbah infeksious, Resiko Limbah B3
References
Agustiani E, Slamet A, Winarni D (1998). Penambahan PAC pada proses lumpur aktif untuk pengolahan air limbah rumah sakit: laporan penelitian. Surabaya: Fakultas Teknik IndustriInstitut Teknologi Sepuluh Nopember
Akter, N. (2000). "Medical waste management: a review." Asian Institute of Technology, School of Environment, Resources and Development, Thailand.
Akers (1993). Paperboard hospital waste container. United States Patent : 5,240,176 Arthono A (2000). Perencanaan pengolahan limbah cair untuk rumah sakit dengan metode lumpur aktif. Media ISTA : 3 (2) 2000: 15-8
Askarian, M., M. Vakili, et al. (2004). "Results of a hospital waste survey in private hospitals in Fars province, Iran." Waste Management 24(4): 347-352.
Barlin (1995). Analisis dan evaluasi hukum tentang pencemaran akibat limbah rumah sakit Jakarta :Badan Pembinaan Hukum Nasional
Da Silva, C., A. Hoppe, et al. (2005). "Medical wastes management in the south of Brazil." Waste Management 25(6): 600-605.
Elgitait, Y., I. Gee, et al. Staff Perception And Hospital Practices Towards Recycling Of Hospital Waste In North West Hospitals
Manyele, S. (2004). "Effects of improper hospital-waste management on occupational health and safety." African newsletter on occupational health and safety 14(2): 30-33.
Mohee, R. (2005). "Medical wastes characterisation in healthcare institutions in Mauritius." Waste Management 25(6): 575-581.
Rushton, L. (2003). "Health hazards and waste management." British medical bulletin 68(1): 183.
Rutala, W. A. and C. G. Mayhall (1992). "Medical waste." Infection Control and Hospital Epidemiology 13(1): 38-48.
rumah sakit di Propinsi Jateng tahun 2002. Buletin Keslingmas
Wilson (1986). Hospital waste disposal system. United States Patent : 4,618,103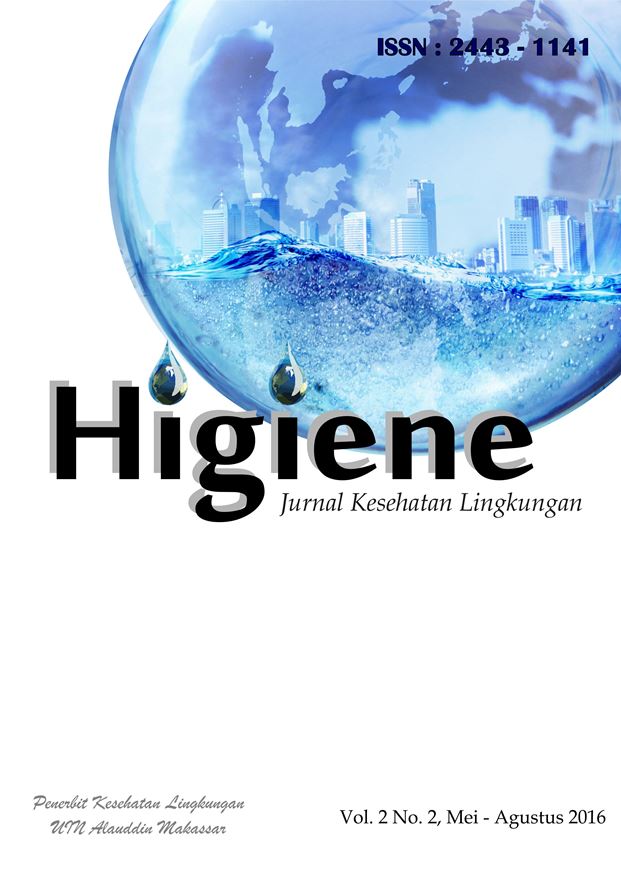 How to Cite

Satrianegara, M. F. (2016). Pendekatan Analisis Manajemen Kebijakan Dalam Pengelolaan Limbah Rumah Sakit. HIGIENE: Jurnal Kesehatan Lingkungan, 2(2), 62-66. Retrieved from https://journal.uin-alauddin.ac.id/index.php/higiene/article/view/1810

Abstract viewed = 841 times