Efektivitas Larvasida Ekstrak Kulit Pisang Raja (Musa paradisiaca var. Raja) Terhadap Larva Aedes sp. Instar III
Siti Arnis Nurhidayah Jamal




(ID)

Andi Susilawaty




(ID)

Azriful Azriful




(ID)
Abstract
Various ways could be implemented to prevent or minimize the dengue fever's transmission, one of which is the vector's life cycle breakoff using pesticides and biological control. In concern of the relatively severe of the impact caused by the use of synthetic pesticides, the application of natural ingredients, such as botanical pesticides, is a wise choice. It is a low-to-no severe effect to the environment and relatively safe for humans and animals. This study aimed to investigate the effectiveness of larvicide derived from plantain peel's extract (Musa sapientum) against L3 larvae of Aedes sp. This study was a quantitative study, performing an experimental approach using a post-test control group design. An amount of 600 larvae were employed, then taken by using purposive sampling technique.The results were analyzed using SPSS for windows 21. The first test was the data normalization, obtained p>0.05 which means data were normally distributed, then was Pearson correlation test, obtained significant value 0.000 <0.05 which means the significant correlations, and the Pearson correlation coefficient of 0.987, very close to 1, which means a strong relationship between variables. The probit regression analysis then performed with the results of  0,516 for LC50 and 0,815 for LC90. Further study is needed to determine the active compound contained in the plantain peel's extract (Musa sapientum) that plays the most as larvicides.
Keywords: Effectiveness, plantain peel's extract, larvae of Aedes sp.
References
Adifian. 2013. "Kemampuan Adaptasi Nyamuk Aedes aegypti dan Aedes albopictus dalam Berkembang Biak Berdasarkan Jenis Air". http://repository.unhas.ac.id/bitstream/handle/123456789/5532/jurnal.pdf?sequence=1. Diakses pada tanggal 12 Desember 2014
Arivia, Shella. 2013. Efek Larvasida Ekstrak Daun Lidah Buaya (Aloe vera) Terhadap Larva Aedes aegypti Instar III. Diakes pada tanggal 9 Desember 2014 dari http://www.google.com/url?sa=t&rct=j&q=&esrc=s&source=web&cd=1&ved=0CCcQFjAA&url=http%3A%2F%2Fjuke.kedokteran.unila.ac.id
Ayuningtyas, Eka Devia. 2013. "Perbedaan Keberadaan Jentik Aedes Aegypti Berdasarkan Karakteristik Kontainer Di Daerah Endemis Demam Berdarah Dengue (Studi Kasus Di Kelurahan Bangetayu Wetan Kota Semarang Tahun 2013". Skripsi. Semarang: Fakultas Ilmu Keolahragaan.
Baskar. R., Shrisakhti, S., Sathyapriya, B., Shyampriya, R., Nithya, R and Poongodi, P, 2011. Antioxidant Potential of Peel Extracts of Banana Varieties (Musa paradisaca). Journal Food and Nutrition Sciences. India: Department of Biotechnology Kumaraguru Collage of Technology.
Buletin Jendela Epidemiologi. 2010. Manajemen Demam Berdarah Berbasis Wilayah vol 2. Pusat Data dan Surveilans Epidemiologi Kementerian Kesehatan RI.
Dinas Kesehatan Kota Makassar. 2013. Profil Kesehatan Dinas Kesehatan Kota Makassar.
Haditomo, Indriantoro. 2010. "Efek Larvasida Ekstrak Daun Cengkeh (Syzigium aromaticum L.) Terhadap Aedes aegypti". Skripsi. Surakarta: Fakultas Kedokteran Universitas Sebelas Maret.
Humairani, R. 2007. "Antioxidant Kulit Pisang (Musa paradisiaca) pada Minyak Ikan Terhadap Stabilitas Oksidasi dengan Katalis Panas dan Cahaya. Skripsi. Bogor: Institut Pertanian Bogor.
Nugroho, A. 2013. "Pengaruh Ekstrak Buah mahkota Dewa (Phaleriam acrocarpa) Terhadap Kematian Larva Aedes aegypti Instar III".. Diakses pada tanggal 12 Desember 2014 dari http://digilib.unila.ac.id/2315/
Prijadi, Dio K. 2014. "Uji Efektifitas Ekstrak Daun JerukNipis (Citrus aurantifolia) dalam Menghambat Pertumbuhan Larva Aedes sp.". Diakses pada tanggal 11 Desember 2014.
Rita, Endah. 2009. "Pemanfaatan Cymbopogon nardus Sebagai Larvasida Aedes aegypti". Jurnal Kesehatan. Semarang : Fakultas Matematika dan Ilmu Pengetahuan Alam Universitas Diponegoro.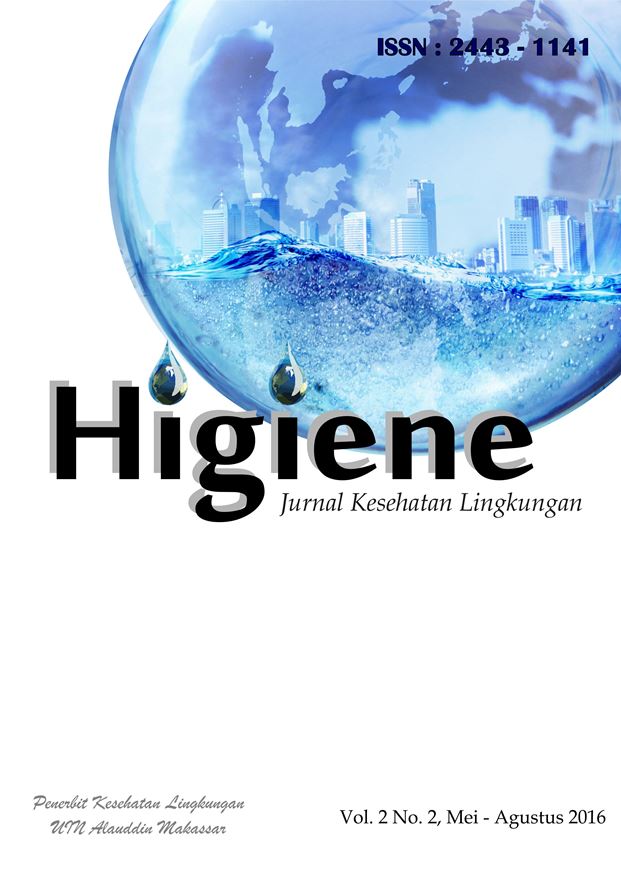 How to Cite

Jamal, S. A. N., Susilawaty, A., & Azriful, A. (2016). Efektivitas Larvasida Ekstrak Kulit Pisang Raja (Musa paradisiaca var. Raja) Terhadap Larva Aedes sp. Instar III. HIGIENE: Jurnal Kesehatan Lingkungan, 2(2), 67-73. Retrieved from https://journal.uin-alauddin.ac.id/index.php/higiene/article/view/1812

Abstract viewed = 1124 times