Tingginya Kadar Karboksihemoglobin (COHb), Hemoglobin (Hb), dan Hematokrit pada Montir Bengkel Motor di Kota Makassar
Pratiwi Pratiwi

Universitas Megarezky




(ID)

Nirmawati Anggria

Universitas Megarezky




(ID)

Irwandi Rachman

Universitas Megarezky




(ID)
Abstract
Carbon monoxide (CO) is a gas that is poisonous. Carbon monoxide (CO) gas when it is in the blood can bind to hemoglobin because of the strong binding power of about 200 - 300 times compared to oxygen so that it forms a Carboxyhemoglobin (COHb) reaction which results in a decrease in the supply of oxygen for the body and accelerates the erythropoetic process which will increase the production of concentration hemoglobin and hematocrit. Mechanics are one of the most risky jobs due to exhaust emissions produced by motorized vehicles. The purpose of this study was to determine carboxyhemoglobin (COHb) levels, hemoglobin levels and hematocrit levels in the blood of a motorbike repair mechanic. This type of research was a descriptive study with cross-sectional design by analyzing carboxyhemoglobin (COHb) levels, hemoglobin levels and hematocrit levels of 30 motorbike repair mechanics work Manggala District, Makassar City. The spectrophotometric method was used to check the carboxyhemoglobin (COHb) level, while the hemoglobin test used the cyanmethemoglobin method and the hematocrit level examination used the hematocrit macrometode. From the results of laboratory tests, the carboxyhemoglobin (COHb) levels of all samples showed an increase (100.0%), while the hemoglobin and hematocrit levels showed 17 samples (56.7%) were normal and 13 samples (43.3%) increased. The results of the study, it was found that 13 samples had increased levels of carboxyhemoglobin (COHb), hemoglobin and hematocrit, indicating that the mechanic could indicate secondary polycythemia.
References
Basri, S., Mallapiang, F., Ibrahim, I. A., Ibrahim, H., & Basri, S. (2017). Gambaran konsentrasi karbon monoksida dalam darah (COHb) pada mekanik general repair servis dan suku cadang dealer otomotif Makassar. Higiene, 3(3), 177–184.
Hazsya, M., Nurjazuli, & Lanang, H. (2018). Hubungan konsentrasi karbon monoksida (CO) dan faktor-faktor resiko dengan konsentrasi COHb dalam darah pada masyarakat beresiko di sepanjang Jalan Setiabudi Semarang. Jurnal Kesehatan Masyarakat, 6(6), 241–250.
Ischorina, Suliati, & Suprabawati, O. D. (2016). Hubungan kadar karboksihemoglonin (Hb-CO) terhadap kadar hemoglobin (Hb) dan kadar hematokrik (PCV) pada perokok aktif. In Analis Kesehatan Sains, 5(2), 380–387.
Ismiyati., Marlita, D., & Saidah D. (2014). Pencemaran Udara Akibat Emisi Gas Buang Kendaraan Bermotor. Jurnal Manajemen Tranportasi & Logistik, 1(3), 241-248
Kurniawan, F. B. (2016). Hematologi praktikum analis kesehatan. EGC.
Lagu, A. M. H., Sahani, W., & Hayat, F. (2010). Studi konsentrasi CO udara & COHb dalam darah petugas parkir indoor MTC Makassar [Universitas Islam Negeri Alauddin Makassar]
Mahmudah, A. R. (2010). Pengetahuan, sikap, dan tindakan supir angkutan kota Medan trayek Martubung-Amplas tentang pentingnya uji emisi kendaraan bermotor di Medan Tahun 2010 [Universitas Sumatera Utara Medan]
Mukono, H. J. (2011). Aspek kesehatan pencemaran udara. Airlangga University Press.
Muzayyid. (2014). Studi konsentrasi kadar karbon monoksida (CO) di Jalan A. P Pettarani Kota Makassar [Universitas Islam Negeri Alauddin]
WHO. (2010). WHO guidelines for indoor air quality: selected pollutants. WHO Regional Office for Europe.
WHO. (2017). Cardiovascular diseases (CVDs). World Health Organization. https://www.who.int/news-room/fact-sheets/detail/cardiovascular diseases-(cvds)
Wicaksono, R. R. (2017). Faktor yang berhubungan dengan kadar COHb pada petugas parkir plaza X Surabaya. Jurnal Enviscience, 1(1), 1–12.
Yazidah, I., Handini, M., & Andriani. (2019). Hubungan lama kerja dan kadar karboksihemoglobin dalam darah pekerja laki-laki pada bengkel kendaraan bermotor di Kota Pontianak. Jurnal Kesehatan Khatulistiwa, 5(1), 726–734.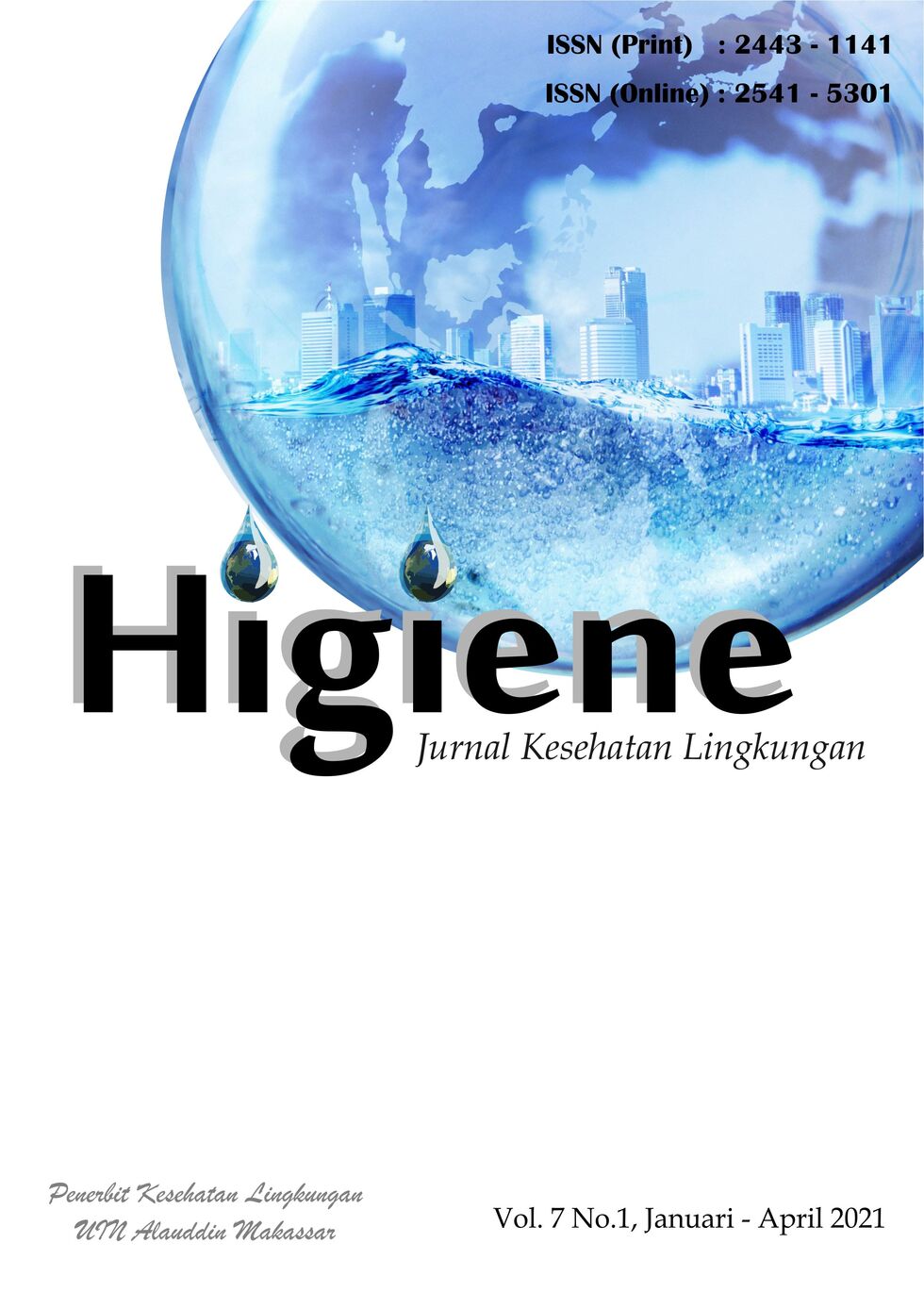 How to Cite
Pratiwi, P., Anggria, N., & Rachman, I. (2021). Tingginya Kadar Karboksihemoglobin (COHb), Hemoglobin (Hb), dan Hematokrit pada Montir Bengkel Motor di Kota Makassar. HIGIENE: Jurnal Kesehatan Lingkungan, 7(1), 11-16. Retrieved from https://journal.uin-alauddin.ac.id/index.php/higiene/article/view/18491
Copyright (c) 2021 HIGIENE: Jurnal Kesehatan Lingkungan
This work is licensed under a Creative Commons Attribution 4.0 International License.

Abstract viewed = 392 times