Pengaruh Program Promosi Intervensi Cuci Tangan Pakai Sabun Terhadap Pengetahuan Siswa di Sekolah Dasar Jakarta
Lusi Endah Yuliani

Universitas Esa Unggul




(ID)

Devi Angeliana Kusumaningtiar

Universitas Esa Unggul




(ID)

http://orcid.org/0000-0002-6059-087X

CSP Wekadigunawan

Universitas Esa Unggul




(ID)
Abstract
Hand washing with soap is one of the sanitation measures by cleaning the hands and fingers using water and soap by humans to be clean and break the chain of germs. Washing hands with soap is also an effort to prevent disease.This study aims to analyze effect of hand washing with soap intervention promotion program on students' knowledge in jakarta elemntary schools. This type of research is quantitative using experimental research with one group pre-post test design. The sample in this study class V elementary Schools, amounting to 37 students. Data is collected by using a questionnaire. Counseling given by video and song washing media using hand soap. The statistical test used in this study is Wilcoxon. Based on the results it is known that there are significant differences between the value of prior knowledge and the value of knowledge after health promotion interventions. The difference in students' knowledge about washing hands with soap before and after the health promotion intervention was seen from an increase in score of 4.72 or an average difference of -4.714 with a p value of 0,000. There is an increase in the average number of respondents after receiving the educational instruction on washing hands with soap.
Keywords : Hand washing, Knowledge, Health Promotion, Intervention
References
Amalia, R. N. (2011). Pemanfaatan Video Mencuci Tangan Dalam Meningkatkan Motivasi dan Praktik Mencuci Tangan Pada Anak Usia Sekolah Dasar.
Depkes. (2014). infodatin-ctps.pdf (p. 8). p. 8.
Depkes, 2009. (2009). Undang Undang Republik Indonesia Nomer 36 Tahun 2009 Tentang Kesehatan. 111.
Dinkes Prov.DKI. (2016). Profil Kesehatan Provinsi DKI Jakarta. 132.
Ganda, S. (2015). Tingkat Pengetahuan Tentang Kesehatan Pribadi Siswa Kelas Atas SDN 2 Sokawera Kecamatan Patikraja Kabupaten Banyumas. 83.
Garg, A., Taneja, D. K., Badhan, S. K., & Ingle, G. K. (2013). Effect of a school-based hand washing promotion program on knowledge and hand washing behavior of girl students in a middle school of Delhi. Indian Journal of Public Health, 57(2), 109–112. https://doi.org/10.4103/0019-557X.115009
Kemdikbud. (2019). Hari Cuci Tangan Sedunia 2019.
Kemenkes. (2016). Gerakan PHBS Sebagai Langkah Awal Menuju Peningkatan Kualitas Kesehatan Masyarakat.
Kemenkes. (2018). Hasil Utama RISKESDAS 2018. 128.
Kusumaningtiar, D. A., & Harna. (2019). Segitiga Obat Dalam Mengatasi Status Giz Kurang Pada Balita Di Posyandu Desa Jayamukti. Jurnal Kreativitas Pengabdian Kepada Masyarakat, 2, 145–156. Retrieved from 2081-5928-1-PB.pdf
Nadia, W., & Kusumaningtiar, D. (2020). Factors Associated with Diarrhea Events in Toddlers Aged 6-59 Months in Teluknaga Health Center in 2019. (November), 397–405. https://doi.org/10.5220/0009825703970405
Nasir, M. F. (2018). Pengaruh Penyuluhan CTPS Terhadap Peningkatan Pengetahuan Siswa SDN 169 Bonto Parang Kabupaten Jeneponto. 1, 1–9.
Sontina, S. (2019). Pengaruh Pendidikan Kesehatan Tentang Cuci Tangan Terhadap Tingkat Pengetaahuan Cuci Tangan Siswa/i Kels V di SDN 060971 Kemenangan Tani Kec. Medan Tuntungan Tahun 2018. 2(1).
Sunaryo. (2004). Psikologi Untuk Keperawatan. Jakarta: EGC.
UNICEF. (2019). Diarrhoeal disease.
Wawan, Dewi. (2011). Teori dan Pengukuran Pengetahuan,Sikap dan Perilaku Manusia. Yogyakarta: PT. Nuha Medika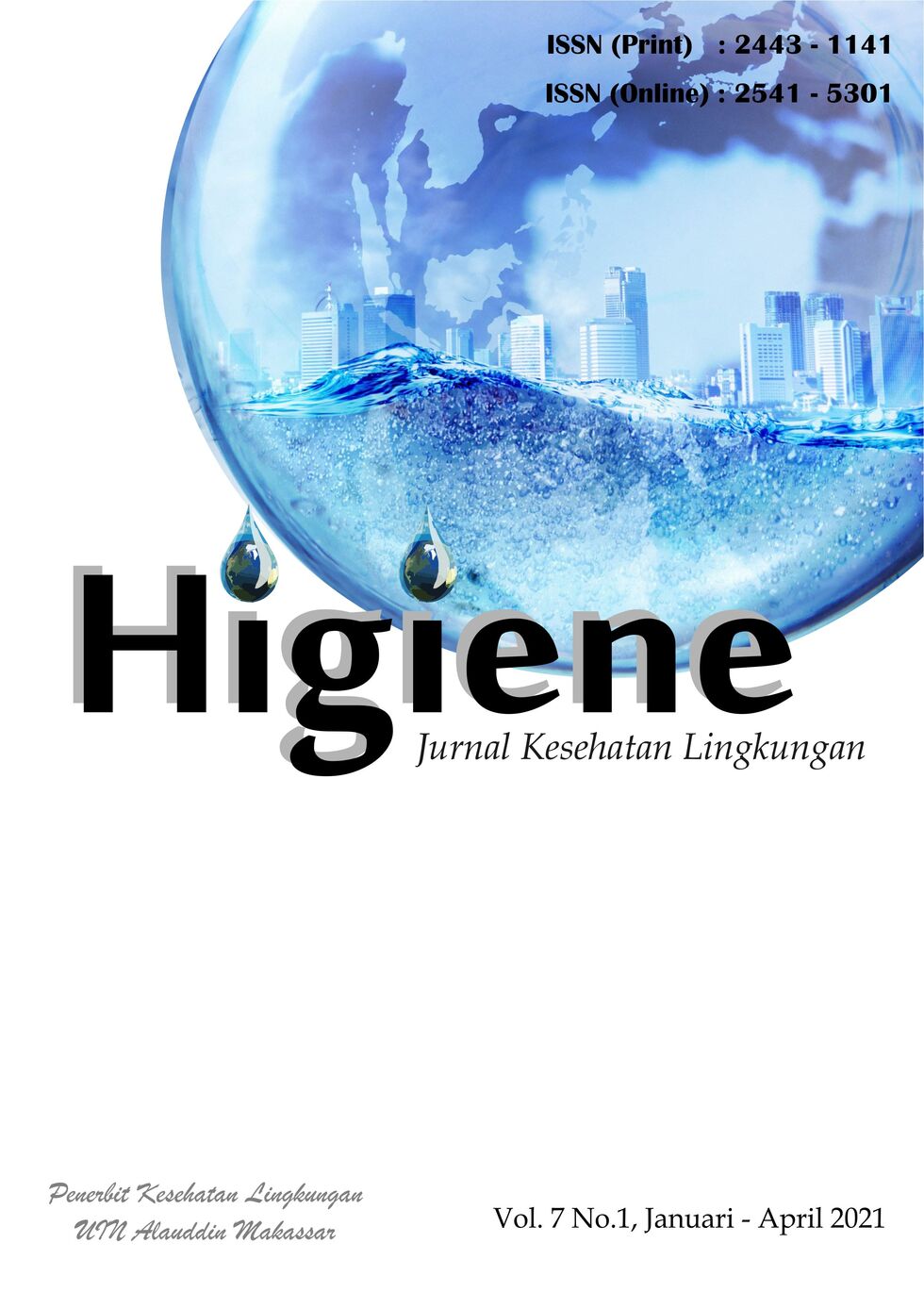 How to Cite
Yuliani, L. E., Kusumaningtiar, D. A., & Wekadigunawan, C. (2021). Pengaruh Program Promosi Intervensi Cuci Tangan Pakai Sabun Terhadap Pengetahuan Siswa di Sekolah Dasar Jakarta. HIGIENE: Jurnal Kesehatan Lingkungan, 7(1), 23-31. Retrieved from https://journal.uin-alauddin.ac.id/index.php/higiene/article/view/19338
Copyright (c) 2021 HIGIENE: Jurnal Kesehatan Lingkungan
This work is licensed under a Creative Commons Attribution 4.0 International License.

Abstract viewed = 150 times