The Effect Of Concentration Of Liquid Acid Solution And Length Of Damaging On The Lowering Of Leading Metals (Pb) In Meat Shells ( Anadara granosa) In The Coastal Area Of Makassar City
Alim Syam

Universitas Islam Negeri Alauddin Makassar




(ID)

Andi Susilawaty

Universitas Islam Negeri Alauddin Makassar




(ID)

Syarfaini Syarfaini

Universitas Islam Negeri Alauddin Makassar




(ID)

Munawir Amansyah

Universitas Islam Negeri Alauddin Makassar




(ID)
Abstract
Shellfish is one of the marine biota that is often consumed by humans. The content of lead heavy metals in Anadara granosa shellfish found in the coastal area of Makassar city is already above the threshold value. Consuming seafood such as shellfish containing heavy metals has a negative effect on humans. One effort that can be done to minimize the content of heavy metals in the body of the shell is by soaking in a solution of lime asama ( Citrus autrantifolia ). Lime acid solution is used because it contains organic compounds that have the ability as chelators (metal binders). The purpose of this study was to see the effect of lime acid solution and soaking time on the reduction of lead levels in the meat of the shellfish. This study uses a Quasi Laboratory Experimental method with a Pre and Post Test with Control Group Design research design . In this study variations in the concentration of lime acid solution used were 50%, 75%, 100% concentration, and 0% concentration as a control. While the variation of soaking time used is 15 minutes, 30 minutes and 60 minutes. The results showed that the treatment dose of 0% of lime acid solution showed a decrease in the levels of lead (Pb) the lowest, namely at the time of treatment for soaking for 60 minutes as much as 0.0467 mg / kg . Whereas the treatment dose of 100 % and soaking time for 60 minutes showed the most effective treatment in reducing lead levels in shellfish meat, which was 1,1600 mg / kg.
Keywords: Anadara granosa , Pb  , Citrus autrantifolia 
References
Alfatih, AM. (2010). Pengaruh konsentrasi larutan asam jeruk nipis dan lama perendaman terhadap penurunan kadar logam berat timbal (Pb) dalam daging kerang hijau (perna viridis). Skripsi Fakultas Kesehatan Mayarakat. Universitas Muhammadiyah Semarang .Semarang
Ambrawati, F. E., & Utami, D. F. (2017). Pengruh pemberian larutan Ekstrak Jeruk nipi terhadap pembentukan Flat Gigi
Clark D, Adam S. (2009). Landfill Biodegradation An in-dept Look at Biodegradation in Landfill Environments. Bio-tec Environmental. Albuquerque & ENSO Bottels, LLC, Phoenixp. 9-11
Dinas Kelautan Perikanan, Pertanian dan Peternakan (DKPPP). 2013. Database Wilayah Pesisir dan Pulau Kota Makassar. Makassar : CV. CiptaPersada Nusantara;
Dullah, A.A.M. 2009 Kadar Logam Berat Merkuri dan Timbal dalam Air Laut di Sepanjang Anjungan Pantai Losari Sampai Golden Hotel Makassar Tahun 2009 [Skripsi]. Makassar: Universitas Hasanuddin
Fatimah N. (2012). Efektifitas Air Perasan Bliah Jeruk Nipis (Citrus Aurantiifoiia Cristm. & Panzer Swingle) Terhadap Penurunan Kadar Logam Timbal (Pb), Cadmium (Cd), Dan Tembaga (Cu) Pada Daging Kerang Hijau (Pema Viridis L.). Fakultas Farmasi. University of Muhammadiyah Prof. Dr. HAMKA (UHAMKA). Jakarta
Meyer, J.P., Stanley, D.J., Hercovitch, L., dan Topolnytsky, L. (2002). "Affective, Continuance, and Normative Commitment to the Organization: A-meta Snalysis of Antecedents, Correlates, and Consequences." Journal of Vocational Behavior 61: 20-52.
Nurlete, M.W. (2014). Analisis Risiko Timbal (pb) dalam Biota Laut pada Masyarakat Pesisir Kota Makassar. Skipsi. Fakultas Kesehatan Masyarakat. Universitas Hasanuddin.
Nurmalasari, N., & Zaenab, Z. (2015). Pemanfaatan Air Perasan Jeruk Nipis (Citrus autrantifolia swingle) dalam Menurunkan Kadar Logam Berat Pb yang Terkandung pada Daging Kerang. HIGIENE: Jurnal Kesehatan Lingkungan, 1(3), 168-174.
Sumantri, Lealasari, Junita, Nasrudin. (2014). Logam Merkuri Pada Pekerja Penambangan Emas Tanpa Izin, Vol. 8, No. 8 Mei 2014
Tiara Utami, (2018), Efektifitas Larutan Jeruk Nipis Terhadap Penurunan Kadar Timbal (Pb) pada kerang darah tahun 2018
World Health Organization Healthy Environments for Children Alliance (WHO HECA) (2002). Issues brief series: Lead.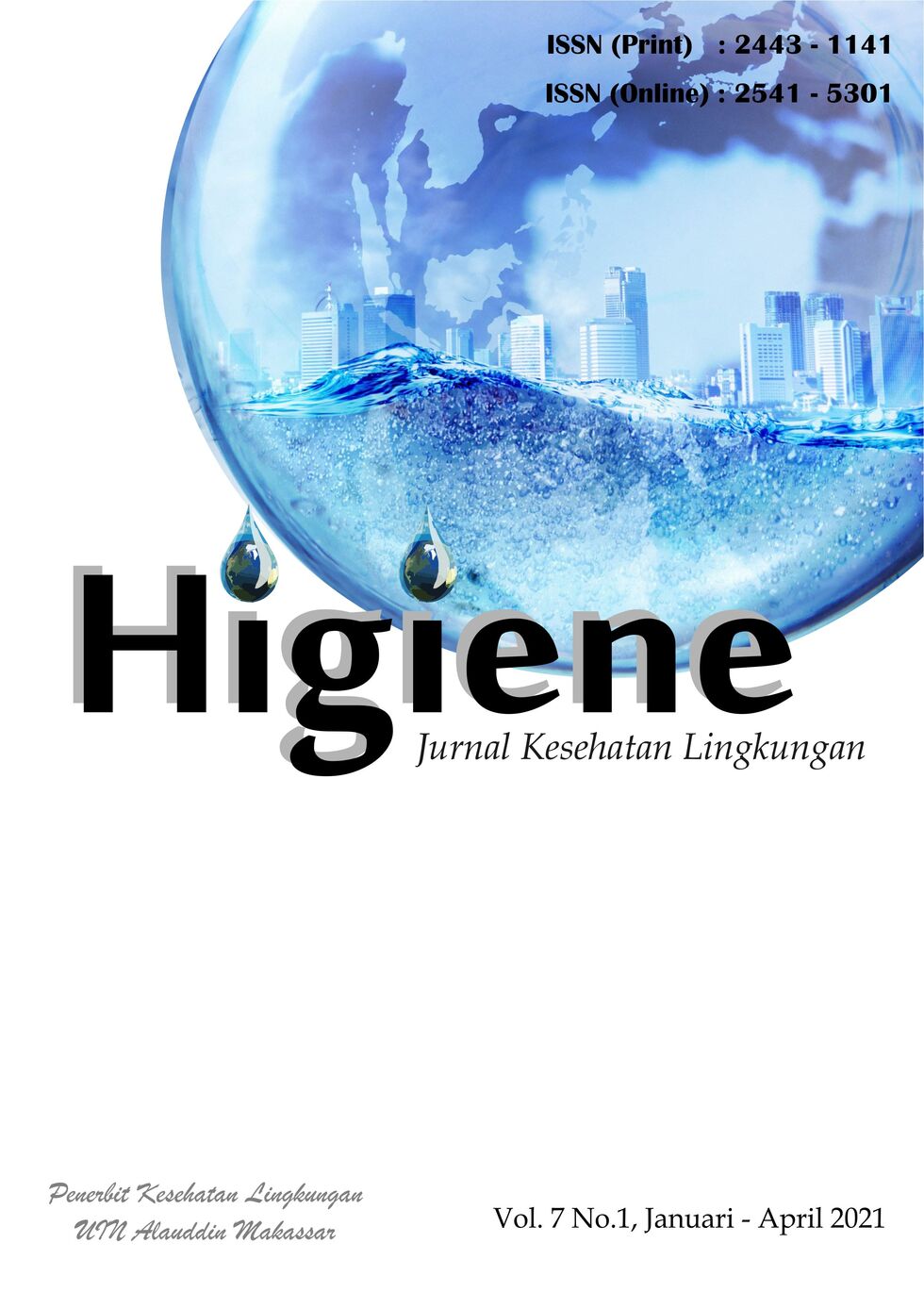 How to Cite
Syam, A., Susilawaty, A., Syarfaini, S., & Amansyah, M. (2021). The Effect Of Concentration Of Liquid Acid Solution And Length Of Damaging On The Lowering Of Leading Metals (Pb) In Meat Shells ( Anadara granosa) In The Coastal Area Of Makassar City. HIGIENE: Jurnal Kesehatan Lingkungan, 7(1), 37-43. Retrieved from https://journal.uin-alauddin.ac.id/index.php/higiene/article/view/23401
Copyright (c) 2021 HIGIENE: Jurnal Kesehatan Lingkungan
This work is licensed under a Creative Commons Attribution 4.0 International License.

Abstract viewed = 65 times