Hubungan Paparan Debu Terhirup Terhadap Gangguan Fungsi Paru Pada Pekerja Bongkar Muat Di Pelabuhan Manado Sulawesi Utara Tahun 2017
Richard Victor Ombuh

Kantor Kesehatan Pelabuhan Kelas II Manado




(ID)

Nurjazuli Nurjazuli

Fakultas Kesehatan Masyarakat, Universitas Diponegoro, Semarang




(ID)

Mursid Raharjo

Fakultas Kesehatan Masyarakat, Universitas Diponegoro, Semarang




(ID)
Abstract
Upper respiratory tract infection has been one of top ten illness the last three years. In 2014 (28.579 cases), in 2015 (39.110 cases) and in August 2016 (27.068 cases). In community health service of Manado Port area, upper respiratory tract infection is on the top list. The high numbers of upper respiratory tract infection in the living area of loading and unloading workers and the high numbers of fatigue factor caused by heavy activities of the workers is assumed to be allegedly related with the inhaled dust exposure to lung function problems of loading and unloading workers in Manado Port. This research was conducted to analyze the relation of inhaled dust exposure and lung function problem of loading and unloading workers in Manado Port.
The research was observational with analytical approach and cross sectional design, with 60 samples of respondents. It consisted  of  9 variables and the data was collected by interview, observation and measurement.
Bivariate analysis result proved that the risk factor of lung problems are use of mask (p=0,195; PR=0,648(95% CI=0,533 – 0,789). Smoking habit (p=0,786; PR=0,788(95% CI=0,361 – 1,719). Working period (p=0,143; PR=1,959(95% CI=0,896 – 4,283). Working duration (p=0,838; PR=0,831(95% CI=0,390 – 1,771) With potential variables affecting lung function impairment of loading and unloading workers is use of mask (p=0,195) and period of work (p=0,143).
There's no significant correlation between use of mask, smoking habit, period of work, working duration,  inhaled dust exposure and  lung function disorder.
Keywords : inhaled dust exposure, lung function disorder, Manado Port
References
Adha R.n., Muis M. (2012). Faktor-Faktor Yang Mempengaruhi Kejadian Fungsi Paru Pada Pekerja Pengangkut Semen di Gudang Penyimpanan Semen Pelabuhan Malundung Tarakan kalimantan Timur. Makassar: K3 FKM UNHAS.
Damayanti T.Y.F, Ikhsan M., Sutjahyo. (2007). Hubungan Penggunaan Masker dengan Gambarab Klinis, Faal Paru dan Foto Thorax Pekerja Perpajan Debu Semen, Vol 57 No 9.
Direktoran Jenderal PPM & PL Depkes R.I. (2007). Pedoman Surveilans Faktor Risiko Bahan Kimia Berbahaya di Kawasan Pelabuhan. Jakarta: Depkes R.I.
Fordiastioko D. (2002). Prevalensi Kelainan Foto Thorax dan Penurunan Faal Paru Pekerja di Lingkungan Kerja Pabrik Semen. Jurnal Respirologi Indonesia April 2002, Vol 22 No 2.
Herlita R. (2013). Faktor Yang Berhubungan Dengan Kapasitas Fungsi Paru Tenaga Kerja di Kawasan Industri Mebel Antang Makassar. Jurnal Kesehatan Masyarakat FIK Universitas Hasanudin 2013.
Liang Z.X., Wo F.H., Hu T.X., Xue S.X. (2003). The Economic Burden of Pneumokoniosis in China 2003, Vol 60.
Manado D.K. (2016). Sepuluh Penyakit Menonjol di Manado. Manado Post
Sastroasmoro S., Ismael S. (2011). Dasar-Dasar Metodologi Penelitian Klinis. Jakarta: CV. S Agung Seto.
Suma'mur. (2009). Hygiene Perusahaan dan Keselamatan Kerja. Jakarta: CV. S Agung Seto.
Suryani M., Setiani O., Nurjazuli. (2005). Analisis Faktor Risiko Paparan Debu Kayu Organik di Udara terhadap Gangguan Fungsi Paru Pada Pekerja Industri Pengolahan Kayu PT. Surya Sindoro Sumbing Wood Industri Wonosobo. Jurnal Kesehatan Lingkungan Indonesia April 20015, Vol 4 No 1.
Susanto A.D. (2011). Pneumokoniosis. J Indo Med Association, Vol 61 No. 12.
Sylvia A.P., Lorraine M. Wilson. (1995). Patofisiologi. Jakarta: ECG.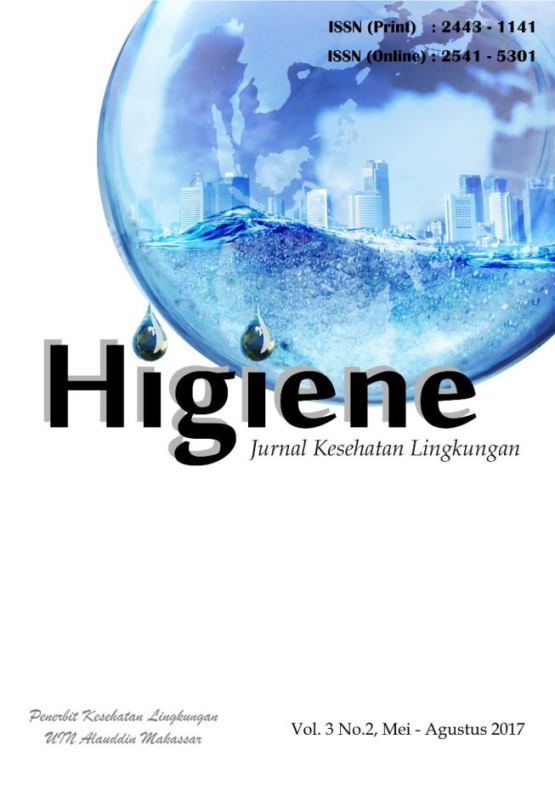 How to Cite
Ombuh, R. V., Nurjazuli, N., & Raharjo, M. (2017). Hubungan Paparan Debu Terhirup Terhadap Gangguan Fungsi Paru Pada Pekerja Bongkar Muat Di Pelabuhan Manado Sulawesi Utara Tahun 2017. HIGIENE: Jurnal Kesehatan Lingkungan, 3(2), 69-75. Retrieved from https://journal.uin-alauddin.ac.id/index.php/higiene/article/view/3698
Copyright (c) 2017 HIGIENE: Jurnal Kesehatan Lingkungan
This work is licensed under a Creative Commons Attribution-ShareAlike 4.0 International License.

Abstract viewed = 1050 times