Uji Kerentanan untuk Insektisida Malathion dan Cypermethrine (Cyf 50 EC) Terhadap Populasi Nyamuk Aedes aegypti di Kota Makassar dan Kabupaten Barru
Sukmawati Sukmawati

Bagian Kesehatan Masyarakat Universitas Hasanuddin, Makassar




(ID)

Hasanuddin Ishak

Bagian Kesehatan Lingkungan Universitas Hasanuddin, Makassar




(ID)

Andi Arsunan Arsin

Bagian Epidemiologi Universitas Hasanuddin, Makassar




(ID)
Abstract
Control of use of chemical insecticides is one way to reduce the vector borne disease dengue hemorrhagic fever (DHF) which are caused by the mosquito Aedes aegypty. This study aims to find out the susceptibility in Makassar City and Barru Regency. The reseach used the quasi experimental method. Female Aedes aegypti mosquitoes that hatch sampled according to the required number as many as 450. The results reveal that in Makassar City, Aedes aegypti mosquitos are tolerant toward malathion 5% insecticide, but they are susceptible to cypermethtine (Cyf 50 EC) 1,5%. In Barru regency, Aedes aegypti mosquitos are still susceptible to malathion 5% insecticide and cypermethrine 1,5% (Cyf 50 EC). There is a difference between the two insecticides in the mortality level based on the contact duration. A comparison of exposure towards the two insecticides shows the values of LT50, LT90, LT95, and LT99. In Makassar City, Malathion 5% insecticides needs more time with the result of 328.87 minutes (5 hours), 1639.06 minutes (27 hours), 2196.94 minutes (37 hours), and 3243.43 minutes (54 hours) respectively; while the results for cypermethrine (Cyf 50 EC) 1.5% are 17.95 minutes, 29.42 minutes, 32.67 minutes, and 38.77 minutes. In Barru regency, the results for malathion 5% insecticide are 25.18 minutes, 55.37 minutes, 63.93 minutes, and 79.99 minutes; while the results for cypertmethrine (Cyf 50 EC) 1.5% are 21.77 minutes, 41.76 minutes, 47.42 minutes, and 58.05 minutes.
Keywords : susceptibility testing, malathion, cypermethrine (Cyf 50 EC), Aedes aegypti
References
Achmadi. (2010). Demam Berdarah Dengue. Buletin Jendela Epidemiologi . Volume 2, Agustus 2010 : ISSN – 2087 – 1546
Astari & Intan. (2005). Insecticide Resistance and Effect Of Piperonyl Butpxide As A Synergyst In Three Strains Of Aedes aegypti (Linn) (Diptera : cu;ocodae) Againts Insecticides Permethrin, Cyperethrine, and D-Allethrin. Buletin Penelitian Kesehatan Vol. 33 No.2-2005. BPPK, DepKes RI. Jakarta
Basri, S., & Hamzah, E. (2017). Penggunaan Abate dan Bacillus Thuringensis var. Israelensis di Kantor Kesehatan Pelabuhan Kelas II Samarinda Wilayah Kerja Sanggata Terhadap Kematian Larva Aedes sp. Al-Sihah: The Public Health Science Journal, 9(1).
Kemenkes RI. (2012). Pedoman Penggunaan Insektisida (Pestisida) dalam Pengendalian Vektor. Jakarta : Kemenkes RI.
Kemenkes RI. (2015). Demam Berdarah Biasanya Mulai Meningkat Di Januari. Kementrian Kesehatan Republik Indonesia : 2015.
Nusa dkk. (2008). Penentuan Status Resistensi Aedes aegypti dari Daerah Endemis DBD di Kota Depok Terhadap Malathion. Buletin Penellitian Kesehatan, Vol. 36 No. 1.2008:20-25.
Pradani. (2011). Determination Resistance On Susceptibility Method For Aedes Aegypti and Aedes Albopictus across Thailand. International Journal Of Medical Entomology Vol. 42, No.5
Shinta & Fausiah. (2008). Kerentanan Nyamuk Aedes aegypti di Daerah Khusus Ibukota Jakarta dan Bogor terhadap Insektisida Malathion dan Lambdacyhalothrin. Jurnal Ekologi Kesehatan, Vol. 7 No. 1 : 722-731
Sudariyanto. (2007). Daya Bunuh Insektisida Malathion Dan Cynoff 25 ULV Terhadap Nyamuk Aedes Aegypti Di Kabupaten Pekalongan. Jurnal Fakultas Kesehatan Masyarakat, Universitas Jendral Soedirman
Sudrajat. (2010). Bioprospeksi Tumbuhan Sirih Hutan (Piper Aduncum L) Sebagai Bahan Baku Obat Larvasida Nyamuk Aedes aegypti. Jurnal Bioprospek, Vol. 7 No. II September 2010.
Supartman. (2008). Pengendalian Terpadu Vektor Virus Demam Berdarah Dengue, Aedes aegypti (Linn.) dan Aedes albopictus (Skuse) (Diptera : Culicidae). Jurnal Fakultas Pertanian Universitas Undayana, Denpasar.
Suwasono & Mardjan . (2004). Uji Coba Beberapa Insektisida Golongan Pyrethroid Sintetik Terhadap Vektor Demam Berdarah Dengue Aedes aegypti Di Wiayah Jakarta Utara. Jurnal Ekologi Kesehatan Vol. 3 No.1, Aprin 2004 : 43-47.
Wahyudin. (2009). Uji Kerentanan Nyamuk Vektor Aedes aegypti Terhadap Insektisida yang Digunakan dalam Program Pengendalian Deman Berdarah Dengue (DBD) di Kota Cimahi Provinsi Jawa Barat (Tesis). Yogyakarta: Universitas Gadjah Mada
Widarti . (2011). The Resistence Map Of Dengue Haemorragic Fever Vektor Aedes Aegypti A Gains Organophospha Tes, Carrama Tes and Pyrethroid Insecticides In central Java and Yogyakarta Province. Buletin Peneliti Kesehatan, Vol. 39, No. 4, 2011 : 176 – 189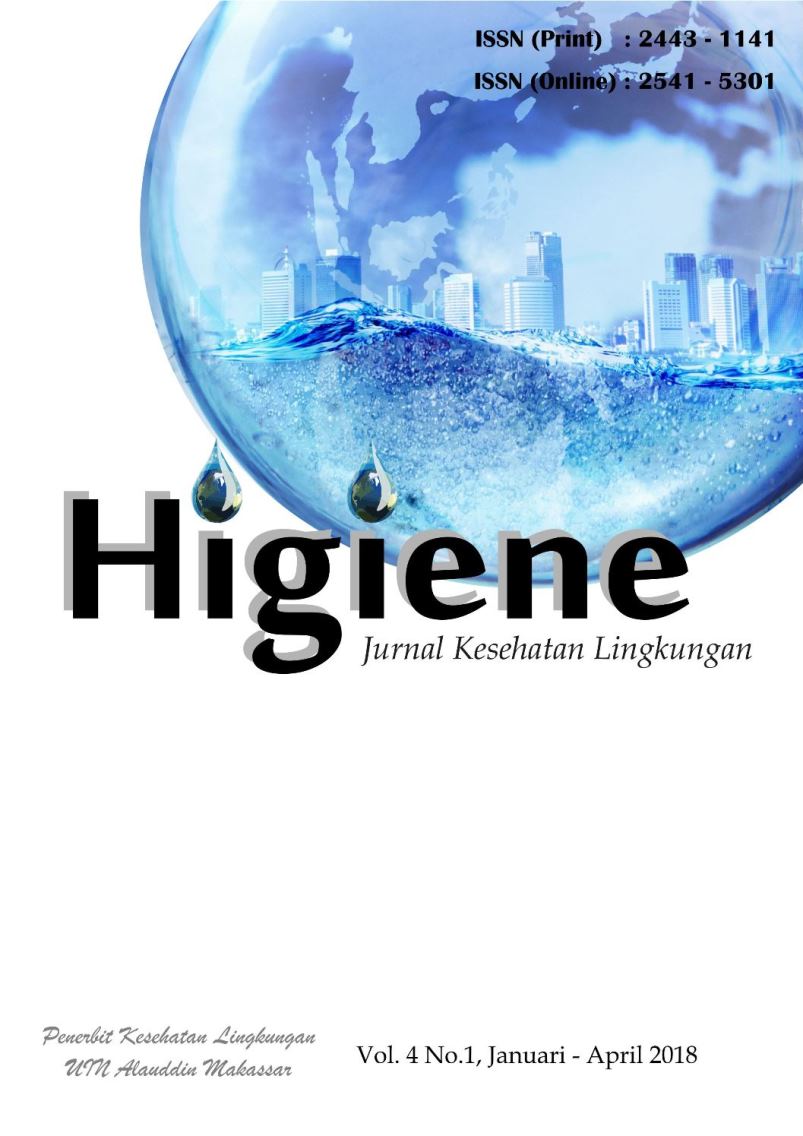 How to Cite
Sukmawati, S., Ishak, H., & Arsin, A. A. (2018). Uji Kerentanan untuk Insektisida Malathion dan Cypermethrine (Cyf 50 EC) Terhadap Populasi Nyamuk Aedes aegypti di Kota Makassar dan Kabupaten Barru. HIGIENE: Jurnal Kesehatan Lingkungan, 4(1), 41-47. Retrieved from https://journal.uin-alauddin.ac.id/index.php/higiene/article/view/5838
Copyright (c) 2018 HIGIENE: Jurnal Kesehatan Lingkungan
This work is licensed under a Creative Commons Attribution 4.0 International License.

Abstract viewed = 1166 times