Pengaruh Modifikasi Ovitrap Dengan Atraktan Rendaman Udang Terhadap Kepadatan Jentik Aedes sp
Denik Sepdiyanto

Fakultas kesehatan masyarakat universitas mulawarman




(ID)

Dina Lusiana

Universitas Mulawarman Kalimantan Timur




(ID)

Andi Anwar

Universitas Mulawarman Kalimantan Timur




(ID)
Abstract
Dengue is a disease that causes outbreaks in Indonesia. Dengue is caused by Aedes sp. The higher density of mosquitoes in one place is the greater risk of developing dengue. The number of free larva in RT 18 Mangkurawang villages is only 8%, while the national standar is 95%, it indicates the density of mosquitoes in RT 18 very high. There is one way to control the Aedes sp. Which manage to reduce the density of the vector is the use of an egg trap (ovitrap) and to improve the effectiveness in reducing the number of mosquitoes, ovitrap is modified with shrimp marinade attractant. The aim of the research is to examine the effect of modifications ovitrap to the density of larva of Aedes sp to see the difference of Container Index (CI), House Index (HI), and Larva Free Index (LFI) at RT 18 Mangkurawang Village, Tenggarong. The research is a quasi eksperiment. The study was conducted in September until October 2017. The population was all houses in RT 18 and a sample of 15 houses for each treatment group. Analysis data in this study using a paired t-test and ANOVA test. Result showed the effect of modifications ovitrap of the density of Aedes sp (the reduction of CI, HI, and LFI) but has not reached the national standard density of mosquito larvae.The Health Department of Samarinda may recommended the modification ovitrap as a method of controlling the Aedes sp.
Keywords: Aedes sp, attractant, shrimp marinade, ovitrap
References
Aries, P., Yulianto, M. (2016). Penggunaan Lethal Ovitrap Dengan Berbagai Jenis Antraktan untuk Pengendalian Nyamuk Aedes sp. Surabaya: Politeknik Kesehatan Kemenkes Surabaya
Depkes RI. (2012). Pemberantasan Sarang Nyamuk Demam Berdarah Dengue (PSN DBD) Oleh Juru Pemantau Jentik 34 (Jumantik), Jakarta. http://pppl.depkes.go.id/ asset/download/Microsoft%20Word%20-%20Juknis%20Jumantik-PSN%20Anak%20 SekolahOnline.doc.pdf diakses tanggal 27 Januari 2017
Departemen Kesehatan RI. (2010). Peraturan Menteri Kesehatan Republik Indonesia Nomor 374/Menkes/Per/III/2010 tentang Pengendalian Vektor. Depkes RI: Jakarta
Dinkes Kaltim. (2013). Profil Data Kesehatan Kalimantan Timur Tahun 2013. Dinas Kesehatan Kalimantan Timur: Samarinda
Gillot, C. (2005). Entomology. New York: Plenum Press
Hamzah, E., & Basri, S. (2016). Perbedaan Ovitrap Indeks Botol, Ember dan Port Mosquito Trap sebagai Perangkap Nyamuk Aedes sp. di Area Kantor Kesehatan Pelabuhan Kelas II Samarinda Wilayah Kerja Sangatta Kabupaten Kutai Timur. HIGIENE: Jurnal Kesehatan Lingkungan, 2(3), 155-158.
Kementrian Kesehatan RI. (2010). Pelatihan bagi Pelatih Pemberantasan Sarang Nyamuk Demam Berdarah Dengue (Psn-DBD) dengan Pendekatan Komunikasi Perubahan Perilaku. Jakarta: Direktorat Jendral PP & PL
Sayono. (2008). Pengaruh Modifikasi Ovitrap Terhadap Jumlah Nyamuk Aedes Yang Terperangkap. Tesis. Fakultas Kesehatan Masyarakat Universitas Diponegoro. Semarang. http://eprints.undip.ac.id/6486/ di akses tanggal 2 Januari 2017
Soegijanto, S. (2006). Demam Berdarah Dengue. Edisi Kedua. Surabaya: Universitas Airlangga
Sudjana, P. (2010). Buletin Jendela Epidemiologi, Volume 2. Jakata : Kemenkes RI
Sutanto, I. (2008). Buku Ajar Parasitologi Kedokteran Edisi Keempat. Jakarta : Fakultas Kedokteran Univesitas Indonesia
Weinzierl, R., Henn, T., Koehler, P. G., & Tucker, C.L. (2005). Insect Attractants and Traps. ENY 27. Kantor Entomologi Pertanian. 2005 http://edis.ifas.ufl.edu.com Diakses 2 Januari 2017.
WHO. (2005). Panduan Lengkap Pencegahan dan Pengendalian Dengue dan Demam Berdarah Pada Anak. Semarang: Universitas Diponegoro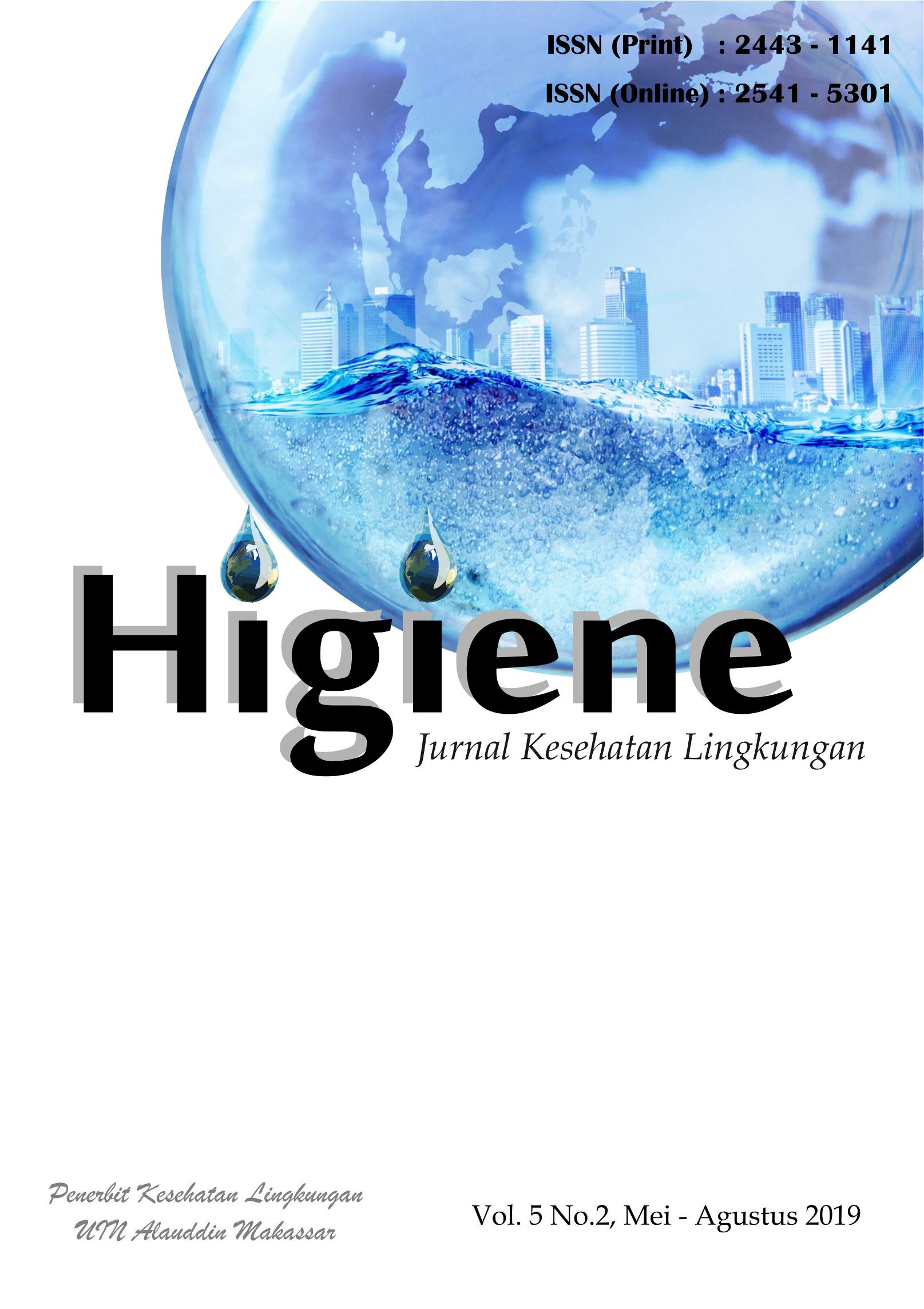 How to Cite
Sepdiyanto, D., Lusiana, D., & Anwar, A. (2020). Pengaruh Modifikasi Ovitrap Dengan Atraktan Rendaman Udang Terhadap Kepadatan Jentik Aedes sp. HIGIENE: Jurnal Kesehatan Lingkungan, 5(2), 66-72. Retrieved from https://journal.uin-alauddin.ac.id/index.php/higiene/article/view/7962
Copyright (c) 2020 HIGIENE: Jurnal Kesehatan Lingkungan
This work is licensed under a Creative Commons Attribution 4.0 International License.

Abstract viewed = 147 times