Teori-teori Kontemporer dalam Penerjemahan
Nur Azaliah Mar

Universitas Islam Negeri Alauddin Makassar, Indonesia




(ID)

St Kuraedah

Institut Agama Islam Negeri Kendari, Indonesia




(ID)

Haniah Haniah

Universitas Islam Negeri Alauddin Makassar, Indonesia




(ID)
Abstract
Abstract:  Translation as an interesting field of study for language teaching and as a means of communication media, mastery of translation theory as the basis for learning translation also needs to be researched. This study will describe the study of theories used in translation. This research is a literature study that uses descriptive qualitative research methods. The literature study method is used because this research is a theoretical study by collecting data from references and other scientific studies related to translation theories. There are 3 theories in various translation analyzes that are still often used: 1. Translation shift theory from J.C. Catford, 2. The Literal-Idiomatic Theory from Mildred L. Larson, and 3. The Literal-Idiomatic (Freely) Theory from Peter Newmark, of the three theories starting with translating words to free translation.
Keywords: Contemporary, Theory, Translation
References
Al-Zoubi, Mohammad Q.R. 2003. "Constructing a Model for Shift Analysis in Translation". http://www.translationdirectory.com/article11.htm,
Alzuhdy, Yosa Abduh. "Analisis Translation Shift Dalam Penerjemahan Bilingual Bahasa Inggris – Bahasa Indonesia." Diksi 2, no. 22 (2014): 185–193.
Andrian, Tommy, and Fridolini. "Dampak Pengajaran Teori Penerjemahan Pada Penerjemah Mudadalam Penerjemahan Bahasa Inggris- Indonesiaberdasarkan Konsep Correctness." Prosiding Seminar Hasil Penelitian Semester Ganjil 2015/2016 ISSN : 2337-7976 IV, no. 1 (2016): 45–63.
Catford, J. C. (1965). A Linguistic Theory of Translation. London: Oxford University Press. h. 20
Iin, Rachmawati. Teori Penerjemahan Teks Tulis Dan Praktik Penerjemahan. Penerbitan Deepublish, 2020.
Jacobsan, R. "On Linguistic Aspects of Translation," in Rainer Schulte and John Biguenet, eds., Theories of Translation: An Anthology Essqys from Dryden to Derrida (Chicago: The University of Chicago Press, 1992), p. 145.
John Sinclair, Collins Cobuild English Dictionary (London: HarperCollins Publishers, 1994), p. 1555.
Larson, M. L. (1984). Meaning-Based Translation: A Guide to Cross-Language Equivalence. Lanham Md: University Press of America.
Lubis, Ismail. "Ihwal Penerjemahan Bahasa Arab Ke Dalam Bahasa Indonesia." Humaniora 16, no. 1 (2004): 96–104.
Ma'mur, Ilzamudin. "KONSEP DASAR PENERJEMAHAN." ALQALAM 21, no. 102 (2004).
Munday, J. 2001. Introducing Translation Studies. Theories and Applications. London and NewYork: Routledge.
Nababan, M. Rudolf. 2003. Teori Menerjemah Bahasa Inggris. Yogyakarta: Pustaka Pelajar.
Newmark, P. (1988). A Textbook of Translation. London: Prentice Hall International
Newmark, P. "Introductory Survey," dalam Rachel Owens, ed., The Translator Handbook, J rd ed., (London: ASLIB, 1996), p.5.
Newmark, P. "Some notes on translation and translators," in Incorporated Linguist, 8 (4) (1969).
Ninip Hanifah. "Teori Penerjemahan Sebagai Dasar Pembelajaran Penerjemahan: Studi Kualitatif Etnografi." Jurnal Cakrawala Pendidikan XXXV, no. 02 (2016).
Robert K. Barnhart, ed., The Barnar/ Concise Dictionary of Etymoloo (New York: Harper-Collin Publishers Co., 1995), p. h.827.
Setiawan, Teguh. "Korpus Dalam Kajian Penerjemahan." Seminar Nasional Perspektif Baru Penelitian Linguistik Terapan: Kinguistik Korpus dalam Pengajaran Bahasa (2017): 1–14.
Shalihah, Siti. "Terjemah Bahasa Arab Antara Teori Dan Praktik." At-Ta'dib 12, no. 2 (December 29, 2017): 183.
Viggo Hjomager Pedersen, Essays on Translation (Kobenhavn: Nyt Nordisk Forlag Arnold Busck, 1988), pp.72-73
Yusniaty Galingging, and Gunawan Tambunsaribu. "Penerjemahan Idiomatis Peter Newmark Dan Mildred Larson." Dialektika: Jurnal Bahasa, Sastra Dan Budaya 8, no. 1 (2021): 56–70.
Zethsen, K. (2009). Intralingual translation: An attempt at description. Meta: journal des traducteurs/Meta: Translators' Journal, 54(4), 795-812.
Zuchridin Suryawinata, Terjemahan: Pengantar Teori dan Praktek Oakarta: Depdikbud, 1989), pp.49-50.
https://www.linguistikid.com/2018/04/jenis-jenis-penerjemahan-menurut.html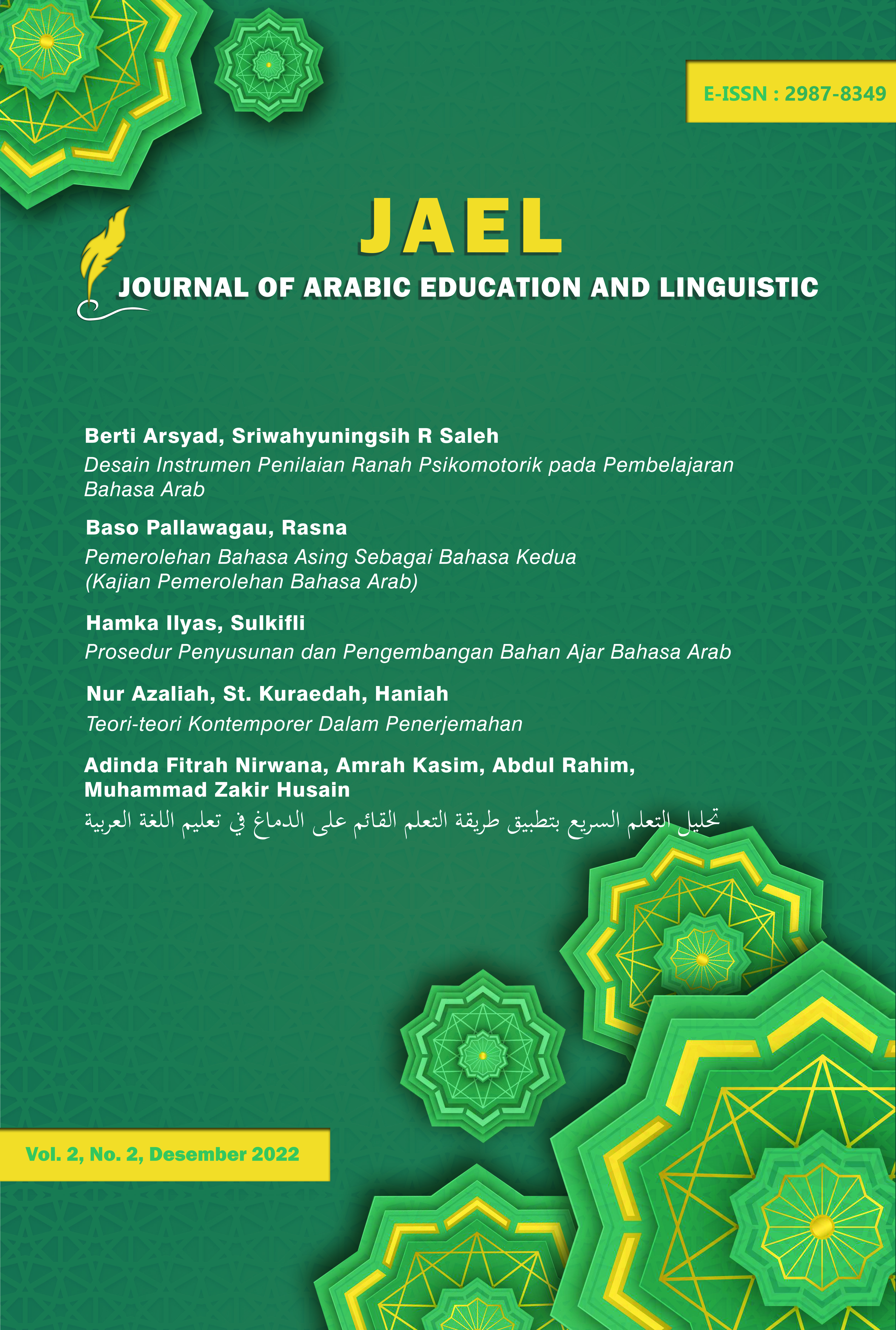 How to Cite

Mar, N. A., Kuraedah, S., & Haniah, H. (2022). Teori-teori Kontemporer dalam Penerjemahan. JAEL: Journal of Arabic Education and Linguistics, 2(2), 85-96. https://doi.org/10.24252/jael.v2i2.32507

Abstract viewed = 388 times