STUDI KONDISI ANGIN DAN GELOMBANG LAUT DI PELABUHAN PANTOLOAN, PALU SULAWESI TENGAH
Sri Ningsih

Univeritas Islam Negeri Alauddin Makassar




(ID)

Ayusari Wahyuni

UIN Alauddin Makassar




(ID)

http://orcid.org/0000-0002-8999-9169

Muh Said L

Univeritas Islam Negeri Alauddin Makassar




(ID)
Abstract
Port construction at Pantoloan has influenced the condition of port and its environment. The hidro-oceanography process has influenced the condition of water, especialy to the wind and wave condition. This research was aimed to know wind condition and wave characteristic at Pantoloan, Palu, Central Sulawesi. The method used in this research was the measurement of wave current using quantitative data processing from the ECMWF (European Center For Medium-Range Weather Forecasts) website for 10 years. The study results showed that the highest wind speed is the wind blowing from the northwest at 1.34 m/s. Wind directions that have potential to generate waves are wind from the north, northwest, west and southwest. Meanwhile, deep sea waves that occurred most frequent on study location were waves from the north (23.92%), followed by the Southwest (35.70%), the Northwest (3.70%) from the West (4.65%), and the Northeast (18.83%), the South direction is (8.08%), the Southeast direction is (2.61%), and the East direction is (2.50%) with a wave  length interval of 0-0.3 m and a period of 5 - 7.5 seconds.
Downloads
Download data is not yet available.
References
Duan, C., Dong, S., & Wang, Z. (2019). Wave climate analysis in the ice-free waters of Kara Sea. Regional Studies in Marine Science, 30, 100719. https://doi.org/10.1016/j.rsma.2019.100719
Indrayanti, E., Kelautan, J. I., Diponegoro, U., Arus, K., Pasut, A., & Kaliwungu, P. (2014). Online di : http://ejournal-s1.undip.ac.id/index.php/jose STUDI POLA DAN KARATERISTIK ARUS LAUT DI PERAIRAN. 3, 16–25.
Nasril, C. (2019). Kajian Upaya Peningkatan Produksi Bongkar Muat Di Pelabuhan Pantoloan Dalam Rangka Menekan Lama Kapal di Tambatan. Warta Penelitian Perhubungan. https://doi.org/10.25104/warlit.v25i5.735
Nugroho, D., Ads, A., Oseanografi, P. S., Ilmu, J., Fpik, K., & Semarang, U. (2007). Studi Pola Sirkulasi Arus Laut di Perairan Pantai Provinsi Sumatera Barat. 12(2), 79–92.
Sugianto, D. N., & Metode, M. (2012). Model Distribusi Data Kecepatan Angin dan Pemanfaatannya dalam Peramalan Gelombang di Perairan Laut Paciran, Jawa Timur. Ilmu Kelautan - Indonesian Journal of Marine Sciences, 15(3), 143–152. https://doi.org/10.14710/ik.ijms.15.3.143-152
Tian, W., Ni, X., Mao, Z., & Zhang, T. (2020). Influence of surface waves on the hydrodynamic performance of a horizontal axis ocean current turbine. Renewable Energy, 158, 37–48. https://doi.org/10.1016/j.renene.2020.04.127
Wang, J., Dong, C., & Yu, K. (2020). The influences of the Kuroshio on wave characteristics and wave energy distribution in the East China Sea. Deep-Sea Research Part I: Oceanographic Research Papers, 158(September 2019), 103228. https://doi.org/10.1016/j.dsr.2020.103228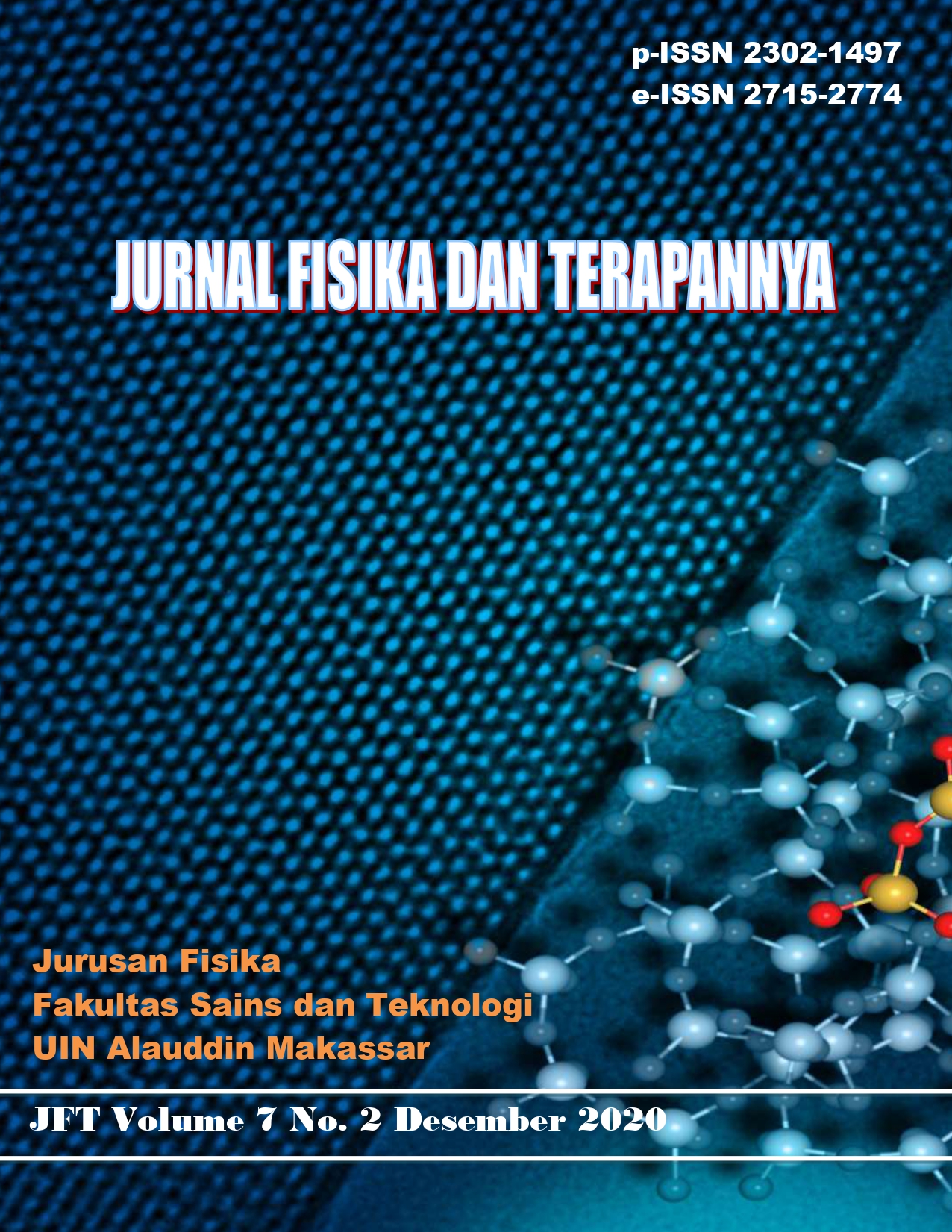 How to Cite

Ningsih, S., Wahyuni, A., & Said L, M. (2020). STUDI KONDISI ANGIN DAN GELOMBANG LAUT DI PELABUHAN PANTOLOAN, PALU SULAWESI TENGAH. JFT: Jurnal Fisika Dan Terapannya, 7(2), 119-127. https://doi.org/10.24252/jft.v7i2.15921

Abstract viewed = 286 times