IDENTIFIKASI JENIS AKUIFER AIR TANAH MENGGUNAKAN VERTICAL ELECTRICAL SOUNDING KONFIGURASI SCHLUMBERGER
Arif Wijaya

Universitas Muhammadiyah Mataram




(ID)

Amirin Kusmiran

Universitas Islam Negeri Alauddin Makassar




(ID)
Abstract
The availability of clean water is a basic need to meet daily needs. Therefore, the identification of groundwater and its aquifer types was carried out in Labulia, Alor sub-village, Central Lombok Region and Lilir sub-village, Membalan Village, West Lombok Region. The identification of groundwater and the type of aquifer is carried out using the vertical electrical sounding method with the Schlumberger configuration because this method can identify vertical resistivity more accurately than other resistivity methods, such as Wenner. The pseudo resistivity data obtained from these measurements is processed using IPI2Win software and progress. The result of the interpretation was that the aquifer in Olor Agung sub-village was a confined aquifer, while Lilir sub-village was a free aquifer.
Downloads
Download data is not yet available.
References
Kusmiaran, A., Sanny, T. A., Nurrahmi, S., Yanti, F., & Minarti. (2021). Implemented preconditioning conjugate gradient algorithm . Journal of Physics: Conference Series, 1-7.
Mangga, A. S., Atmawinata, S., Hermanto, B., Setyogroho, B., & Amin, T. C. (1994). Peta Geologi Lembar Lombok, Nusa Tenggara Barat. Bandung: Pusat Penelitian dan Pengembangan Geologi.
Massinai, M. A., Bundang, S., Massinai, M. F., & Hidayat, Y. (2019). Tipologi Sistem Akuifer Endapan Gunungapi. Jurnal Geomine, 124-132.
Ridwan, T., & Sudadi, P. (2000). Peta Hidrogeologi Pulau Lombok dan Pulau Sumbawa Bagian Barat. Nusa Tenggara Barat: Kantor Wilayah Departemen Energi dan Sumberdaya Mineral Propvinsi Nusa Tenggara Barat.
Sedana, D., & Tanauma, A. (2015). Pemetaan akuifer air tanah di jalan ringroad kelurahan. Jurnal ilmiah Sains, 33-37.
Telford, W. M., Geldart, L. P., & Sheriff, R. E. (1990). Applied Geophysics, Second Edition. Cambridge: Cambridge University Press.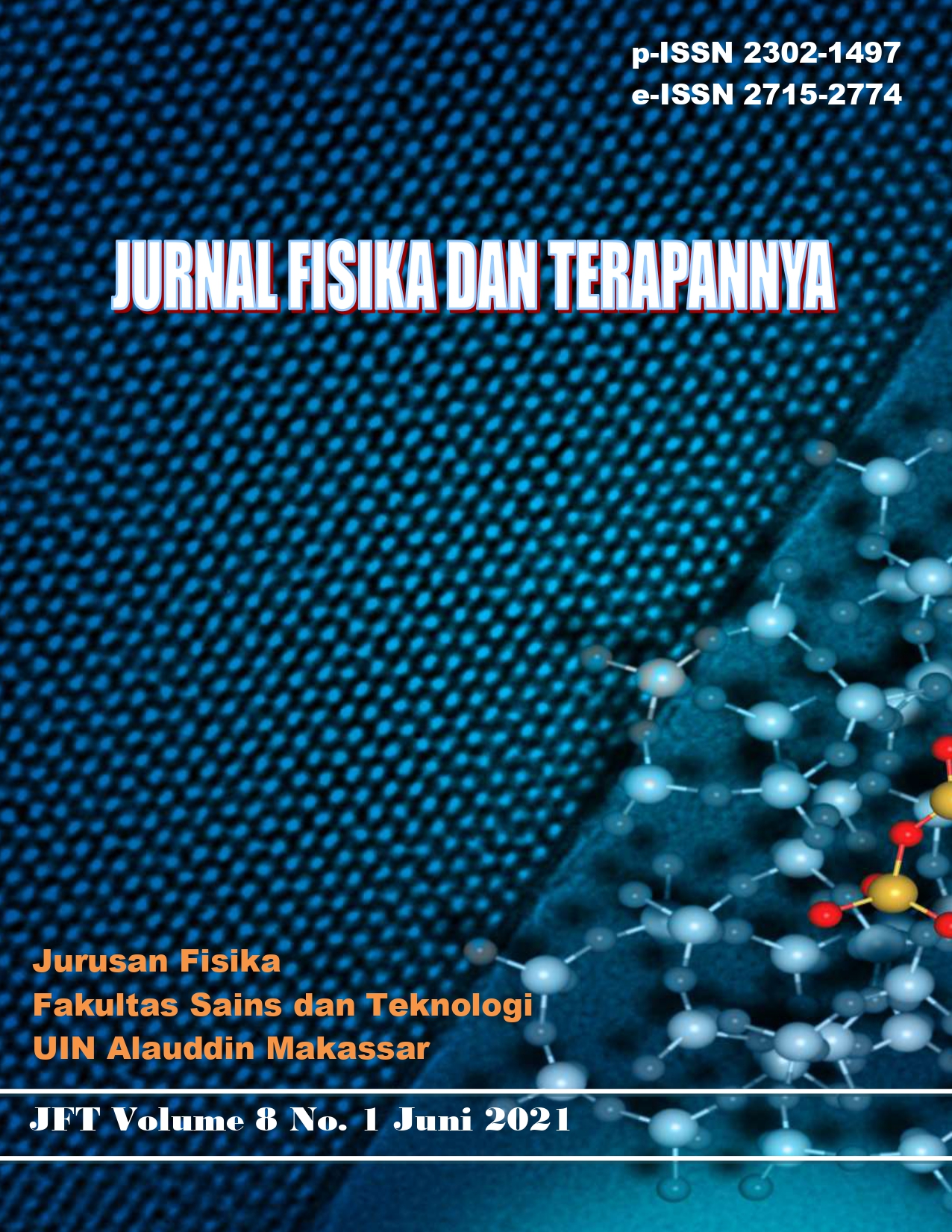 How to Cite

Wijaya, A., & Kusmiran, A. (2021). IDENTIFIKASI JENIS AKUIFER AIR TANAH MENGGUNAKAN VERTICAL ELECTRICAL SOUNDING KONFIGURASI SCHLUMBERGER. JFT: Jurnal Fisika Dan Terapannya, 8(1), 10-18. https://doi.org/10.24252/jft.v8i1.21210

Abstract viewed = 922 times