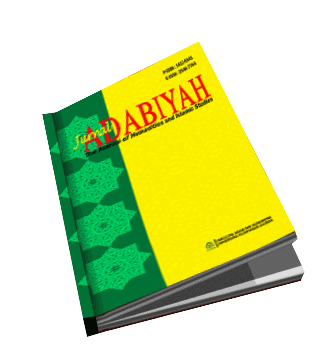 Jurnal Adabiyah:
This journal receives a national accreditation from Ministry of Research, Technology, and Higher Education Republic of Indonesia, Nomor 10/E/KPT/2019 on April 4, 2019, with the SINTA score: S2.
The Journal has been published by the Faculty of Adab and Humanity of Alauddin State Islamic University, Makassar, since 1997 and has been online since 2016 with the main themes on Humanities and Islamic Studies with the emphasis on interdisciplinary and intertextuality approach. The themes related to Islamic Studies are textual studies, scriptural traditions, Islamic law, and theology; and those related to Humanities are language, literature, history, and culture.
The journal of Humanities and Islamic Studies will provide the online collection of articles from 1997 up to now. The most updated information can be found on the website.
This journal is published twice a year, in June and December. The articles published on Adabiyah are highly selected based on their relevance and significance in their fields.
Announcements
No announcements have been published.
Vol 21, No 1 (2021): Humanities
Humanities
Table of Contents
Volume 21 Number 1, 2021 / Humanities
Besse Wahida, Khaerun Nisa Nuur, Ibnu Hajar Ansori

Abstract - 233

1-25
Sandra Dewi Dahlan, Mirotin Eka Wahyuningsih, Hasbi Assiddiqi, Edi Ardian, Rahmat Fajar

Abstract - 324

26-41
Hasaruddin Hasaruddin, Sitti Mania, Ahmad Yani, Musyarif Musyarif

Abstract - 142

42-56
Abdul Muiz Amir, Sahiron Syamsuddin, Siswanto Masruri

Abstract - 213

57-81
Fachmi Alhadar, Safrudin Amin

Abstract - 126

82-104
Arini Indah Nihayaty, Bagong Suyanto, Sutinah Sutinah

Abstract - 193

105-128
Wahyuddin Wahyuddin, M. Abdul Hamid

Abstract - 164

129-160
M. Napis Djuaeni, Hasyim Ashari

Abstract - 161

161-187
Hasyim Haddade, Baso Pallawagau, Zaenal Abidin, Muhammad Zakir Husain

Abstract - 142

188-215
Nurhakki Nurhakki, Ahmad Sultra Rustan, Muhammad Taufiq Syam

Abstract - 91

216-233
Nahdhiyah Nahdhiyah, Syahruni Junaid

Abstract - 67

234-253