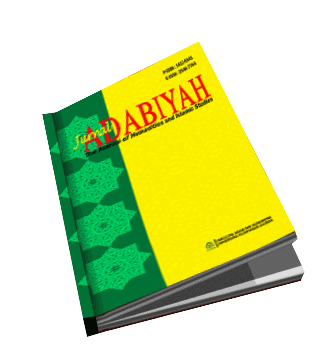 Jurnal Adabiyah:
This journal receives a national accreditation from Ministry of Research, Technology, and Higher Education Republic of Indonesia, Nomor 21/E/KPT/2018 on July 12, 2018 with the SINTA score: S3.
The Journal has been published by the Faculty of Adab and Humanity of Alauddin State Islamic University, Makassar, since 1997 and has been online since 2016 with the main themes on Humanities and Islamic Studies with the emphasis on interdisciplinary and intertextuality approach. The themes related to Islamic Studies are textual studies, scriptural traditions, Islamic law, and theology; and those related to Humanities are language, literature, history, and culture. 
The journal of Humanities and Islamic Studies will provide the online collection of articles from 1997 up to now. The most updated information can be found on the website.
This journal are published twice a year, on June and December. The articles published on Adabiyah are highly selected based on their relevance and significance in their fields. 
Announcements
الدعوة لتقديم المقالات

ندعوكم كباحثين في مجال العلوم الإنسانية لتقديم مقالتكم في موعد لا يتجاوز 31 مارس، وفي مجال الدراسات الإسلامية في موعد أقصاه 30 سبتمبر

We invite you as researchers in the humanities field to submit your article by March 31, and in the field of Islamic Studies by September 30

Posted: 2019-01-05
More...
Vol 19, No 2 (2019): Islamic Studies
Table of Contents
Muhammad Syahran Muhammadong

Abstract - 22