Sanitation Environment and Helminth infection in Gowa District, Indonesia
Abstract
Healminth infection is one of the environmentally-based diseases which is a problem for public health. This research was conducted to know the description of latrines, trash bins, and clean water victims for people with healminth infection in the working area of the Kanjilo Health Center. This research uses quantitative research methods with a descriptive survey approach. The research sample was 32 samples. The data used are preliminary data from the medical records of the Kanjilo Health Center, Gowa Regency, while the data source used is secondary data. Data analysis using data processing research with SPSS. With a frequency distribution approach. The results showed that the worms that occurred were in a bad category, including 8 respondents who vomited worms and 24 who suffered from healminth infection.  The results of this study found that both the availability of latrines, the availability of clean water and landfills, were all in the bad category, causing worms and vomiting in the community in the working area of the Kanjilo Health Center.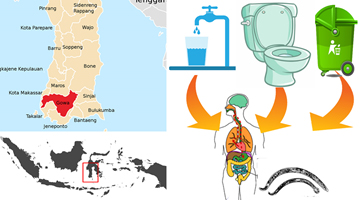 Keywords
healminth infection; infection in gowa; kanjilo health centre; sanitation environment
References
Andiarsa, D., Fakhrizal, D., & Hairani, B. (2013). Alergi Dan Kecacingan Pada Anak Sekolah Dasar Negeri Kampung Baru Kecamatan Kusan Hilir Kabupaten Tanah Bumbu, Kalimantan Selatan. Indonesian Journal of Health Ecology, 12(4), 304-312.
Damayati, D. S., Susilawaty, A., & Indriani, H. (2016). Peningkatan Kualitas Air Sumur Gali Pada Parameter Mangan (Mn), Besi (Fe) Dan Coliform Dengan Pemanfaatan Biji Asam (Tamarindus indica) dan Biji Kelor (Moringa oleifera) di Pesantren Tahfizhul Qur'an Al-Imam Ashim. Al-Sihah: The Public Health Science Journal, 8(1).
Guan, M., & Han, B. (2019). Association between intestinal worm infection and malnutrition among rural children aged 9–11 years old in Guizhou Province, China. BMC public health, 19(1), 1-11.
Kasim, S., & Rivai, A. (2020). Ketersediaan Prasarana Sanitasi Di Lingkungan Permukiman kumuh (Slum Area) Terhadap Penyakit Berbasis lingkungan Di Kelurahan Bentenge Kota Bulukumba. Sulolipu: Media Komunikasi Sivitas Akademika dan Masyarakat, 20(2), 274-281.
Kumala, R., & Yudhastuti, R. (2016). Hubungan Pengetahuan Ibu dan Higiene Perorangan dengan Kejadian Kecacingan pada Murid Taman Kanak-kanak Ibnu Husain Surabaya. Jurnal Ilmiah Kesehatan Media Husada, 5(2), 73-82.
Martila, M., Sandy, S., & Paembonan, N. (2015). Hubungan Higiene Perorangan dengan Kejadian Kecacingan pada Murid SD Negeri Abe Pantai Jayapura. Plasma: Jurnal Kesehatan, 1(2), 87-96.
Muslimah, P. A. (2017). Faktor-Faktor Yang Berhubungan Dengan Kejadian Infeksi Cacing Pada Pekerja Armada Mobil Sampah Di Kota Makassar [Doctoral dissertation, Universitas Islam Negeri Alauddin Makassar].
Sari, N. P., & Hayati, Z. (2020). Kebersihan Perorangan dan Kecacingan pada Siswa SDN 128 Pekanbaru. Jurnal Ilmiah Kesehatan Masyarakat: Media Komunikasi Komunitas Kesehatan Masyarakat, 12(4), 176-182.
Sari, O. P., Rosanti, T. I., & Susiawan, L. D. (2019). Hubungan Perilaku Kebersihan Perorangan dengan Kecacingan pada Siswa SD Susukan Kecamatan Sumbang Kabupaten Banyumas. Mandala Of Health: A Scientific Journal, 12(1), 120-129.
Seroan, A. Y., Pijoh, V. D., & Tuda, J. S. (2019). Kecacingan yang ditularkan melalui tanah pada anak sekolah dasar di Desa Picuan Baru Kecamatan Motoling Kabupaten Minahasa Selatan. Jurnal Kedokteran Komunitas Dan Tropik, 6(2).
Shah, P., Kate, A. H., Nester, N., Patole, K., Leuppi, J. D., & Chhajed, P. N. (2016). Parasitic infestation of lung: An unusual cause of interstitial pneumonitis. Lung India: Official Organ of Indian Chest Society, 33(2), 222.
Syamsul, M., Nur, N. H., & Mat, M. A. (2020). Bacteriology Quality of Refill Drinking Water in Some Part of Makassar City. Diversity: Disease Preventive of Research Integrity, 1(1), 15-20.
Umar, Z. (2008). Perilaku cuci tangan sebelum makan dan kecacingan pada murid SD di Kabupaten Pesisir Selatan Sumatera Barat. Kesmas: Jurnal Kesehatan Masyarakat Nasional (National Public Health Journal), 2(6), 249-254.
World Health Organization. (2012). Accelerating work to overcome the global impact of neglected tropical diseases: a roadmap for implementation. Geneva: World Health Organization.
World Health Organization. (2018). Soil-transmitted helminths infection. http://www.who.int/news-room/factsheets/detail/soil-transmitted-helminthinfections
Yudhastuti, R. (2012). Kebersihan diri dan sanitasi rumah pada anak balita dengan kecacingan. Jurnal Kesehatan Masyarakat Nasional, 6(4), 173-178.
Yulianto, E. (2007). Hubungan higiene sanitasi dengan kejadian penyakit cacingan pada siswa Sekolah Dasar Negeri Rowosari 01 Kecamatan Tembalang Kota Semarang tahun ajaran 2006/2007 [Doctoral dissertation, Universitas Negeri Semarang].
DOI:
https://doi.org/10.24252/diversity.v1i2.19746
Refbacks
There are currently no refbacks.
Copyright (c) 2021 Muharti Syamsul, Kartini, Aswadi, Muhammad Azrul Syamsul
Diversity: Disease Preventive of Research Integrity
p-ISSN: 2774-9649, e-ISSN: 2775-0035
Universitas Islam Negeri Alauddin, 2nd Campus, FKIK 1st Floor, Department of Public Health Room
Jl. H.M Yasin Limpo No.36, Romang-Polong, Gowa, Indonesia 92113
Phone: (0411) 841879, Fax (0411) 8221400
This work is licensed under a
Creative Commons Attribution-NonCommercial-ShareAlike 4.0 International License