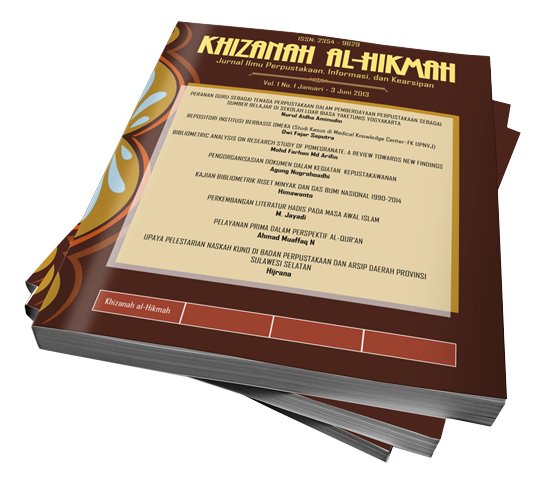 Khizanah al-Hikmah : Jurnal Ilmu Perpustakaan, Informasi, dan Kearsipan (Khizanah al-Hikmah: Journal of Library, Information, and Archival Science) is a scholarly journal that has been publishing scholarly papers since 2013. The journal is provided for librarians, information scientists, information specialists, information managers, researchers, and archivists who are need or interested in keeping up to date with the most recent issues and developments in the fields. It is organized by Universitas Islam Negeri Alauddin Makassar. We regularly publish the issues in June and December. The journal mostly prefers research-based papers regarding the covered fields. All submitted papers will firstly review by journal editors and if it was matched with the journal scope, the paper will be then sent to our peer-reviewers. Starting in 2021 onwards, we encourage authors to only submit research papers written in good-read English academic writing.
The journal has been accredited by Akreditasi Jurnal Nasional (ARJUNA) officially Managed by Ministry of Research, Technology, and Higher Education, Republic Indonesia SINTA 2 grade since 2018 to 2023 according to Surat Keputusan Direktur Jenderal Penguatan Riset dan Pengembangan Kementerian Riset, Teknologi dan Perguruan Tinggi Nomor 10/E/KPT/2019 Tentang Peringkat Akreditasi Jurnal Ilmiah Periode II Tahun 2019.
Announcements
No announcements have been published.
Vol 9, No 1 (2021): June
Table of Contents
Articles
Neneng Komariah, Encang Saepudin, Rizki Nurislaminingsih

Abstract - 342

1-8
Afryna Veronica

Abstract - 211

9-15
Fitri Mutia, Indah Rachma Cahyani

Abstract - 192

16-27
L Nurdin

Abstract - 218

28-38
Nora Saiva Jannana, Thoriq Tri Prabowo, Ratna Istriyani Istriyani

Abstract - 339

39-49
Tupan Tupan, Nur Rizzal Rosiyan

Abstract - 249

50-60
Nurul Oktavia, Samson CMS

Abstract - 165

61-67
Touku Umar, Nasrullah Nasrullah

Abstract - 330

68-75
Muh. Quraisy Mathar, Ayu Trysnawati

Abstract - 215

76-80