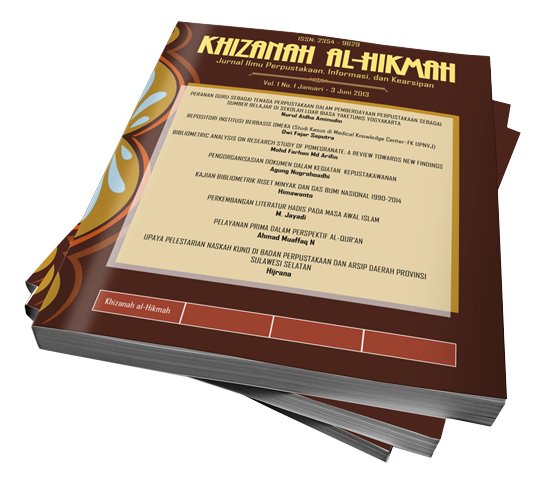 Khizanah al-Hikmah : Jurnal Ilmu Perpustakaan, Informasi, dan Kearsipan (Khizanah al-Hikmah: Journal of Library, Information, and Archival Science) is a scholarly journal that has been publishing scholarly papers since 2013. The journal is provided for librarians, information scientists, information specialists, information managers, researchers, and archivists who are need or interested in keeping up to date with the most recent issues and developments in the fields. It is organized by Universitas Islam Negeri Alauddin Makassar. We regularly publish the issues in June and December. The journal mostly prefers research-based papers regarding the covered fields. All submitted papers will firstly review by journal editors and if it was matched with the journal scope, the paper will be then sent to our peer-reviewers. Starting in 2021 onwards, we encourage authors to only submit research papers written in good-read English academic writing.
The journal has been accredited by Akreditasi Jurnal Nasional (ARJUNA) officially Managed by Ministry of Research, Technology, and Higher Education, Republic Indonesia SINTA 2 grade since 2018 to 2023 according to Surat Keputusan Direktur Jenderal Penguatan Riset dan Pengembangan Kementerian Riset, Teknologi dan Perguruan Tinggi Nomor 10/E/KPT/2019 Tentang Peringkat Akreditasi Jurnal Ilmiah Periode II Tahun 2019.
Announcements
Information

Due to a large backlog of submissions, Khizanah al-Hikmah will not be accepting any new submissions until January 1st, 2021. Sorry for that inconvenience. Thanks for your patience and thanks for your interest in Khizanah al-Hikmah. Once we have processed those submissions, we will call for papers again. Regards.
Posted: 2020-07-27
Vol 8, No 2 (2020): December
In this issue, we have another three papers contribution from The 3rd International Conference on Documentation and Information organized by Ikatan Sarjana Ilmu Perpustakaan dan Informasi (ISIPI) in collaboration with Lembaga Ilmu Pengetahuan Indonesia (LIPI). The conference was held on 7-8 October 2020 in Jakarta.
Table of Contents
Articles
Encang Saepudin, Fadhilah Muhammad, Sukaesih Sukaesih

Abstract - 164

105-115
Rozikin Mochammad, Rindi Ardika MS, Teguh Yudi Cahyono

Abstract - 215

116-129
Yupi Royani, Rochani Nani Rahayu, Ahmad Saefudin Suriapermana

Abstract - 115

130-140
Lely Indah Mindart, Anita Triwidiyawati, Tiara Anggiasari

Abstract - 121

141-148
Dwi Ridho Aulianto, Wahid Nashihuddin

Abstract - 209

149-160
Nanda Khaerunnisa Syafitri, Gema Rullyana, Ardiansah Ardiansah

Abstract - 213

161-172
Anton Risparyanto, Irawati Irawati

Abstract - 137

173-189
Siti Herdiani Nurkhodijah, Tine Silvana Rachmawati, Andri Yanto

Abstract - 143

190-201
Ayu Trysnawati, Karmila Pare Allo

Abstract - 157

202-209
Tupan Tupan, Retno Asihanti Setiorini

Abstract - 111

210-217
Andi Ibrahim, Touku Umar, Feri Ardinata

Abstract - 116

218-226
Conference Papers
Ria Ariani, Nur Sanny Rahmawati

Abstract - 124

227-241
Raistiwar Pratama

Abstract - 149

242-250
Harry Bawono

Abstract - 196

251-267