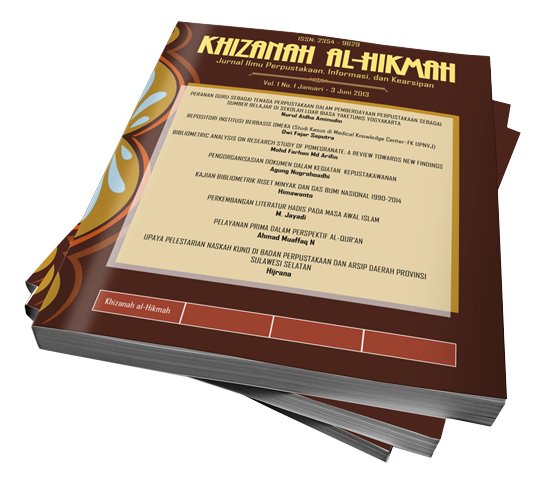 Khizanah al-Hikmah : Jurnal Ilmu Perpustakaan, Informasi, dan Kearsipan is a scholarly journal which has been publishing scholarly papers since 2013. The journal is provided for librarians, information scientists, specialists, managers, researchers, and archivists who need or are interested in keeping up to date with the most recent issues and developments in the fields. It is published and funded by Universitas Islam Negeri Alauddin Makassar Jurusan Ilmu Perpustakaan (Department of Library Science). Every June and December, we regularly publish the issues. The journal accepts research-based papers, literature/library research, book review, and or opinions regarding of the covered fields. All submitted papers will properly check by the journal editors and be sending to our respected peer-reviewers. We accept scholarly papers written in Bahasa Indonesia and English.
Announcements
Workshop Visitasi Jurnal UIN Alauddin

Kebijakan akreditasi jurnal telah sampai ke meja-meja pengelola jurnal yang ada di tanah air. Standar akreditasi jurnal menjadi hal yang mutlak untuk diikuti oleh seluruh pengelola jurnal.
Posted: 2018-03-10
More...
Vol 6, No 1 (2018): JUNI (in press)
Table of Contents
Articles
Irvan Muliyadi

Abstract - 180
Gani Nur Pramudyo

Abstract - 109
Sri Andayani

Abstract - 71
Literature Studies
Ahmad Anwar

Abstract - 39