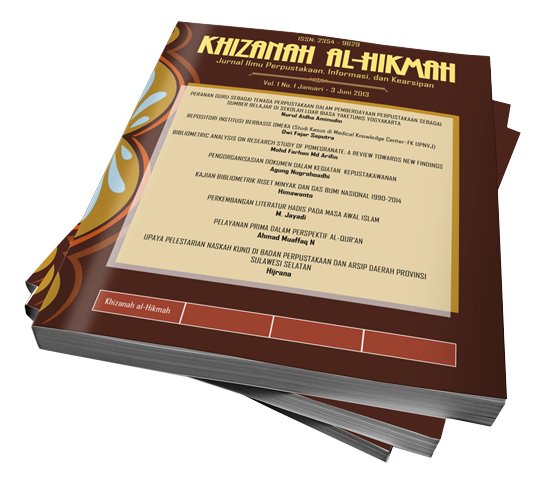 Khizanah al-Hikmah : Jurnal Ilmu Perpustakaan, Informasi, dan Kearsipan (Khizanah al-Hikmah: Journal of Library, Information, and Archive Science) is a scholarly journal which has been publishing scholarly papers since 2013. The journal is provided for librarians, information scientists, specialists, managers, researchers, and archivists who need or are interested in keeping up to date with the most recent issues and developments in the fields. It is published and funded by Universitas Islam Negeri Alauddin Makassar. We regularly publish the issues in June and December. The journal accepts research-based papers, literature/library research regarding the covered fields. All submitted papers will properly check by the journal editors and be sending to our peer-reviewers. We only accept scholarly papers written in Bahasa Indonesia and English.
The journal has been accredited by Akreditasi Jurnal Nasional (ARJUNA) officially Managed by Ministry of Research, Technology, and Higher Education, Republic Indonesia with Third Grade (SINTA 3) since the year 2016 to 2020 according to the decree No. 21/E/KPT/2018. 
Announcements
No announcements have been published.
Vol 6, No 2 (2018): December
Table of Contents
Articles
Wahid Nashihuddin, Fajar Suryono

Abstract - 491

86-97
Machsun Rifauddin, Arfin Nurma Halida

Abstract - 225

98-111
Sukirno Sukirno, Mukhotib Mukhotib, Ani Purwandari

Abstract - 96

112-121
Rahmat Fadhli

Abstract - 99

122-131
Rochani Nani Rahayu

Abstract - 75

132-140
Rina Rakhmawati, Fatimah Wahyu Nuryadani, Wimpi Nabila, Yeni Arista

Abstract - 176

141-154
Himayah Himayah

Abstract - 43

155-167
Chusnul Chatimah Asmad, Taufiq Mathar, A. Khaidir Akbar, Nur Arifin, Hijrana ,, Haruddin ,, Irmawati ,, Irawati ,, Satriani ,

Abstract - 89

168-180