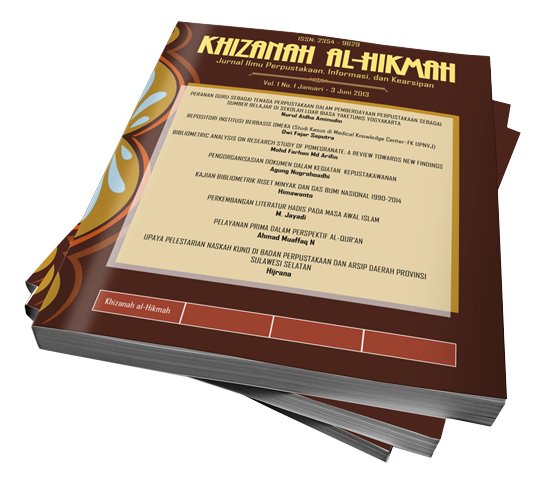 Khizanah al-Hikmah : Jurnal Ilmu Perpustakaan, Informasi, dan Kearsipan (Khizanah al-Hikmah: Journal of Library, Information, and Archive Science) is a scholarly journal which has been publishing scholarly papers since 2013. The journal is provided for librarians, information scientists, specialists, managers, researchers, and archivists who need or are interested in keeping up to date with the most recent issues and developments in the fields. It is published and funded by Universitas Islam Negeri Alauddin Makassar. We regularly publish the issues in June and December. The journal only accepts research-based papers, literature/library researches regarding the covered fields. All submitted papers will firstly review by journal editors and if it was matched with the journal scope, the paper will be then sent to our peer-reviewers. We only accept scholarly papers written in Bahasa Indonesia and English.
The journal has been accredited by Akreditasi Jurnal Nasional (ARJUNA) officially Managed by Ministry of Research, Technology, and Higher Education, Republic Indonesia SINTA 2 grade since 2018 to 2023 according to Surat Keputusan Direktur Jenderal Penguatan Riset dan Pengembangan Kementerian Riset, Teknologi dan Perguruan Tinggi Nomor 10/E/KPT/2019 Tentang Peringkat Akreditasi Jurnal Ilmiah Periode II Tahun 2019.
Announcements
No announcements have been published.
Vol 8, No 1 (2020): June
Table of Contents
Articles
Nabila Mukhriza, Ahmad Fauzi, Rahmi Yunita

Abstract - 92

1-10
Eko Retno Wulandari, Edwin Rizal, Elnovani Lusiana

Abstract - 74

11-20
Yanuar Yoga Prasetyawan

Abstract - 61

21-29
Rina Rakhmawati, Arif Rahman Bramantya, Titi Susanti

Abstract - 83

30-41
Tupan Tupan, Noorika Retno Widuri, Rochani Nani Rahayu, Mohamad Djaenudin, Cahyo Trianggono

Abstract - 85

42-55
Wandi Syahindra, Murlena Murlena, Hasni Hartati

Abstract - 60

56-65
Risma Niswaty, Muhammad Darwis, Dian Andriani M, Muh. Nasrullah, Rudi Salam

Abstract - 48

66-73
Dian Hasfera, Lailatur Rahmi, Fadhila Nurul Husna Zalmi, Resty Jayanti Fakhlina

Abstract - 78

74-80
Muhammad Usman Noor

Abstract - 35

81-90
Karmila Pare Allo, La Ode Ismail

Abstract - 44

91-98