DESIGNING CROSSWORD PUZZLE TO IMPROVE STUDENTS' VOCABULARY MASTERY OF THE THIRD SEMESTER IN ENGLISH EDUCATION DEPARTMENT STUDENT OF UIN ALAUDDIN MAKASSAR
Sukirman ,

Institut Agama Islam Negeri (IAIN) Palopo




(ID)

Asti Astuti Ningsih

UIN Alauddin Makassar




(ID)
Abstract
: This research design Crossword Puzzle in the Third Semester of English Education Department at UIN Alauddin Makassar. The objective of this research was to design crossword puzzle to improve students' vocabulary mastery. It was conducted in the third semester students in the English Education Department of UIN Alauddin. The significance of this research were for students, teachers, and other research. For students with their research will facilitate the student in improving their vocabulary. In addition, this study was designed to produce teaching materials, especially in vocabulary lesson used crossword puzzle. For teachers, this research can be useful to produce media that can facilitate teachers in presenting the lesson. For other researchers, the results of this study can be used as a comparison, especially in terms of the development of teaching materials in vocabulary. The research design of this research was Research & Development (R&D). It applied model R&D adapted from Borg & Gall model. The steps of the model were needed assessment, designing the product, validating product, revising initial product, trying out product, final revising product, and the last final product. The types of data of this research were quantitative and qualitative data. The research instruments were questionnaire and research judgments.
Downloads
Download data is not yet available.
References
Arikunto, S. (2013). Prosedur Penilitian. Jakarta: Rineka Cipta.
Befridge. (1984). Games For Language Learning. Cambridge: Cambridge University.
Borg, W.R & Call M.D. (1983). Educational Research An Introduction. New York: Longman.
Bressan, D. (1970). Crossword Puzzle in Modern Language Teaching. Audio-Visual Language Journal.
Gay, L.R. (1982). Educational Research Competence for Analysis and Application. Boston: Newbury: Mersil Company.
Groundlund, N.Es. (1990). Measurement and Evaluation testing (5th Ed). New York: Macmillan Publishing.
Harmer, J.(2008). The Practice of English Language Teaching. USA: Longman.
Hatch and Farhady, H. (2002) Research Design and Statistic for Applied Linguistic. Rowley Massachussets: Newbury House Publisher Inc.
Hornby. (1987). Advanced Learner Dictinary of English. Oxford: Oxford University Press.
Latief, M.A.(2013). Research Methods on Language Learning An Introduction. Malang: UM Press.
Lattore, G. (1975). The Contribution and the Use of EFL Crossword Puzzle. ELT Journal Volume XXX.
Mohana, MS. (2013). English Language: Growth of Vocabulary. Saudi Arabia: ARC Journal.
Marshan, S. (2015). Developing English Morphology Materials For Undergraduate Students At Alauddin State Islamic University Of Makassar. ETERNAL (English, Teaching, Learning, and Research Journal), 1(1), 1–14.
Mubar, M. K. N. A. (2015). Developing English Learning Materials For Young Learners Based On Needs Analysis At Mtsn Model Makassar. ETERNAL (English, Teaching, Learning, and Research Journal),
Nurpahmi, S. (2013). An Introduction to English for Specific Purposes. Makassar: Alauddin University Press.
Nurpahmi, S. (2014). English for Specific Purposes: Integrated Approach. (A. Sardian Maharani Asnur, Ed.). Makassar: Alauddin Universisity Press.
Nurpahmi, S. (2017). ESP Course Design: An Integrated Approach. Lentera Pendidikan, 19(2), 172–181.
Njoro, C.Martin, etc. (2013). The Use of Crossword Puzzle as a Vocabulary Learning Strategy: A Case of English as a Second Language in Kenyan Secondary School. Kenya: International Journal of Current Research.
Putra, Nusa. (2012). Research&Development. Jakarta: RajaGrafindo Persada.
Sri, Wahyuni. (2015). Designing English Tests for Psychomotor Domain dealing with the 2013 Curriculum at the First Year Students of SMAN 1 Makassa, Skripsi at UIN Alauddin University. Makassar.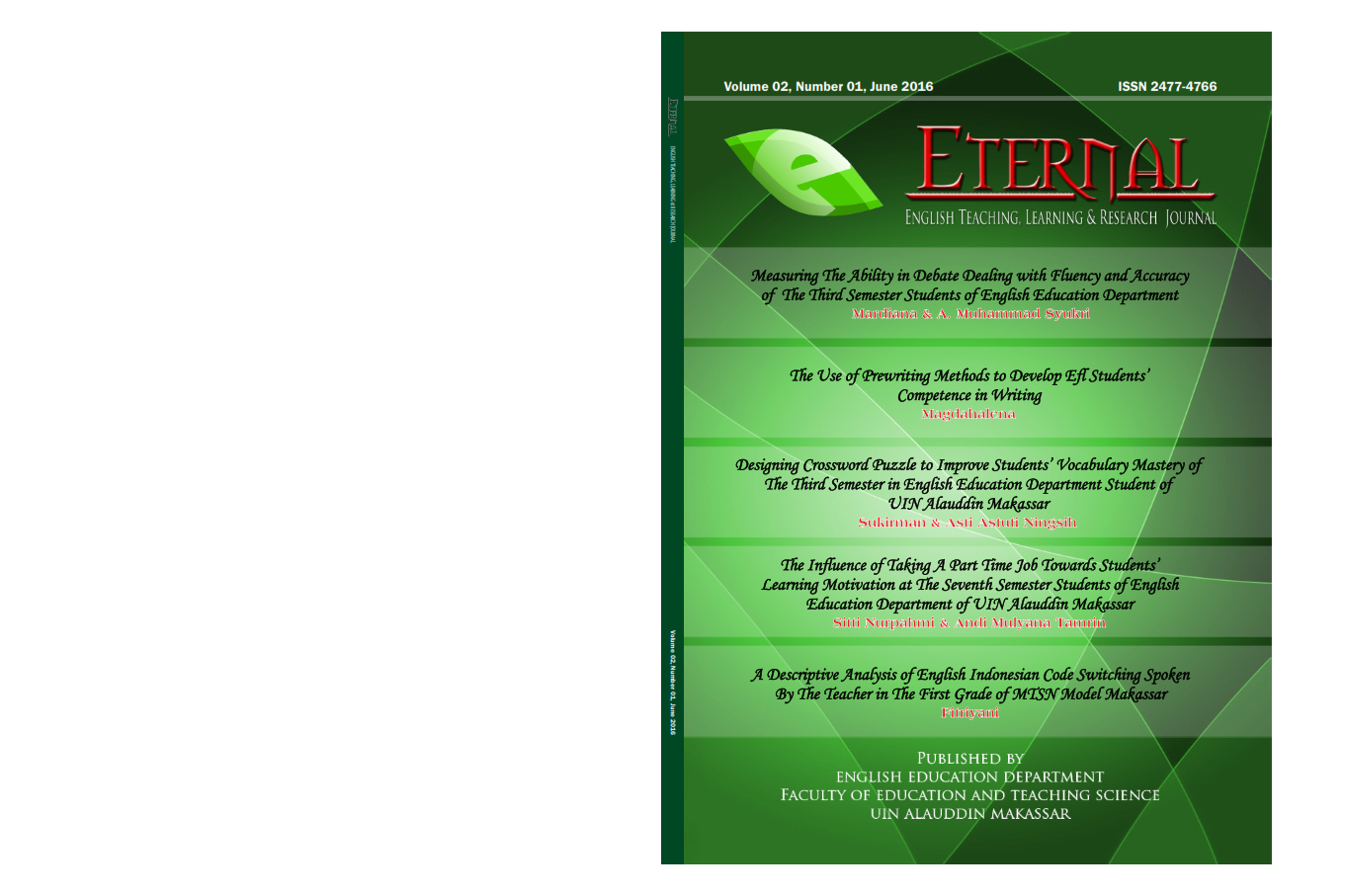 Section
Volume 2 Number 01. June 2016
Copyright notice:
Authors retain copyright and grant the journal right of first publication with the work simultaneously licensed under a Creative Commons Attribution License that allows others to share the work with an acknowledgement of the work's authorship and initial publication in this journal.
Authors are able to enter into separate, additional contractual arrangements for the non-exclusive distribution of the journal's published version of the work (e.g., post it to an institutional repository or publish it in a book), with an acknowledgement of its initial publication in this journal.
Authors are permitted and encouraged to post their work online (e.g., in institutional repositories or on their website) prior to and during the submission process, as it can lead to productive exchanges, as well as earlier and greater citation of published work (See The Effect of Open Access)
Abstract viewed = 1443 times