Perkembangan Islam di Malaysia (Suatu Tinjauan Sosio Historis)
Abdullah Renre

Dosen Sejarah dan Kebudayaan Islam pada Fakultas Adab dan Humaniora




(ID)
Abstract
In general, Islam and Malay community has been long integrated that has brought about the Islamic values in all aspects of life. This is due to the Malay background has been dominated by Islamic kingdom (sultanate) and Islam organizations had established the Islamic identity and opinion that obliged them to create/build moslem society pioneered by intellectuals, preacers, beurocrats, politicians. Besides, the young Moslem generations who have been highly educated both in and outside Malaysia actively take part in developing the country based on Islamic values. Commonly, Malay community feels that what they are doing now is in the right paths.
Downloads
Download data is not yet available.
References
Abdullah, Taufik & Sharon Siddique (ed). Tradisi dan Kebangkitan Islam di Asia Tenggara. Jakarta: LP3S, 1988.
___________(ed). Sejarah Islam Indonesia. Jakarta: MUI, 1991.
Al-Attas, Syed Muhammad Naquib. Islam dalam Sejarah dan Kebudayaan Melayu. Cet. IV, Bandung: Mizan, 1990.
Hamka. Sejarah Umat Islam. Jilid IV, Jakarta: Bulan Bintang, 1976.
Ensiklopedi Nasional Indonesia "Malaysia", Jilid X; Cet. I, Jakarta: Cipta Adi Pustataka, 1990.
http:/ms. Wiki pedia. org/wiki/Islam -di- Malysia, diakses 08-08-2011.
L. Esposito, John. The Oxford Ensyclopedia of The Modrn Islamic World, diterjemahkan oleh Eva Y. N., et.al.,
Ensiklopedi Oxford Dunia Islam Modern, Jilid III. Cet. II; Bandung: Mizan, 2002.
Mutalib, Hussin. Islam in Malaysia: From Revitalism to Islamic State. Singapore: Singapore University Press, 1993.
M. Lapidus, Ira. A History of Islam Societies. diterjemahkan oleh Gufron A. Masadi, dengan judul Sejarah Sosial Umat Islam. Jilid IV, Jakarta: Gafindo Persada,1999.
Thohir, Ajid. Perkembangan Peradaban di Kawasan Dunia Islam, cet. I; Jakarta: Raja Grafindo Persada, 2004.
Van Hoeve. Ensiklopedi Islam. Jilid III; Jakarta: Ikhtiar Baru Van Hoeve, 1994.
_______. "Persekutuan Tanah Melayu/Malaysia dan Brunai", H. Alfitra Salam dan Ahmad Syahid. Jilid V; Jakarta: Ikhtiar Baru Van Hoeve, 2003.
Y. Andaya, Leonard. Malaysia. Honolulu: University of Hawaii, t. th.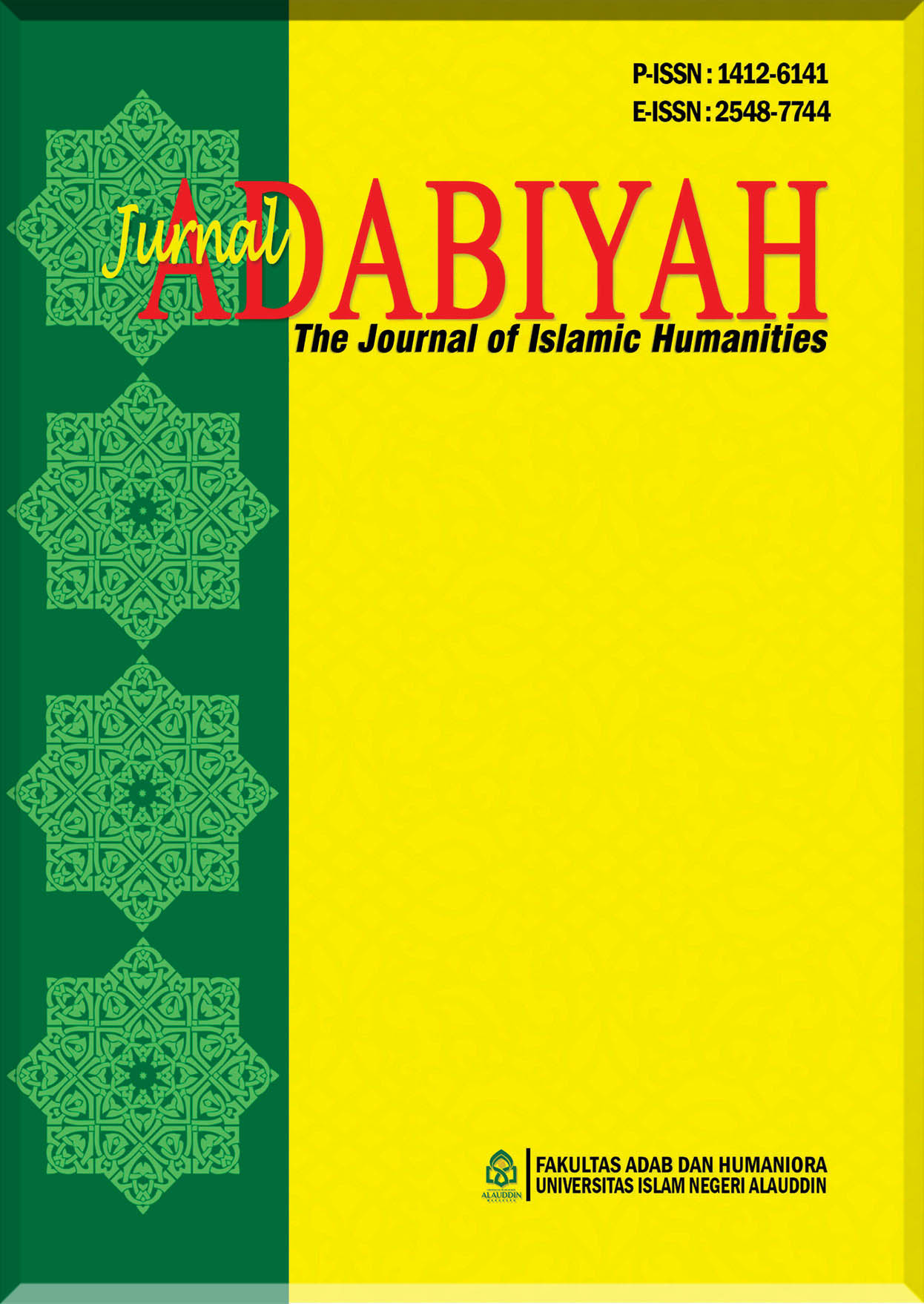 How to Cite

Renre, A. (2012). Perkembangan Islam di Malaysia (Suatu Tinjauan Sosio Historis). Jurnal Adabiyah, 12(2), 203-216. Retrieved from https://journal.uin-alauddin.ac.id/index.php/adabiyah/article/view/1720

COPYRIGHT AND LICENSE STATEMENT

COPYRIGHT
Jurnal Adabiyah is published under the terms of the Creative Commons Attribution license. Authors hold the copyright and retain publishing rights without restriction to their work. Users may read, download, copy, distribute, and print the work in any medium, provided the original work is properly cited.

LICENSE TO PUBLISH
1. License
The use of the article will be governed by the Creative Commons Attribution license as currently displayed on http://creativecommons.org/licenses/by/4.0.

2. Author's Warranties
The author warrants that the article is original, written by stated author/s, has not been published before, contains no unlawful statements, does not infringe the rights of others, is subject to copyright that is vested exclusively in the author and free of any third party rights, and that any necessary written permissions to quote from other sources have been obtained by the author(s).

3. User Rights
Under the Creative Commons Attribution license, the users are free to download, reuse, reprint, modify, distribute and/or copy the content for any purpose, even commercially, as long as the original authors and source are cited. No permission is required from the authors or the publishers.

4. Co-Authorship
If the article was prepared jointly with other authors, the corresponding author warrants that he/she has been authorized by all co-authors, and agrees to inform his/her co-authors of the terms of this statement.

5. Miscellaneous
Jurnal Adabiyah may conform the article to a style of punctuation, spelling, capitalization, and usage that it deems appropriate. The author acknowledges that the article may be published so that it will be publicly accessible and such access will be free of charge for the readers.

Abstract viewed = 15045 times