Konsep Al-Rububiyah dalam Alquran
Firdaus Firdaus

Alauddin State Islamic University of Makassar




(ID)
Abstract
This writing tries to explore the deep meaning of rabb in al-Quran. The result of research found out that term of rabb in al-Quran has three meanings, namely the all creating, the all possesing, and the all arranging. It means that the term rabb refers to the substantial attribute of God. The human being's acknowledgment of the God's existence brings about the God consciousness that there is no God to worship but Allah. This witness leads human being to be rabbanian namely people who are strictly commited to save and keep what has become his responsibility, implement the universal values based on moral force and religious values.
Downloads
Download data is not yet available.
References
Abduh, Syekh Muhammad , Risalat al-Tauhid. Diterjemahkan oleh K.H. Firdaus A.N. dengan judul Risalah Tauhid (Jakarta-Idonesia: Bulan Bintang, 1992).
Armstrong, Karen , A History of God: The 4.000-Year Quest of Judaism, Christianity and Islam. Diterjemahkan oleh Zaimul Am dengan judul Sejarah Tuhan: Kisah Pencarian Tuhan yang dilakukan oleh Orang-orang Yahudi, Kristen dan Islam Selama
000 Tahun (Bandung: Mizan, 2004).
Azad, Maulana Abu Kalam ,The Opening Chapter of the Qur'an (Kuala Lumpur: Islamic Book Trust, 1991).
E.J. Brill's, First Encyclopaedia of Islam 1913-1936, Vol.vi (Leiden-New York-Kőln, 1993).
Fawazin, Salih ibn Fauzan ibn 'Abd Allah al-, 'Akidah al-Tauhid (Al-Mamlakah al-'Arabiyah al-Su'udiyah, Muassasah al-Haramain al-Khaeriyah, 1418 H).
Ibrahim, Muhammad Ismail , Mu'jam al-Alfâzh wa al-A'lâm al-Qur'âniyyah (Kairo: Dar al-Fikr, 1968).
Ibnu Manzur, Lisan al-'Arab, Jilid 1 (Kairo: Dar al-Fikr, t.th.)
Maraghi, Mustafa al-, Tafsir al-Maraghi, Juz I (Mesir: Maktabah al-Babi al-Halabi,1969).
Muhammad Rasyid Ridha, Tafsir Surah al-Fatihah wa Sittu Suwar min Khawatim al-Qur'an. Diterjemahkan oleh Tiar Anwar Bachtiar dengan judul Tafsir al-Fatihah: Menemukan Hakikat Ibadah (Bandung: Mizan, 2005).
Munawar-Rahman, Budhy , Kata Pengantar Editor dalam Kontekstualisasi Ajaran Islam dalam Sejarah (Jakarta: Yayasan Paramadina, 1994).
Nasr, Seyyed Hossein , A Young Muslim's Guide to the Modern World. Diterjemahkan oleh Hasti Tarekat dengan judul Menjelajah Dunia Modern Bimbingan untuk Kaum Muda Muslim, ((Bandung: Mizan, 1994).
Rahman, Fazlur , Major Themes of the Qur'an. Diterjemahkan oleh Anas Mahyuddin dengan judul…(Jakarta: Pustaka, 1996).
Salim, Abd. Muin , Jalan Lurus Menuju Hati Sejahtera (Jakarta: Yayasan Kalimah, 1999).
----------------, Metodologi Tafsir Sebuah Rekonstruksi Epistimologis Memantapkan Keberadaan Ilmu Tafsir Sebagai Disiplin Ilmu, Orasi Pengukuhan Guru Besar IAIN Alauddin Makassar, tanggal 28 April 1999).
----------------, Wirid dan Do'a Rabbani (Sungguminasa, Halaqah Rabbani, 2004).
Shihab, M. Quraish , Menyingkap Tabir Ilahi al-Asmau al-Husna dalam Perspektif al-Qur'an (Jakarta: Lentera Hati, 2006).
----------------, Tafsir al-Misbah Kesan, Pesan dan Keserasian al-Qur'an, Vol. I (Jakarta: Lentera Hati, 2000).
----------------, Wawasan Al-Quran Tafsir Maudhu'i atas Pelbagai Persoalan Umat (Bandung: Mizan, 1996).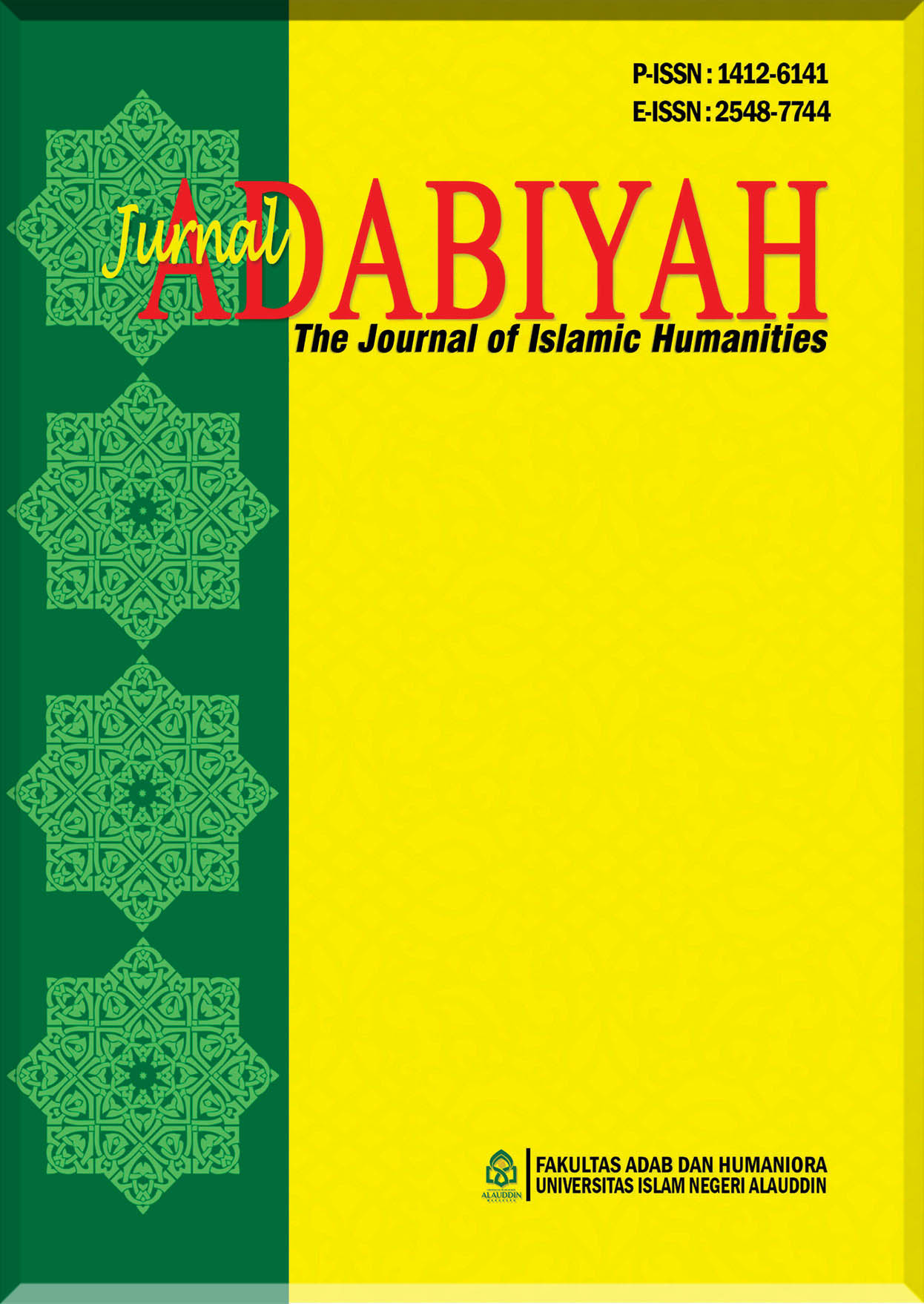 How to Cite

Firdaus, F. (2011). Konsep Al-Rububiyah dalam Alquran. Jurnal Adabiyah, 11(2), 305-316. Retrieved from https://journal.uin-alauddin.ac.id/index.php/adabiyah/article/view/1735

COPYRIGHT AND LICENSE STATEMENT

COPYRIGHT
Jurnal Adabiyah is published under the terms of the Creative Commons Attribution license. Authors hold the copyright and retain publishing rights without restriction to their work. Users may read, download, copy, distribute, and print the work in any medium, provided the original work is properly cited.

LICENSE TO PUBLISH
1. License
The use of the article will be governed by the Creative Commons Attribution license as currently displayed on http://creativecommons.org/licenses/by/4.0.

2. Author's Warranties
The author warrants that the article is original, written by stated author/s, has not been published before, contains no unlawful statements, does not infringe the rights of others, is subject to copyright that is vested exclusively in the author and free of any third party rights, and that any necessary written permissions to quote from other sources have been obtained by the author(s).

3. User Rights
Under the Creative Commons Attribution license, the users are free to download, reuse, reprint, modify, distribute and/or copy the content for any purpose, even commercially, as long as the original authors and source are cited. No permission is required from the authors or the publishers.

4. Co-Authorship
If the article was prepared jointly with other authors, the corresponding author warrants that he/she has been authorized by all co-authors, and agrees to inform his/her co-authors of the terms of this statement.

5. Miscellaneous
Jurnal Adabiyah may conform the article to a style of punctuation, spelling, capitalization, and usage that it deems appropriate. The author acknowledges that the article may be published so that it will be publicly accessible and such access will be free of charge for the readers.

Abstract viewed = 538 times