Kontinuitas Teologi Klasik dalam Dunia Islam
Wahyuddin G

Dosen Fakultas Adab dan Humaniora UIN Alauddin Makassar




(ID)
Abstract
Classical theology of Islam spread broadly to Islamic community in wider context. The concept of faith, believer, unbeliever, heaven and hell as the main themes of classical theology have undergone the changes of substantial meaning. The current theology not only discuss the above theme as, but also focuse on how to harmonize the relation between religions. There has been the sustainity and continuation of theological school form Jabariyah to a moderate one such Asy'ariah, whereas, Qadariyah-Mu'tazilah's theology has metamorphosed into liberal-inclusve theology.
Downloads
Download data is not yet available.
References
A. Partanto Vius dan Dahlan al-Barry, Kamus Ilmiah Populer, Cet. I (Surabaya, Arkola, 1994).
A. Sirry Mu'im (ed), Fikih lintas Agama (Jakarta, Yayasan Wakaf Paramadina, 2004).
Abdallah Masykuri, Ilmu Agama dalam Taufik Abdullah dkk (ed), Ensiklopedi Tematis Dunia Islam, Jilid I (Jakarta, PT. Ichtiar Baru Van Hoeve, 2002).
Abduh Syech Muhammad, Risalah Tauhid, diterjemahkan K.H. Firdaus, A.N., Cet. VIII (Jakarta, PT. Bulan Bintang, 1989).
Al-Afriki Ibn Mandur al-Misriah, Lisanul Arab, Jilid V, Cet. VI (Beirut, Dar al-Shadir, 1417 H / 1997M)
Al-Gharaby Ali Mustafa, Tarich al-Firaqul Islamiah (Beirut, Maktabah wa Matbah Muhammad Ali sabah wa Auladuhu, 1958), h. 32.
Al-Hanafi Al-Jurjaini, At-Ta'rifat, Cet. II (Beirut, Dar al-Kutub al-Ilmiah, 2003).
Arif Syamsuddin, Berkiblat ke Barat dalam Islamic Studies, Tabligh, Vol. 04/no.03, (Jakarta, 15 Juni – 15 Juli 2006).
Asy-Syahrastany Muhammad bin Abdul Karim, Al-Milah wan-Nihal, Juz I, Cet. III (Beirut, Mu'assasa al-Kutub al-Tsaqafiah, 1418 H / 1998 M).
Azra Azyumardi, Bingkai Teologi Kerukunan: Perspektif Islam dalam Konteks Berteologi di Indonesia: Pengalaman Islam (Jakarta, Paramadina, 1999).
Coan J. Milton, Hans Wehr A Dictionary Modern Written, (London, Macdonald & Evan Ltd, 1974).
Dep. Agama RI, Alquran dan Terjemahnya.
Departemen Pendidikan dan kebudayaan, Kamus Besar Bahasa Indonesia, Cet. III (Jakarta, Balai Pustaka, 1990).
Glasse Cyril, Ahl al-Kitab dalam The Concise Encyclopedia of Islam (San Fransisco, Harfer, 1991).
Knitter Paul, No Other Name? A Critical Survey of Christian Attitudes toword the World religious (Marykoll, Orbis Books, 1985).
Mahmudunnasir Syed, Islam it's Concep and History, (New Delhi, Kitab Bhavan, 1981).
Munawwar Rachman Budi, Islam pluralis, Cet. I (Jakarta, PT. Grafindo persada, 2004).
Nasution Harun, dkk (ed), Ensiklopedi Islam, Jilid II, Cet. III (Jakarta, PT. Ichtiar Baru Van Hoeve, 1994).
Nasution Harun, Teologi Islam: Aliran-Aliran Sejarah Analisis dan Perbandingan, Cet. V (Jakarta, UI Press, 1986).
Natsir Muhammad, Kebudayaan Islam: Dalam perspektif Sejarah, Cet. I (Jakarta, PT. Grimukti Pasaka, 1998).
Syamakhsyari Muhammad Ibn Umar, Al-Kasyysaf, Juz 4 (Dar al-Kitab al-Arabi, Beirut, 1406 H / 1986 M).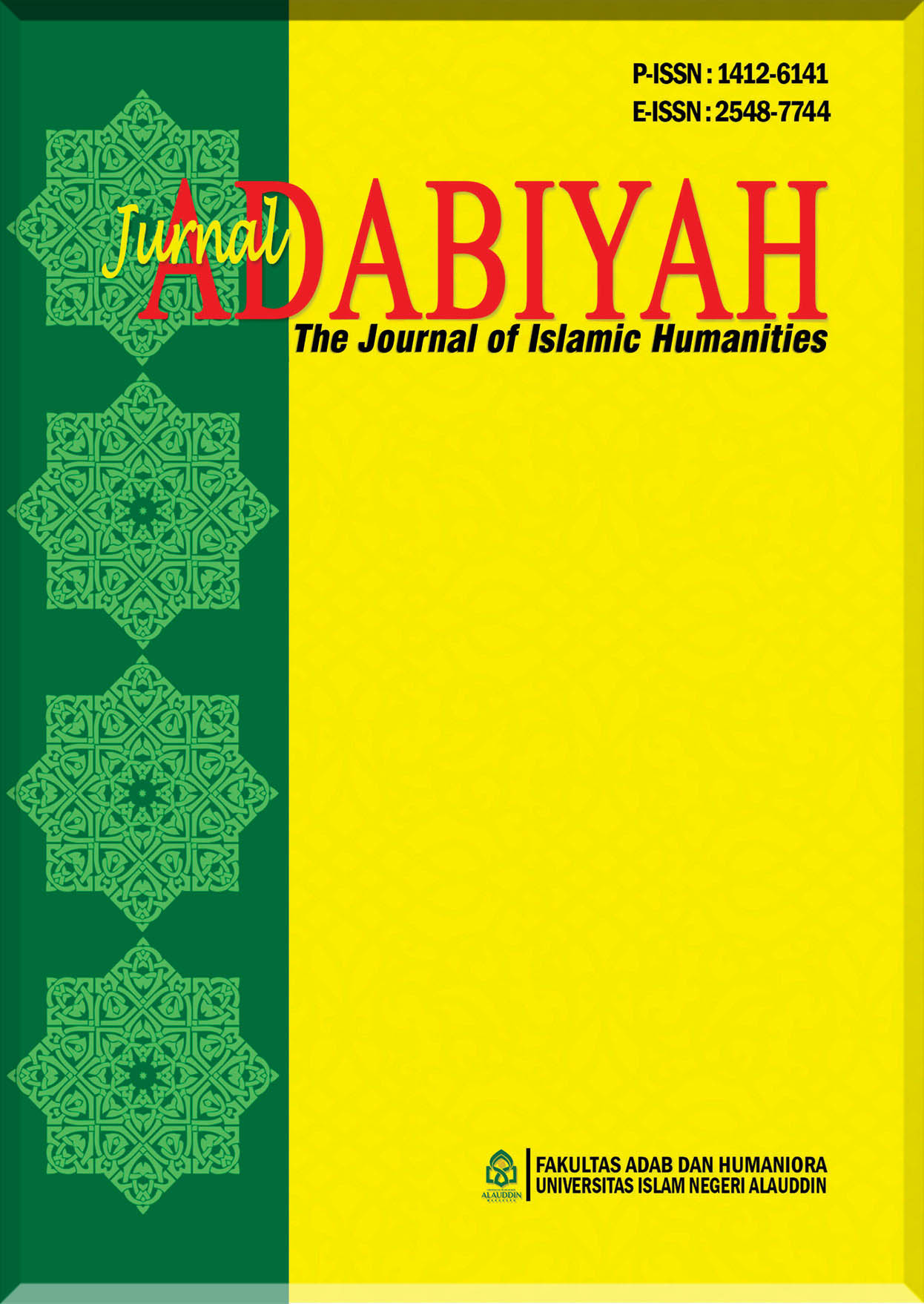 How to Cite

G, W. (2011). Kontinuitas Teologi Klasik dalam Dunia Islam. Jurnal Adabiyah, 11(2), 228-241. Retrieved from https://journal.uin-alauddin.ac.id/index.php/adabiyah/article/view/1737

COPYRIGHT AND LICENSE STATEMENT

COPYRIGHT
Jurnal Adabiyah is published under the terms of the Creative Commons Attribution license. Authors hold the copyright and retain publishing rights without restriction to their work. Users may read, download, copy, distribute, and print the work in any medium, provided the original work is properly cited.

LICENSE TO PUBLISH
1. License
The use of the article will be governed by the Creative Commons Attribution license as currently displayed on http://creativecommons.org/licenses/by/4.0.

2. Author's Warranties
The author warrants that the article is original, written by stated author/s, has not been published before, contains no unlawful statements, does not infringe the rights of others, is subject to copyright that is vested exclusively in the author and free of any third party rights, and that any necessary written permissions to quote from other sources have been obtained by the author(s).

3. User Rights
Under the Creative Commons Attribution license, the users are free to download, reuse, reprint, modify, distribute and/or copy the content for any purpose, even commercially, as long as the original authors and source are cited. No permission is required from the authors or the publishers.

4. Co-Authorship
If the article was prepared jointly with other authors, the corresponding author warrants that he/she has been authorized by all co-authors, and agrees to inform his/her co-authors of the terms of this statement.

5. Miscellaneous
Jurnal Adabiyah may conform the article to a style of punctuation, spelling, capitalization, and usage that it deems appropriate. The author acknowledges that the article may be published so that it will be publicly accessible and such access will be free of charge for the readers.

Abstract viewed = 316 times