Pelaksanaan Nilai-nilai Ajaran Islam Dalam Kehidupan Masyarakat Di Desa Garuntungan Kecamatan Kindang Kabupaten Bulukumba
Samhi Muawan Djamal

Fakultas Adab dan Humaniora Universitas Islam Negeri Alauddin Makassar




(ID)
Abstract
Abstract
This study aims to observe, to describe the implementation of Islamic teaching in the life of Garuntungan Village, District Kindang Bulukumba and to explain the factors that affect the implementation of teaching and practice of Islamic values in the community. The result of the research shows that Islamic teaching is basically practiced by people of Garuntungan village, although this practice is limited to formal religious rituals. Deep and well understanding of Islamic teaching is not implemented well in their private life, family, and society. This condition is supported by several factors such as the shifting behavior of society in the implementing the values of Islamic teachings, environment, community affair, lack of Islamic promulgation (da'wah), lack of parental knowledge of Islam, and community's less interest in pursuing education but seeking job for earning money.
Keywords: Islamic teaching, education, behavior, implementation.
ملخص
يغرض هذا البحث إلى ملاحظة تطبيق قيم التعاليم الإسلامية في حي قرية غارانتونغان (Garantungan)، كيندانغ (Kindang) منطقة بولوكومبا  (Bulukumba) وتوصيفه، وشرح العوامل التي تؤثر على تنفيذ التعاليم الإسلامية و تطبيق قيمه عند المجتمع فى حياتهم. ويظهر هذا البحث أن تنفيذ الدين الإسلامي في قرية غارانتونغان يقتصر فى التقاليد الدينية، والعوامل التي تؤثر على تنفيذ قيم التعاليم الإسلامية في تلك المنطقة تشمل التأثيرات البيئية، واشتغال المجتمع فى العمل، ونقصان الدعوة، والافتقار إلى الإشراف الأبوي على أولادهم، وفكرتهم في العمل أفضل من التعليم.الكلمات الدالة: التعاليم الإسلام، تطبيق، تنفيذ،الدين الإسلامي.
Abstrak
Penelitian ini mengamati dan mendeskripsikan penerapan niali-nilai ajaran Islam dalam kehidupan Masyarakat Desa Garuntungan Kecamatan Kindang Kabupaten Bulukumba serta menjelaskan faktor yang memengaruhi pelaksanaan ajaran dan pengamalan nilai-nilai Islam dalam masyarakat tersebut. Hasil penelitian menunjukkan bahwa pelaksanaan ajaran agama Islam masyarakat Desa Garuntungan pada dasarnya berjalan, walaupun sebatas pada ritual-ritual atau tradisi keagamaan, sementara nilai-nilai ajaran Islam tidak terimplementasi dengan baik dalam kehidupan pribadi, keluarga, dan masyarakat. Adapun beberapa faktor yang memengaruhi terjadinya pergeseran perilaku masyarakat dalam pelaksanaan nilai-nilai ajaran Islam di Desa Garuntungan Kecamatan Kindang Kabupaten Bulukumba meliputi pengaruh lingkungan, kesibukan masyarakat, kurangnya siraman rohani (intensitas dakwah), kurangnya pengawasan orang tua terhadap anak, dan pemikiran masyarakat yang lebih mementingkan mencari kerja dibanding menempuh pendidikan.
Kata kunci:
Nilai, Ajaran Islam, pemahaman agama, ritual keagamaan.
Downloads
Download data is not yet available.
References
Achmad, Waridkhan. Memajukan Pendidikan Islam Menuju Masyarakat Madani. Jakarta: Buana Karya, 2002.
Andrias, Harefa. Membangun Masyarakat Islami. Yogyakarta: Pareta Cipta. 2003.
Arifin, H. M. Hubungan Timbal Balik Pendidikan Agama di Lingkungan Keluarga, Jakarta: Bulan Bintang, 2004.
Arikunto, Suharsimi. Prosedur Penelitian Suatu Pendekatan Praktik, Jakarta: Rineka Cipta. 2006.
Ash-Shiddiqy, Hasbi. Kuliah Ibadah: Ibadah Ditinjau dari Segi Hukum dan Hikmah, Jakarta: Bulan Bintang, 1994.
Awaluddin. Implikasi Pemahaman Nilai-Nilai Islam terhadap Suasana Kemasyarakatan di Kabupaten Takalar. Tesis Tidak Dipublikasikan. Makassar: Pascasarjana UIN, 2008.
Azwar, Saifuddin. Tes Prestasi. Yogyakarta: Liberty, 2007.
Balikwan, Hanif. Kepemimpinan Orang Tua dalam Pembentukan Pribadi Muslim pada Remaja di Kelurahan Sukoharjo. Tesis Tidak Dipublikasikan. Malang: Pascasarjana UIN Malang, 2000.
Daradjat, Zakiah. Ilmu Pendidikan Islam. Jakarta: Bumi Aksara, 1992.
Departemen Agama RI. Al-Qur'an dan Terjemahannya, Jakarta: PT Toha Putra, 2006.
Jalal, Fasli. Kebijakan Pendidikan Nasional. Jakarta: Pustaka Utama, 2001.
Langgulung, Hasan. Manusia dan Pendidikan, Suatu Analisis Psikologi dan Pendidikan, Jakarta: Pustaka al-Husna, 1995.
Madjid, Nurcholish. Masyarakat Religius Membumikan Nilai-Nilai Islam dalam Kehidupan Masyarakat. Jakarta: Pustaka Al-Kautsar, 2000.
Muhammad, Sayyid bin Salim bin Hafidz. Fiqih & Tasawuf Wanita Muslimah. Surabaya: Cahaya Ilmu, 2008.
Mulyana, Rohmat. Mengartikulasikan Pendidikan Nilai. Bandung: Alfabeta, 2004.
Poerwadarminta, W.J.S. Kamus Umum Bahasa Indonesia, Jakarta: Balai Pustaka, 1991.
Prayitno, Irwan. Kepribadian Muslim. Jakarta: Mitra Grafika, 2005.
Priyantoro, Dian Eka. Strategi Pendidikan Islam dalam Keluarga di Kelurahan Karang Asem Kecamatan Laweyan Kodya Surakarta. Tesis Tidak Dipublikasikan. Malang: Pascasarjana UIN Malang, 2002.
Purwanto, M. Ngalim. Prinsip-Prinsip dan Teknik Evaluasi Pengajaran, Bandung: PT Remaja Rosdakarya, 1997.
Qardhawi, Yusuf. Implementasi Ibadah Islam untuk Keluarga Sakinah. Jakarta: Balai Pustaka, 1998.
Shihab, M. Quraish. Membumikan Al-Qur'an, Bandung: Mizan, 1994.
Sudijono, Anas. Pengantar Evaluasi Pendidikan, Jakarta: PT Raja Grafindo Persada
Tasmara, Toto. Etos Kerja Pribadi Muslim. Yogyakarta: PT Dana Bhakti Wakaf, 1995.
Thalib, Muhammad. Pembinaan Remaja Islam Membangun Bangsa. Jakarta: Pustaka Utama, 1998.
Winkel, W. S. Psikologi Pengajaran, Jakarta: PT Gramedia, 1996.
Yunus, H. Mahmud. Pokok-Pokok Pendidikan dan Pengajaran, Jakarta: PT Hidakarya Agung, 2000.
Zaini, Muctarom, Problematika Ibadah dalam Kehidupan Manusia, Jakarta: Kalam Mulia, 2009.
Zamroni. Pembinaan Keluarga Islami. Solo: Tiga Serangkai, 2001.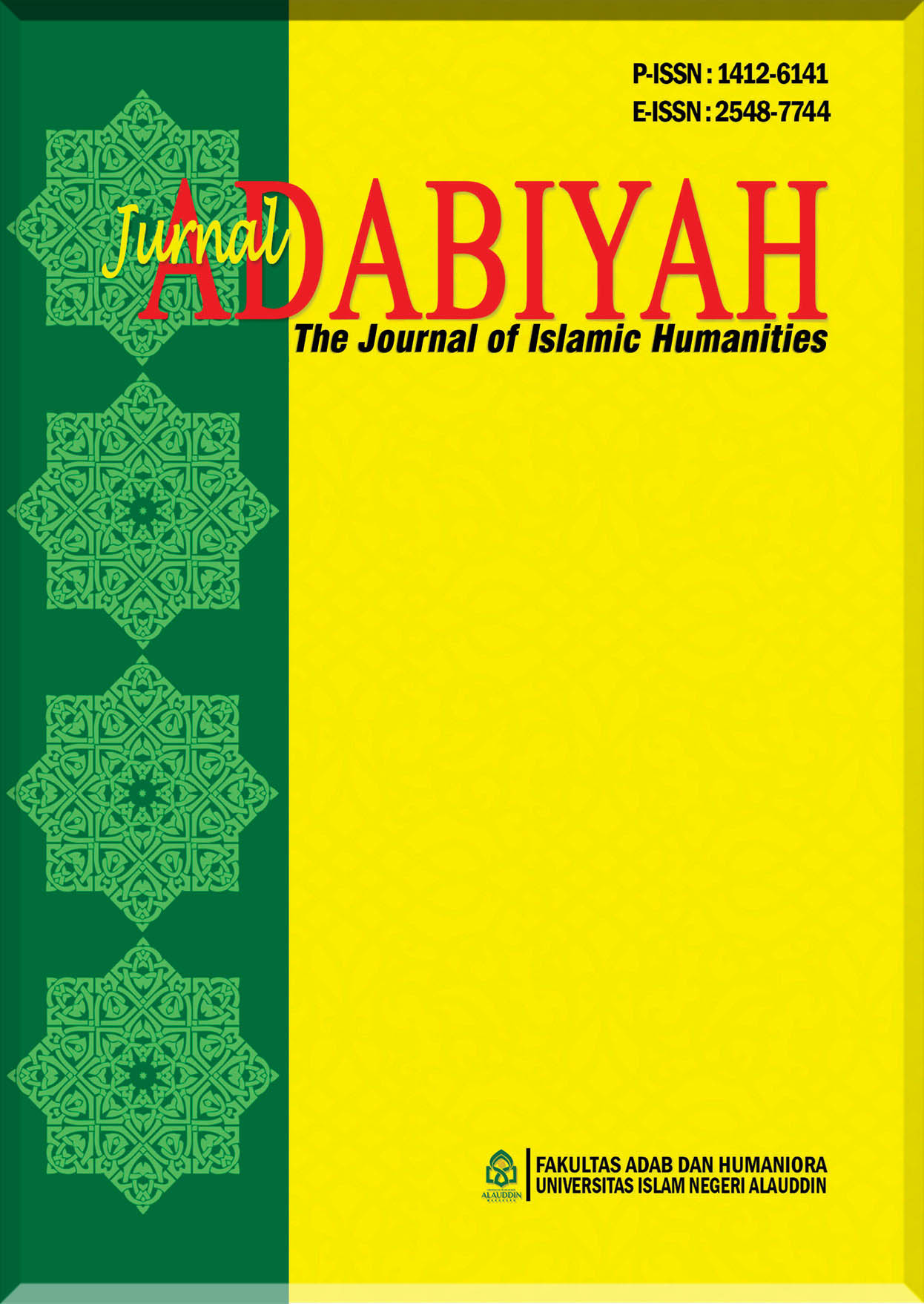 How to Cite

Djamal, S. M. (2017). Pelaksanaan Nilai-nilai Ajaran Islam Dalam Kehidupan Masyarakat Di Desa Garuntungan Kecamatan Kindang Kabupaten Bulukumba. Jurnal Adabiyah, 17(2), 161-179. https://doi.org/10.24252/JAd.v17i1i2a5

COPYRIGHT AND LICENSE STATEMENT

COPYRIGHT
Jurnal Adabiyah is published under the terms of the Creative Commons Attribution license. Authors hold the copyright and retain publishing rights without restriction to their work. Users may read, download, copy, distribute, and print the work in any medium, provided the original work is properly cited.

LICENSE TO PUBLISH
1. License
The use of the article will be governed by the Creative Commons Attribution license as currently displayed on http://creativecommons.org/licenses/by/4.0.

2. Author's Warranties
The author warrants that the article is original, written by stated author/s, has not been published before, contains no unlawful statements, does not infringe the rights of others, is subject to copyright that is vested exclusively in the author and free of any third party rights, and that any necessary written permissions to quote from other sources have been obtained by the author(s).

3. User Rights
Under the Creative Commons Attribution license, the users are free to download, reuse, reprint, modify, distribute and/or copy the content for any purpose, even commercially, as long as the original authors and source are cited. No permission is required from the authors or the publishers.

4. Co-Authorship
If the article was prepared jointly with other authors, the corresponding author warrants that he/she has been authorized by all co-authors, and agrees to inform his/her co-authors of the terms of this statement.

5. Miscellaneous
Jurnal Adabiyah may conform the article to a style of punctuation, spelling, capitalization, and usage that it deems appropriate. The author acknowledges that the article may be published so that it will be publicly accessible and such access will be free of charge for the readers.

Abstract viewed = 3976 times