Dinamika Perkembangan Islam Di Asia Tenggara Perspektif Histori
M Dahlan M

Dosen/Wakil Dekan III di FAH UIN Alauddin Makassar




(ID)
Abstract
This writing discusses about Islamic development  in south East Asia. It used library methode aplying qualitative analysis. The data of this writing was arranged based on heuristic analysis, critics, and interpretation. The writer concludes that Islam has developed since 9th century to the present. Islamic development stage can be divided into three era; pra colonial, colonial era, and pasca colonial. Islamic development in south Asia was more dominantly influenced by its supporting aspects bringing the islamic community persistenly live and has coloured the historical pieces in this area.
Downloads
Download data is not yet available.
References
Abdullah, Taufik (Editor). Sejarah Ummat Islam Indonesia. Jakarta: Majelis Ulama Indonesia, 1991.
Arnold, Thomas W. The Preaching of Islam, diterjemahkan oleh H. A. Nawawi Rambe dengan judul "Sejarah Da'wah Islam". Cet. II; Jakarta: Wijaya, 1981.
Hamka, Sejarah Ummat Islam. Jilid IV. Cet. II; Jakarta: Bulan Bintang, 1976.
Ibrahim, Ahmad et al., Readings on Islam in South East Asia, dietrjemahkan oleh Hasan Basari dengan judul "Islam di Asia Tenggara Perkembangan Kontemporer". Cet. I: Jakarta; LP3ES, 1990.
Kartodirjo, Sartono, Pengantar Sejarah Indonesia Baru dari Emporium sampai Imperium. Jilid I. Jakarta: PT. Gramedia, 1987.
Lapidus, M. Ira. A. History of Islamic Societes diterjemahkan oleh Ghufran A. Mas'adi dengan judul Sejarah Sosial Umat Islam. Cet. III; Jakarta: PT. RajaGrafindo Persada, 2003.
Majul, Cesar Adib. The Contemporary Muslim Movement in the Philippines, diterjemahkan oleh Eddy Zainurry dengan judul "Dinamika Islam Filipina". Jakarta: LP3ES, 1989.
Muzani, Saiful (Editor). Pembangunan dan Kebangkitan Islam di Asia Tenggara. Cet. I; Jakarta: PT. Pustaka LP3ES, 1993.
Nugroho, E. (Editor), Ensiklopedi Nasional Indonesia. Jilid 2. Cet. II; Jakarta: PT. Cipta Adi Pustaka, 2000.
Pitsuwan, Surin. Islam and Malay Nationalism; A Case Studi or the Malay Muslims of Souther Thailand, diterjemahkan oleh Hasan Basari dengan judul "Islam di Mungthai: Nasionalisme Melayu Masyarakat Patani. Cet. I; Jakarta: LP3ES, 1989.
Pringgodigdo, A.G. et al. (Editor), Ensiklopedi Umum. Yogyakarta: Yayasan Kamisius, 2003.
Tjandrasasmita, Uka (Editor). Sejarah Nasional Indonesia III Jaman Pertumbuhan dan Perkembangan Kerajaan-kerajaan Islam di Indonesia. Jakarta: Balai Pustaka, 1977.
Yatim, Badri. Sejarah Peradaban Islam. Cet. I; Jakarta: PT. Raja Grafindo Persada, 1993.
Zuhri, KH. Saifuddin. Sejarah Kebangkitan Islam dan Perkembangan di Indonesia. Cet. III; Bandung: PT. Al-Ma'arif, 2001.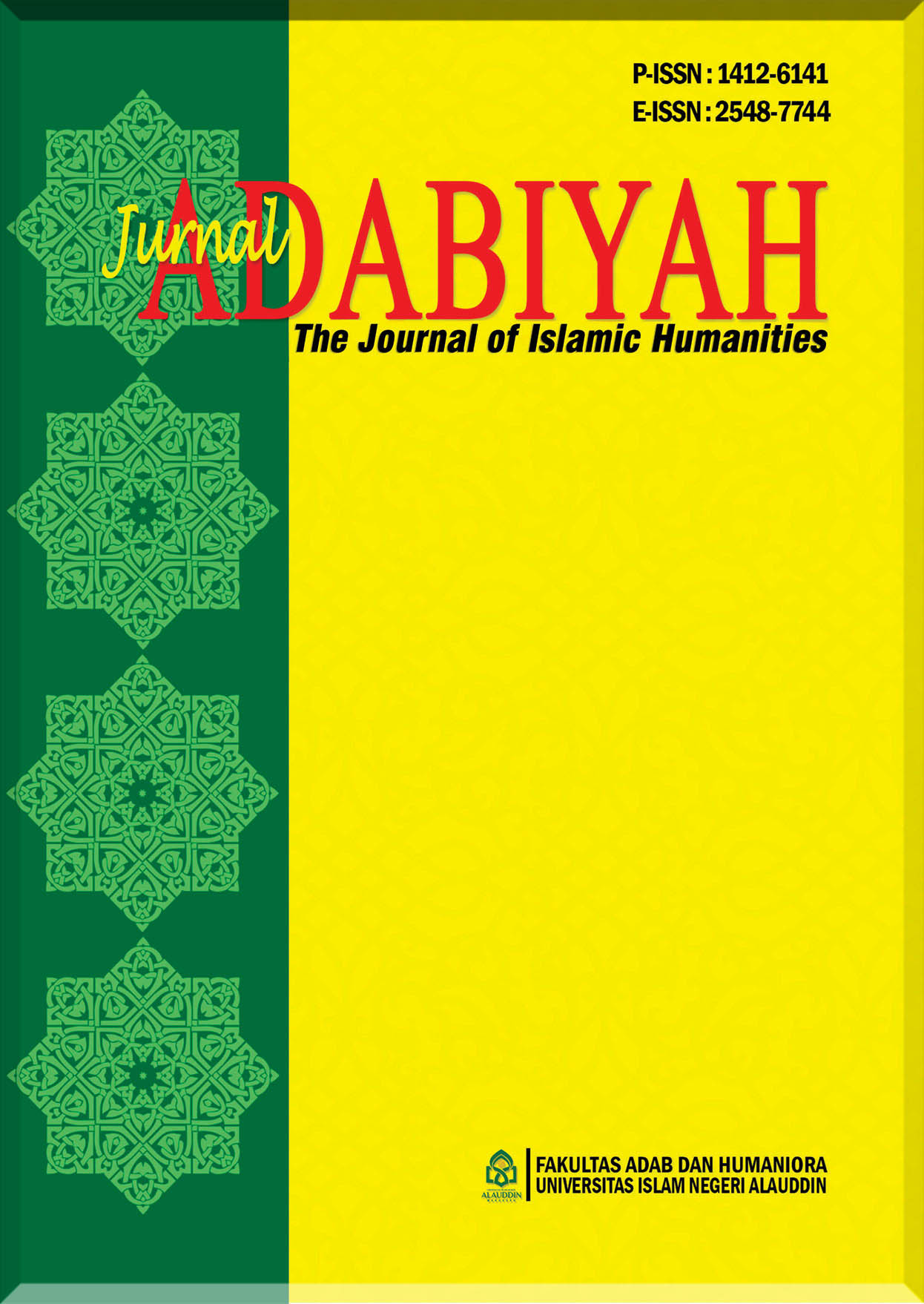 How to Cite

M, M. D. (2015). Dinamika Perkembangan Islam Di Asia Tenggara Perspektif Histori. Jurnal Adabiyah, 13(1), 1-9. Retrieved from https://journal.uin-alauddin.ac.id/index.php/adabiyah/article/view/367

COPYRIGHT AND LICENSE STATEMENT

COPYRIGHT
Jurnal Adabiyah is published under the terms of the Creative Commons Attribution license. Authors hold the copyright and retain publishing rights without restriction to their work. Users may read, download, copy, distribute, and print the work in any medium, provided the original work is properly cited.

LICENSE TO PUBLISH
1. License
The use of the article will be governed by the Creative Commons Attribution license as currently displayed on http://creativecommons.org/licenses/by/4.0.

2. Author's Warranties
The author warrants that the article is original, written by stated author/s, has not been published before, contains no unlawful statements, does not infringe the rights of others, is subject to copyright that is vested exclusively in the author and free of any third party rights, and that any necessary written permissions to quote from other sources have been obtained by the author(s).

3. User Rights
Under the Creative Commons Attribution license, the users are free to download, reuse, reprint, modify, distribute and/or copy the content for any purpose, even commercially, as long as the original authors and source are cited. No permission is required from the authors or the publishers.

4. Co-Authorship
If the article was prepared jointly with other authors, the corresponding author warrants that he/she has been authorized by all co-authors, and agrees to inform his/her co-authors of the terms of this statement.

5. Miscellaneous
Jurnal Adabiyah may conform the article to a style of punctuation, spelling, capitalization, and usage that it deems appropriate. The author acknowledges that the article may be published so that it will be publicly accessible and such access will be free of charge for the readers.

Abstract viewed = 4275 times