Pemikiran Al-Maturidiyah Dalam Pemikiran Islam
Abstract
Matudiridyah was known as a moderat school that aims to elaborate between the Mu'tazilah and Asyariyah School. It was established by its founder Abu Manshur al-Maturidi. Amongst the crucial Islamic thought, Abu Manshur stood out to introduce a new paradigm of Islamic theology. He aimed at bridging the two contradicting Islamic theology school between Asyari and Mu'tazilah. However, his effort was not running well due to Maturidiyah School came to frictions namely Samarkand and Bukhari. The Samarkand school tended to be in line with Mu'tazilah thought, while the later tended to support Asyariyah theology.
Downloads
Download data is not yet available.
References
Sodikin , Abuy & Barduzaman, Metodologi Studi Islam, Bandung, Tunas Nusantara, 2000.
Mudhofir, Ali. Kamus Teori dan Aliran dalam Filsafat dan Teologi, Cet: I, Yogyakarta, Gajah Mada University Press, 1996.
Hakim , Atang Abdul & Jaih Mubarok, Metodologi Studi Islam, Banduing, Remaja Rosda Karya, 1999.
Nasution, Harun. Teologi Islam Aliran-aliran Sejarah Analisa Perbandingan, Cet: V, Jakarta, Universitas Indonesia, 1986.
Hanafi, Ahmad. Teologi Islam. Cet: 12, Jakarta, Bulan Bintang, 2001.
Smith, Haston. Ensiklopedi Islam Ringkas. Cet: III, Jakarta. Grafindo Persada,2002.
Hanafi, Ahmad. Teologi Islam. Cet: I, Jakarta, Bulan Bintang, 1974.
Hanafi. Mengantar Theology Islam. Jakarta, Pustaka Al-Husna, 1998.
Zahrah, Imam Muhammad Abu. Aliran Politik dan Aqidah dalam Islam. Cet: I, Jakarta, Logod, 1996.
Departemen Agama Republik Indonesia, Al-Qur'an dan Terjemahannya. Jaya Sakti, Surabaya, 1997.
Hasan, Muhammad Tholhah. Ahlussunnah Wal-Jamaah dalam Persepsi dan Tradisi NU. Cet: III, Jakarta, Lantabora Press, 2005.
Browen, L Cal. Wajah Islam Politik. Jakarta, Serambi Ilmu Semesta, 2003.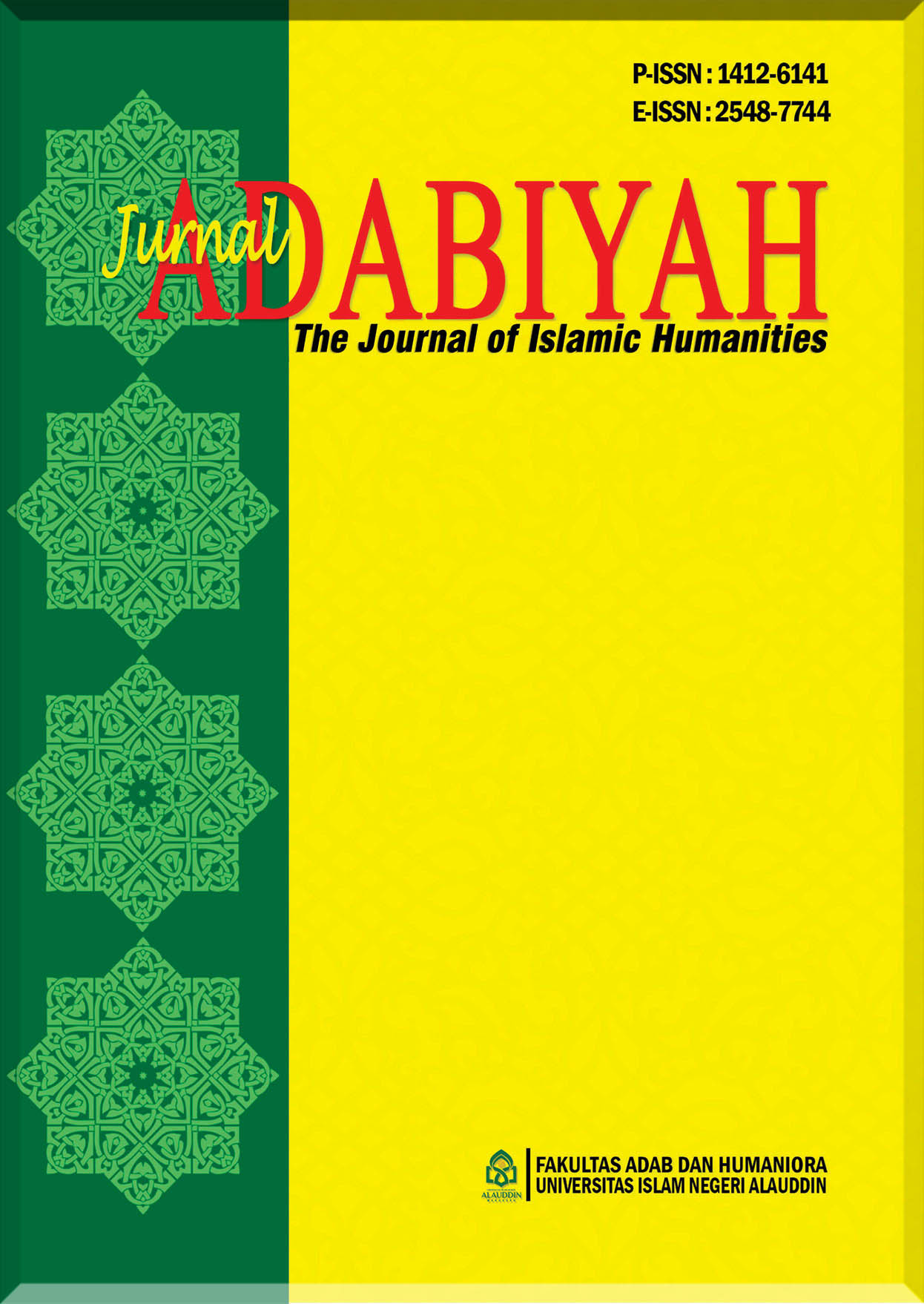 How to Cite

Zar, A. (2014). Pemikiran Al-Maturidiyah Dalam Pemikiran Islam. Jurnal Adabiyah, 14(2), 150-162. Retrieved from https://journal.uin-alauddin.ac.id/index.php/adabiyah/article/view/397

COPYRIGHT AND LICENSE STATEMENT

COPYRIGHT
Jurnal Adabiyah is published under the terms of the Creative Commons Attribution license. Authors hold the copyright and retain publishing rights without restriction to their work. Users may read, download, copy, distribute, and print the work in any medium, provided the original work is properly cited.

LICENSE TO PUBLISH
1. License
The use of the article will be governed by the Creative Commons Attribution license as currently displayed on http://creativecommons.org/licenses/by/4.0.

2. Author's Warranties
The author warrants that the article is original, written by stated author/s, has not been published before, contains no unlawful statements, does not infringe the rights of others, is subject to copyright that is vested exclusively in the author and free of any third party rights, and that any necessary written permissions to quote from other sources have been obtained by the author(s).

3. User Rights
Under the Creative Commons Attribution license, the users are free to download, reuse, reprint, modify, distribute and/or copy the content for any purpose, even commercially, as long as the original authors and source are cited. No permission is required from the authors or the publishers.

4. Co-Authorship
If the article was prepared jointly with other authors, the corresponding author warrants that he/she has been authorized by all co-authors, and agrees to inform his/her co-authors of the terms of this statement.

5. Miscellaneous
Jurnal Adabiyah may conform the article to a style of punctuation, spelling, capitalization, and usage that it deems appropriate. The author acknowledges that the article may be published so that it will be publicly accessible and such access will be free of charge for the readers.

Abstract viewed = 7483 times