PEMBINAAN KELUARGA SAKINAH TERHADAP PREVENTIF PERCERAIAN DI KANTOR URUSAN AGAMA KECAMATAN SOMBA OPU KABUPATEN GOWA
Syamsuddin AB

Dosen Jurusan Kesejahteraan Sosial Fakultas Dakwah dan Komunikasi UIN Alauddin Makassar




(ID)

Isma Arianti

Mahasiswa Jurusan Pengembangan Masyarakat Islam Fakultas Dakwah dan Komunukasi UIN Alauddin Makassar




(ID)
Abstract
Sakinah family coaching towards divorce prevention aims to foster family sakinah against pre-marital divorce prevention and to find out the inhibiting and supporting factors in sakinah family coaching towards preventive pre-marital divorce. This study uses a qualitative descriptive approach. The subject of the study was the coach of the sakinah family in the Office of Religious Affairs in Somba Opu District, Gowa Regency. Data collection uses structured and unstructured interview observation methods, as well as documentation. The author conducts research assisted with interview guidelines, observation guidelines. Data analysis techniques used are data reduction, data presentation and conclusion drawing.The results showed that: 1). The form of sakinah family coaching to prevent pre-marital divorce in the Office of Religious Affairs in Somba Opu District, Gowa Regency is face to face, groups, lectures and discussions. In conducting the training for the participants the instructor / functional instructor gives advice in the form of family secrets, 2). The inhibiting factor in the formation of a Sakinah family towards the prevention of premarital divorce is work and misunderstanding for some people regarding the formation of a Sakinah family. Supporting factors are human resources, facilities and the number of places of worship.
References
AB, Syamsuddin.Paradigma Metode Penelitian Kualitatif dan Kuantitatif. Makassar: Cv Shofia, 2016.
Agama,Departemen. Al-Qur'an Dan Terjemahannya. Bandung: Diponogoro, 2010.
Bungin, Burhan. Metodologi Penelitian Kualitatif Aktualisasi Metodologi Ke Arah Ragam Varian Kontemporer. Jakarta: PT. Raja Grapindo Persada, 2008.
Furchan,Arief.Pengantar Metode Penelitian Kualitatif,Dalam Yanuar Iqbal,Metode Penelitian Sosial Kualitatif. Bandung:PT Refika Aditama, 2012.
Islam, DirektoratUrusan Agama. Membina Keluarga Sakinah. Jakarta: Departemen Agama Ri, 2015.
Kriyatono, Rahmat. Teknik Politik Riset Komunikasi. Jakarta: Kencana, 2009.
Latif, Djamil. Aneka Hukum Perceraian Di Indonesia. Jakarta: Ghalia Indonesia, 1985.
Mahmud, Akilah.Keluarga Sakinah Menurut Pandangan Islam. Samata: Alauddin Press, 2012.
Meleong, Lexy J.Metodologi Penelitian Kualitatif. Bandung: Remaja Rosda Karya, 2015.
Peraturan Menteri Agama Nomor 11 Tahun 2007, Pasal 1. Bab 1. Tentang Pencatatan Nikah.RI, Departemen Agama. Rumusan Hasil Kordinasi Pejabat Departemen Agama Pusat dan Daerah 1999. Surat Edaran No. 59-Vii/01-01.1/3620/1999.
Ridwan. Muhammad Saleh. Keluarga Sakinah Mawaddah Warahmah. Makassar: Alauddin University Press, 2013.
Ruslan, Rosadi, Metode Penelitian Public Relation Dan Komunikasi. Jakarta: Pt. Raja Grafindo Persada, 2008.
Shihab, Quraish. Membumikan Al-Qur'an. Bandung: Mizan 1994.
Soeprapto, Riyadi. Interaksionisme Simbolik. Malang: Averroes Press, 2002.
Soimin, Soedharyo. Hukum Orang Dan Keluarga. Sinar Grafika, EdisiRevisi.
Sugiyono. Metode Penelitian Pendidikan (Pendekatan Kuantitatif, Kualitatif, Dan R&D). Bandung: 2009.
Syamsuddin, Cahaya Hidup Pengasuhan Keluarga (Fungsionalisme Structural Dan Interaksionalisme Simbolik). Jawa Timur Indonesia: Wade Group, 2018.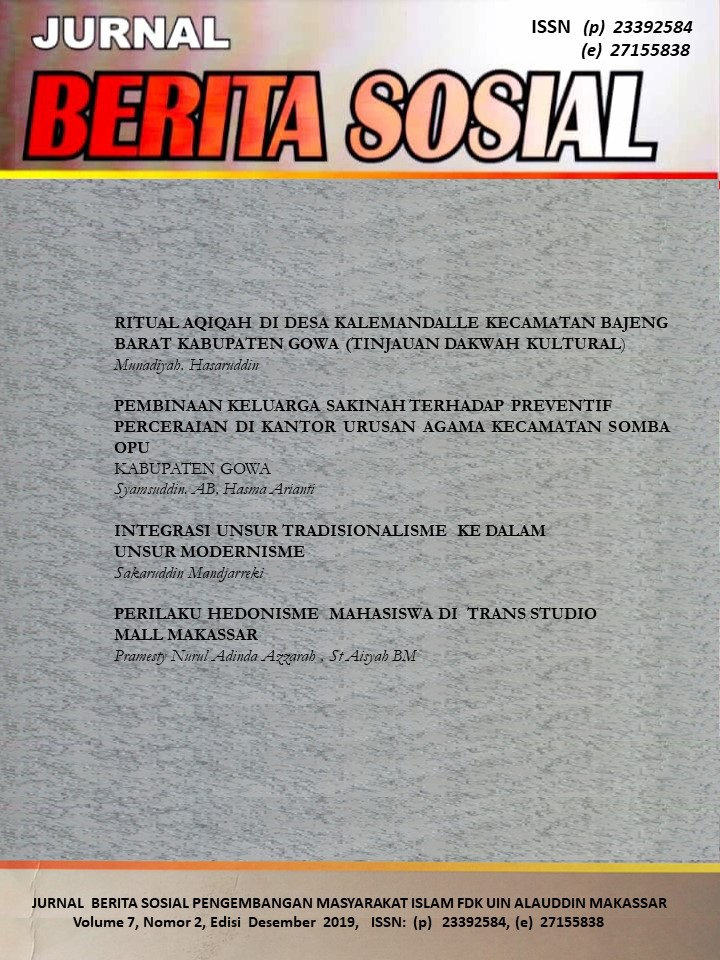 Section

Volume 1 Nomor 1, Desember 2013

Abstract viewed = 227 times