Error Analysis on Simple Past Tense Used in Short Story Made by EFL Students
Faras Seruni

Lampung University




(ID)
Keywords:
Error Analysis, Short Story, Simple Past Tense
Abstract
Tenses are a crucial element in the English language. In writing or saying a sentence in English, people should consider what kind of tenses will be used. This study aims to find out what kind of errors are made by eleventh-grade students in writing a short story. The instrument used for the research is the writing test. This qualitative descriptive study involves thirty-one Senior High School students. To know the error made by the students, the researcher used a written test and then analyzed it qualitatively. There are one hundred twenty-eight errors made by the students and it is found seven omission types of error, sixteen errors for addition types, a hundred errors made in misformation, and five errors in misordering. It can be concluded that the students mostly made an error in the misformation type and the students have a low awareness of using verbs in the simple past tense while writing a short story.
Downloads
Download data is not yet available.
References
Agustina, D. (2013). STUDENTS' BASIC PROBLEMS IN LEARNING ENGLISH: MASTERING VOCABULARY AND GRAMMAR. Vidya Karya, 28(1).
Brown, H. Douglas. (1980). Principles of Language Learning and Teaching. Prentice-Hall Inc.
Burns, N., & Grove, S. K. (2003). Understanding_Nursing_Research. Saunders.
Fadzilyna. (2013). Errors in Using the Past Tense Made by 8th Graders of MTsN Model Trenggalek. Universitas Negeri Malang.
Fitria, T. N. (2021). Grammatical Error Analysis of English Abstracts Translation in Jurnal Ilmiah Ekonomi Islam (JIEI) Journal. LITE: Jurnal Bahasa, Sastra, Dan Budaya, 17(2), 117–126. https://doi.org/10.33633/lite.v17i2.5050
Halim, S. (2018). The Ability of Student in Mastering Simple Past Tense at Politeknik Negeri Ujung Pandang Politeknik Negeri Ujung Pandang IDEAS Journal of Language Teaching and Learning, Linguistics and Literature. 6(2), 107–113.
Hasibuan, A., & Simatupang, T. M. (2018). STUDENTS' ERRORS IN USING LEXICOGRAMMATICAL FEATURES IN WRITING RECOUNT TEXT (A Study at the X Grade Students of SMA Negeri 4 Padangsidimpuan 2016/2017 Academic Year). Elite : English and Literature Journal, 5(1), 22–34. https://doi.org/10.24252/elite.v5i1a3
Hutauruk, B. S., Sinaga, Y. K., & Sitinjak, G. (2022). TLEMC (TEACHING & LEARNING ENGLISH IN MULTICULTURAL CONTEXTS) ERROR ANALYSIS OF THE STUDENTS IN WRITING A RECOUNT TEXT (A CASE STUDY AT GRADE III IN ENGLISH DEPARTMENT UNIVERSITAS HKBP NOMMENSEN). 6(1). http://jurnal.unsil.ac.id/index.php/tlemc/index
Iftanti, E. (2016). IMPROVING STUDENTS' WRITING SKILLS THROUGH WRITING JOURNAL ARTICLES. Jurnal Bahasa Lingua Scientia, 8(1), 1–14. https://doi.org/10.21274/ls.2016.8.1.1-14
Ikan, J., No, T., Banyuwangi, K., Java, E., & Rahmatika, C. A. (2018). A Content Analysis On the Quality of Short Stories in Short Stories For Children's Published By Children's Book Trust. http://ejournal.unibabwi.ac.id/index.php/lunar
Ilmiah, I. (2017). AN ANALYSIS OF GRAMATICAL ERROR IN WRITING RECOUNT TEXT. Elite : English and Literature Journal, 3(1), 9–20. https://journal.uin-alauddin.ac.id/index.php/elite/article/view/3390
James, C. (2013). Errors in Language Learning and Use: Exploring Error Analysis. Routledge.
Lubis, R. F. (2014). Simple Past Tense In Recount Text........Rayendriani Fahmei Lubis 33 SIMPLE PAST TENSE IN RECOUNT TEXT (Vol. 01, Issue 01).
Makassar, S., & Febri Indriani, D. (2019). AN ERROR ANALYSIS OF WORD ORDER USED IN SHORT STORY MADE BY THE TWELFTH GRADE STUDENTS AT SMA GUNUNG.
Moleong, L. J. (2014). Metode Penelitian Kualitatif. PT. Remaja Rosadakarya.
Nadya, M., & Muthalib, K. A. (2021). Error analysis of the students' English written descriptive text. English Education Journal, 12(2), 196–217. https://doi.org/10.24815/eej.v12i2.19552
Napratilora, M., & Yanti, S. (2019). TENSES UNDERSTANDING IN USING THE ENGLISH LANGUAGE. EJI (English Journal of Indragiri) : Studies in Education, Literature, and Linguistics, 3(1), 29–38. https://doi.org/10.32520/eji.v3i1.466
Richards, Jack. C. (1974). Error Analysis: Perspectives on Second Language Acquisition. Longman.
Ruminar, H. (2018). EnJourMe (English Journal of Merdeka) : Culture, Language, and Teaching of English Grammatical Errors in ESP students' Presentation across proficiency levels. In English Journal of Merdeka) : Culture, Language, and Teaching of English (Vol. 3, Issue 1).
Setiyadi, Ag. B. (2018). Metode Penelitian untuk Pengajaran Bahasa Asing. Graha Ilmu.
Siddiq, A. (2013). THE USE OF SEMANTIC MAPPING TECHNIQUE TO IMPROVE WRITING SKILLS IN THE DESCRIPTIVE TEXT.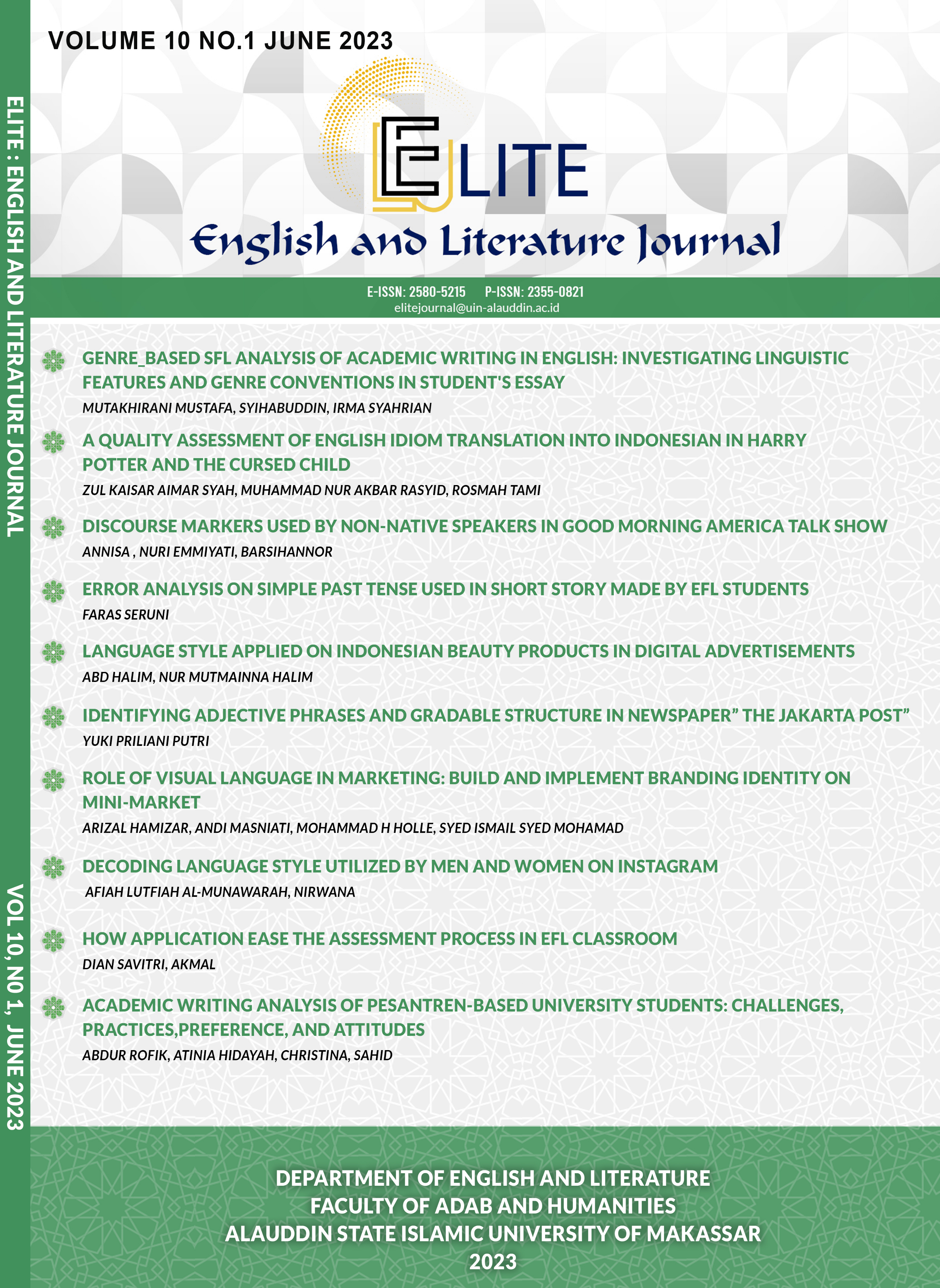 How to Cite
Seruni, F. (2023). Error Analysis on Simple Past Tense Used in Short Story Made by EFL Students. Elite : English and Literature Journal, 10(1), 39-48. https://doi.org/10.24252/elite.v10i1.36597
Copyright (c) 2023 Faras Seruni
This work is licensed under a Creative Commons Attribution-NonCommercial-ShareAlike 4.0 International License.

Once an article was published in the journal, the author(s) are:

granted to the journal right licensed under Creative Commons License Attribution that allows others to share the work with an acknowledgement of the work's authorship.
permitted to publish their work online in third parties as it can lead wider dissemination of the work.
continue to be the copyright owner and allow the journal to publish the article with the CC BY-NC-SA 4.0 license
receiving a DOI (Digital Object Identifier) of the work.



Abstract viewed = 249 times