DESAIN DAN KONSTRUKSI PENYULING AIR ASIN MENJADI AIR TAWAR (SOLAR STILL) YANG MUDAH, MURAH DAN MEMILIKI EFISIENSI TINGGI
Iswadi I. Patunrengi1

Universitas Islam Negeri Alauddin Makassar




(ID)

Aisyah Aisyah

Universitas Islam Negeri Alauddin Makassar




(ID)

Muh Said L

Universitas Islam Negeri Alauddin Makassar




(ID)

Nurul FA

Universitas Islam Negeri Alauddin Makassar




(ID)
Abstract
Solar still design and construction have been carried out with two models, namely the pyramid model and the prism model. The prism model is proposed as a new model that is easier and cheaper in the construction process as a potential replacement for the previous model that is more complicated. While the pyramid model is a control model. The size of the container or raw water bath used is 75 cm x 75 cm x 10 cm. the results showed that the volume of water evaporated pyramid model more than the control model, efficiency also gave a better value of 27.55% compared to 24.10% for the control model.
Downloads
Download data is not yet available.
References
Aburideh, Hanane, Adel Deliou, Brahim Abbad, Fatma Alaoui, Djilali Tassalit, and Zahia Tigrine. 2012. "An Experimental Study of a Solar Still: Application on the Sea Water Desalination of Fouka." In Procedia Engineering, 33:475–84. Elsevier. https://doi.org/10.1016/j.proeng.2012.01.1227.
Arunkumar, T., K. Vinothkumar, Amimul Ahsan, R. Jayaprakash, and Sanjay Kumar. 2012. "Experimental Study on Various Solar Still Designs." ISRN Renewable Energy 2012: 1–10. https://doi.org/10.5402/2012/569381.
Aybar, Hikmet S. 2007. "A Review of Desalination by Solar Still." In NATO Security through Science Series C: Environmental Security, 207–14. https://doi.org/10.1007/978-1-4020-5508-9_15.
Farshchi Tabrizi, Farshad, Mohammad Dashtban, Hamid Moghaddam, and Kiyanoosh Razzaghi. 2010. "Effect of Water Flow Rate on Internal Heat and Mass Transfer and Daily Productivity of a Weir-Type Cascade Solar Still." Desalination 260 (1–3): 239–
https://doi.org/10.1016/j.desal.2010.03.037.
Ismail, Basel I. 2009. "Design and Performance of a Transportable Hemispherical Solar Still. "Renewable Energy 34(1): 145–50. https://doi.org/10.1016/j.renene.2008.03.013.
Iswadi, and Aisyah. 2013. "Sistem Pengolahan Air Laut Menjadi Air Minum." 2013, 66–77. http://journal.uin-alauddin.ac.id/index.php/al-kimia/article/download/1632/1587.
Kabeel, A E, Z M Omara, and F A Essa. 2013. "ENHANCEMENT OF MODIFIED SOLAR STILL INTEGRATED WITH EXTERNAL CONDENSER USING NANOFLUIDS: AN EXPERIMENTAL APPROACH".
Kalidasa Murugavel, K., and K. Srithar. 2011. "Performance Study on Basin Type Double Slope Solar Still with Different Wick Materials and Minimum Mass of Water. "Renewable Energy 36 (2): 612–20. https://doi.org/10.1016/j.renene.2010.08.009.
Said, Muh, and Iswadi. 2016. "RANCANG BANGUN ALAT PEMURNI AIR LAUT MENJADI AIR MINUM MENGGUNAKAN SISTEM PIRAMIDA AIR (GREEN HOUSE EFFECT) BAGI MASYARAKAT PULAU DAN PESISIR DI KOTA MAKASSAR." Jurnal Sains Dan Pendidikan Fisika. Vol. 12. https://doi.org/10.35580/JSPF.V12I3.3057.
Tabrizi, Farshad Farshchi, Mohammad Dashtban, and Hamid Moghaddam. 2010. "Experimental Investigation of a Weir-Type Cascade Solar Still with Built-in Latent Heat Thermal Energy Storage System." Desalination 260 (1–3): 248–53.
https://doi.org/10.1016/j.desal.2010.03.033.
Tanaka, Hiroshi. 2011. "Tilted Wick Solar Still with Flat Plate Bottom Reflector. "Desalination 273 (2–3): 405–13. https://doi.org/10.1016/j.desal.2011.01.073.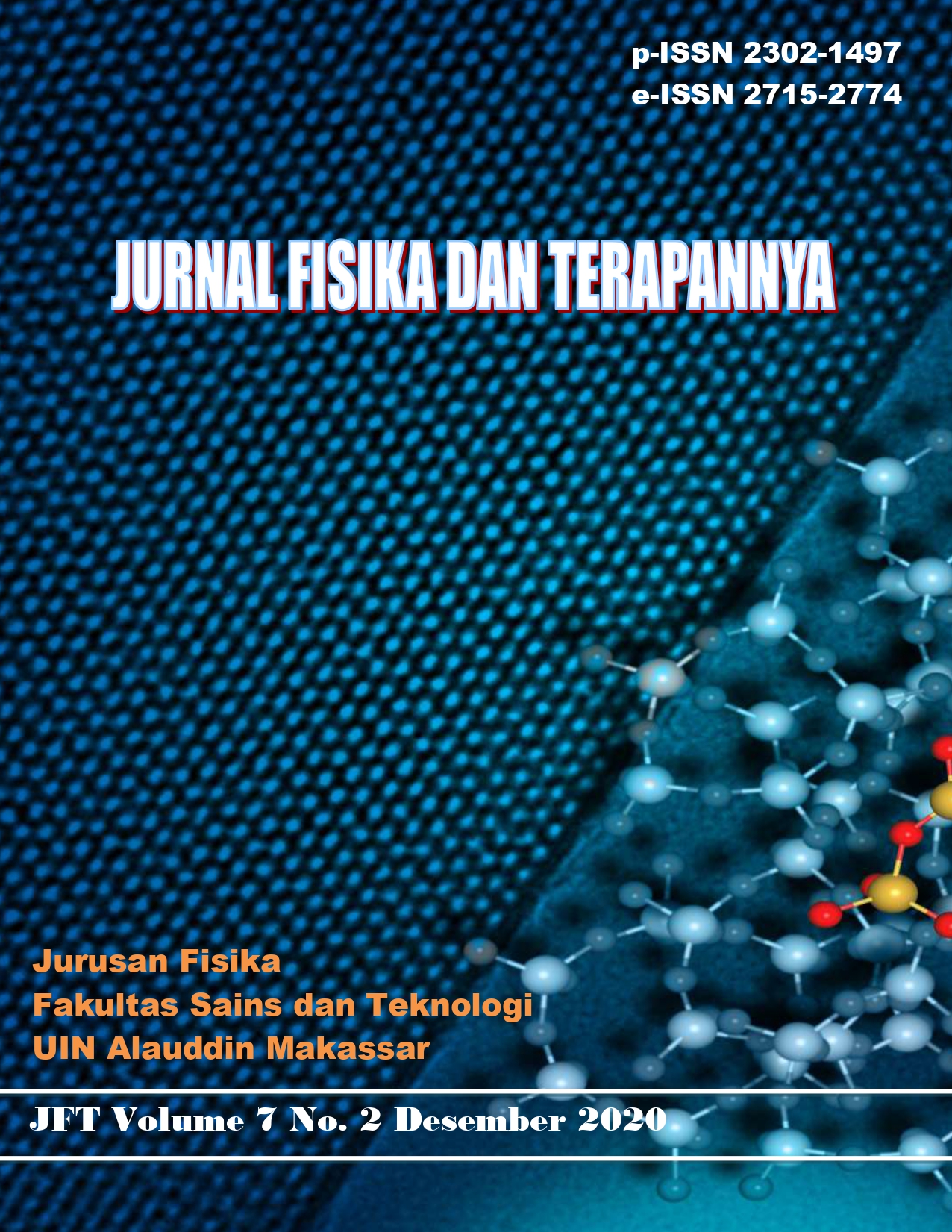 How to Cite

Patunrengi1I. I., Aisyah, A., Said L, M., & FA, N. (2021). DESAIN DAN KONSTRUKSI PENYULING AIR ASIN MENJADI AIR TAWAR (SOLAR STILL) YANG MUDAH, MURAH DAN MEMILIKI EFISIENSI TINGGI. JFT: Jurnal Fisika Dan Terapannya, 7(2), 176-185. https://doi.org/10.24252/jft.v7i2.18501

Abstract viewed = 246 times