Produksi Hijauan dan Komposisi Botanis di Padang Penggembalaan Alam Desa Ujung Baru Kecamatan Tanasitolo Kabupaten Wajo
Keywords:
Botanical Composition, Forage Production, Natural Pasture
Abstract
The research objective was to determine forage production and botanical composition in natural grazing in Ujung Baru Village, Tanasitolo District, Wajo Regency. This research method uses a descriptive analysis method that describes the condition of the pasture. Measurement of botanical composition using the "Actual Weight Estimate" method using a measuring quadrant of 1 m x 1 m. The data taken in this study are primary data and secondary data. Primary data were obtained from direct measurements in the field of ten samples with a land area of one ha, while secondary data was sourced from literature and related agencies. The type of primary data taken is forage production and botanical composition based on existing production data. The data obtained were tabulated and calculated to obtain the total botanical composition. The results showed that the natural pastures of Ujung Baru Village, Tanasitolo District, Wajo Regency had a dry matter production of 9.25 tonnes/ha. The average ratio of grasses, legumes and weeds is grass 33.45%, legumes 21.12% and weeds 45.43%. The conclusion that can be formulated is that the natural pasture area in Ujung Baru Village, Tanasiitolo District, Wajo Regency has decreased in production because the grazing area is dominated by weeds, namely 45.43%.
Downloads
Download data is not yet available.
References
Arnold dan Manu, 2013.Produktivitas padang penggembalaan sabana Timor Barat," Jurnal Pasture, 3(1), 25–29.
BPS, 2018. Wajo Dalam Angka (Report, Badan Pusat Statistik Kabupaten Wajo, Sengkang
Badan Pusat Statistik. 2021. Wajo Dalam Angka. Kabupaten Wajo. ISSN: 0215-6822 No. Publikasi/Publication Number: 73130.2104 .
Chigani, H. K., Javadi, S.A., Amiri, G. Z., and Jafari, K. 2017. Vegetation composition differentiation and species-environment relationships in the northern part of Isfahan Province, Iran. Journal of Arid Land, 9(2), 161–175.
Farizaldi. 2011. Produktivitas hijauan makanan ternak pada lahan perkebunankelapa sawit berbagai kelompok umur di PTPN 6 Kabupaten Batanghari Provinsi jambi. Jurnal Ilmiah Ilmu- Ilmu Peternakan, 14, 68-73.
Hasan, S., Mujnisa, A., Khaerani, P. I., and Natsir, A. 2020. Potential of complete feed formulated from local raw materials on beef cattle performance. EurAsian Journal of BioSciences, 14(1), 1-6.
Manu, E. 2013. Produksi padang penggembalaan sabana Timor Barat. Pastura, 3(1), 25–29
Mc-Ilroy, R. J. 1976. Pengantar Budidaya Padang Rumput Tropika, (Pradnya Paramita, Jakarta.
Muhajirin, Despal, dan Khalil. 2017. Pemenuhan kebutuhan nutrien sapi potong bibit yang digembalakan di padang mengatas. Buletin Makanan ternak, 104(1), 9-20.
Novalinda, R., Zuhri, S., dan Solfiyeni. 2014. Analisis vegetasi gulma pada perkebunan karet (Hevea brasiliensis Mull.Arg.) di Kecamatan Batang Kapas, Kabupaten Pesisir Selatan, J. Bio. UA, 3(2), 129-13.
Rinduwati., Hasan, S., Syamsu, J.A and Useng, D. 2016. Carrying capacity and botanical diversity of pastoral range in Gowa Regency. Int. J. Sci. Basic and Appl. Res. 29(3), 105- 111.
Rusdy, M. 2019. The threat from Chromolaena odorata and options for control. CAB Reviews, 14(009), 1-8.
Sanchez, P. A. 1993. Sifat dan PengelolaanTanah Tropika. Jilid 2 (Terjemahan). Institut Teknologi Bandung, Bandung.
Sema, Nurjaya dan Nurcaya. 2021. Produksi hijauan, komposisi botani dan kapasitas tampung di padang penggembalaan alam pada musim hujan. Jurnal Ilmu dan Industri Peternakan, 7(2), 124-132.
Susetyo, S. 1980. Padang Penggembalaan. Departemen Ilmu Makanan Ternak. Fakultas Peternakan, IPB. Bogor.
Tjitrosoedirdjo, S., Utomo I.H., dan Wiroatmodjo J. 1984. Pengelolaan Gulma di Perkebunan. PT Gramedia, Jakarta.
Whiteman, P.C. 1980. Tropical Pasture Sience. Oxford University Press, US.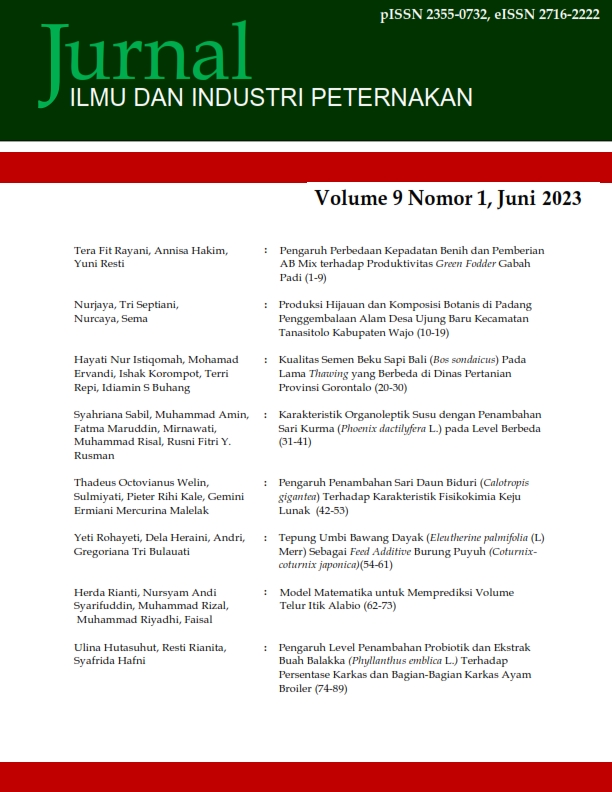 How to Cite
Sema. (2023). Produksi Hijauan dan Komposisi Botanis di Padang Penggembalaan Alam Desa Ujung Baru Kecamatan Tanasitolo Kabupaten Wajo . Jurnal Ilmu Dan Industri Peternakan , 9(1), 10-19. https://doi.org/10.24252/jiip.v9i1.31596
Copyright (c) 2023 Sema
This work is licensed under a Creative Commons Attribution 4.0 International License.

Jurnal Ilmu dan Industri Peternakan (JIIP) is published under the terms of the Creative Commons Attribution license. Authors retain the copyright to their work. Users may read, copy and distribute the work in any medium provided the authors and the journal are appropriately credited.

 

Abstract viewed = 32 times