GAMBARAN PRAKTEK IBADAH SHOLAT PASIEN YANG DIRAWAT DIRUMAH SAKIT X
Murtiningsih Kadun

STIKes Jayakarta




(ID)

Nedra Wati Zaly

STIKes Jayakarta



Abstract
Prayer is an obligation for every Muslim from baligh to the end of life. Patients who are admitted to the Hospital there are Rukhshah (ease of doing worship). If the patient is unable to stand up, then prayer can be done by sitting, lying down or by gesturing. This study aims to get an overview of the prayer practice of patients being admitted to the hospital and the reasons for the patients not praying while being admitted to the hospital. The sample of this study was 65 patients admitted to the Hospital X that were collected by Jayakarta STIKes Students when conducting spiritual studies patients to do nursing care when practicing nurses basic nursing profession in the Academic Year 2019/2020. The questionnaire includes a spiritual assessment contained in the portfolio. The research method is cross sectional study with descriptive studies. The results showed the majority of patients (41.5%, N=65) during their admitted to the hospital had never prayed. The reason for patients not praying while being admitted to the Hospital the majority  (23.1%) is because they do not know how to pray, before being sick they rarely pray (18.5%), some (9.2%) argue that if there is no need to pray, there is no prayer equipment (4.6) %). Recommendations for further research are research on nurses' knowledge about prayer for patients admitted to the hospitals. Furthermore, nurses need to be given training on the practice of prayer and rukhshah to worship for patients admitted to the hospitals.
Keywords: Prayer practice, patients, admitted to  the Hospital.
Downloads
Download data is not yet available.
References
Alqur'an Terjemahan.
Azis, S.A (2009). Hukum bersuci dan sholat bagi orang sakit. Ebook dari www.ibnumajjah.wordpress.com
Abu Yusuf, Ahmad Syabiq. (20015). Bersuci Menggunakan Tayamum seperti Bersuci Menggunakan air. EBook dari www.ibnumajjah.com
Abdullah. (2017). Sholat (definisi, anjuran dan ancaman). Penerjemah. Syafiq Fauzi Bawazier. Ebook dari www.ibnumajjah.wordpress.com
Aris, S., Jaafar, H., & Umar, N. S. (2017). KNOWLEDGE , ATTITUDE AND PRACTICE OF PERFORMING PRAYERS ( SALAT ) AMONG MUSLIM PATIENTS IN HOSPITAL LANGKAWI , KEDAH : ROLES OF MUSLIM HEALTHCARE, (May). https://doi.org/10.1166/asl.2017.8975
Jaafar, H., & Aris, S. (2016). Knowledge , Attitude and Practice towards Religious Obligations among Healthcare Workers in Hospital, (April 2019).
Muhammad, S. (2009). Hukum orang yang meninggalkan shalat. Terjemahan Harun, Y. www.ibnumajjah.wordpress.com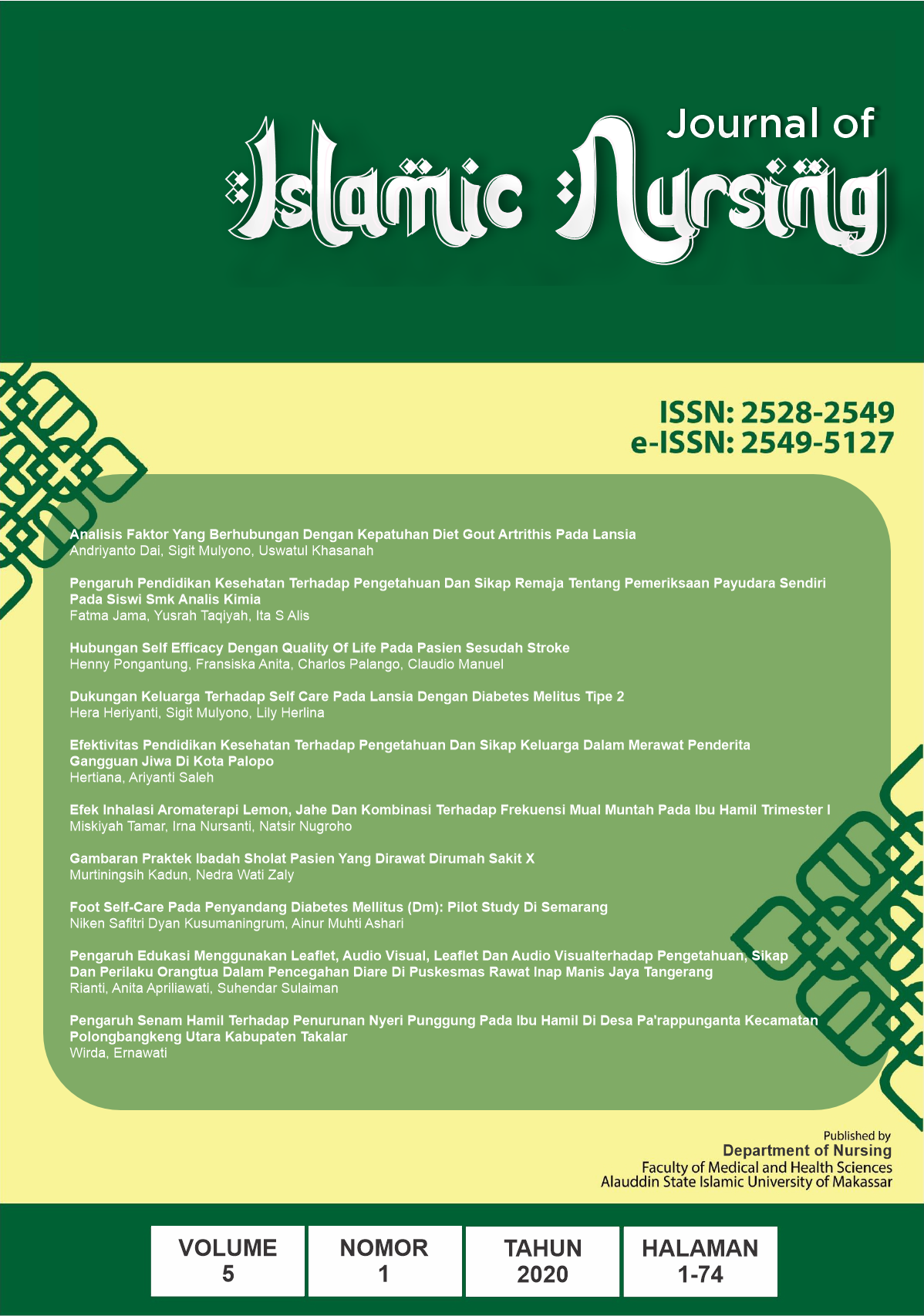 How to Cite

Kadun, M., & Zaly, N. W. (2020). GAMBARAN PRAKTEK IBADAH SHOLAT PASIEN YANG DIRAWAT DIRUMAH SAKIT X. Journal of Islamic Nursing, 5(1), 48-53. https://doi.org/10.24252/join.v5i1.10843

Abstract viewed = 826 times