PENDEKATAN ARSITEKTUR BIOKLIMATIK SEBAGAI BENTUK ADAPTASI BANGUNAN TERHADAP IKLIM
Andi Hildayanti

Alauddin Islamic State University of Makassar




(ID)

Wasilah

Jurusan Teknik Arsitektur, UIN Aladdin Makassar




(ID)
Keywords:
Bioclimatic Architecture; Adaptation; Climate; Lighting; Ventilation
Abstract
Abstrak_Suatu perancangan dengan memanfaatkan potensi iklim lingkungan sekitar disebut dengan Arsitektur Bioklimatik. Prinsip membangun pada iklim tropis lembab hanya dapat dilakukan dengan baik jika memperhatikan pengaruh lingkungan sekitar. Penelitian ini bertujuan untuk memberikan gambaran proses merancang bangunan tinggi dengan mempertimbangkan aspek iklim dalam setiap dasar pertimbangan konsep arsitektur hingga menghasilkan suatu desain bangunan yang merupakan bentuk aplikasi dari arsitektur bioklimatik. Dengan menggunakan metode deskriptif eksplorasi guna menggambarkan proses atau tahapan perumusan konsep arsitektur hingga desain akhir yang merupakan bentuk bangunan yang menerapkan prinsip arsitektur bioklimatik. Teknik analisis yang bersifat eksploratif ini terlebih dahulu menganalisis aspek iklim termasuk orientasi matahari dan angin untuk mengklasifikasikan potensi yang dapat dimanfaatkan dan meminimalkan efek lingkungan yang dapat merusak kenyamanan pengguna. Hasil penelitian ini menunjukkan proses tahapan perancangan bangunan tinggi dengan menerapkan prinsip arsitektur bioklimatik, yang mana pada bangunan menerapkan pencahayaan dan penghawaan alami secara maksimal. Desain yang menerapkan prinsip arsitektur bioklimatik sangat memperhatikan kondisi iklim sekitar sehingga dapat menjadi dasar yang mendalam bagi perancangan bangunan berkelanjutan.
Kata kunci : Arsitektur Bioklimatik; Adaptasi; Iklim; Pencahayaan; Penghawaan
Abstract_ A design that utilizes the potential of the surrounding climate is called Bioclimatic Architecture. The principle of building in a humid tropical climate can only be done well if it pays attention to the influence of the surrounding environment. This study aims to provide an overview of the process of designing high-rise buildings by considering climatic aspects in every primary consideration of architectural concepts to produce a building design which is an application form of bioclimatic architecture. By using the descriptive exploratory method to describe the process or stages of the formulation of architectural concepts to the final design which is a form of building that applies the principles of bioclimatic architecture. This exploratory analysis technique first analyzes climatic aspects including the sun's and wind's orientation to classify the potential that can be exploited and minimize environmental effects that can damage user comfort. The results of this study indicate the process of designing high-rise buildings by applying the principles of bioclimatic architecture, in which the building applies natural lighting and ventilation to the maximum. Designs that apply the principles of bioclimatic architecture are very concerned about the surrounding climatic conditions so that they can be a deep basis for the design of sustainable buildings.
Keywords: Bioclimatic Architecture; Adaptation; Climate; Lighting; Ventilation
Downloads
Download data is not yet available.
References
Beccali, M., Strazzeri, V., Germanà, M. L., Melluso, V., & Galatioto, A. (2018). Vernacular and bioclimatic architecture and indoor thermal comfort implications in hot-humid climates: An overview. Renewable and Sustainable Energy Reviews, 82, 1726-1736.
Frick, Heinz dan Mulyani, Tri Hesti (2006), Arsitektur Ekologis, cetakan pertama, Kanisius, Yogyakarta
Gaitani, N., Mihalakakou, G., & Santamouris, M. (2007). On the use of bioclimatic architecture principles in order to improve thermal comfort conditions in outdoor spaces. Building and Environment, 42(1), 317-324.
Hildayanti, A. (2020, October). Manifesting Locality and Identity in Traditional Houses in Response to Environmental Change. In 3rd International Conference on Dwelling Form (IDWELL 2020) (pp. 132-136). Atlantis Press.
Hyde, Richarcd (2008) Bioclimatic Housing, Earthscan, London
Karundeng, G Frensy (2012), Arsitektur Bioklimatik, Fakultas Teknik, Jurusan Arsitektur, Universitas Sam Ratulangi, Manado.
Manzano-Agugliaro, F., Montoya, F. G., Sabio-Ortega, A., & García-Cruz, A. (2015). Review of bioclimatic architecture strategies for achieving thermal comfort. Renewable and Sustainable Energy Reviews, 49, 736-755.
Pawitro, et al; Udjianto Pawitro, Annisa Nitya, Tamdy Septiandi, Arief Hernomo (2014), Kajian Ekspresi Ruang Luar dan Ruang Dalam pada Pembangunan Masjid Al-Irsyad Kota Baru Parahyangan Ditinjau dari Sustainable Design, Jurusan Teknik Arsitektur, Fakultas Teknik Sipil dan Perencanaan, Institut Teknologi Nasional Bandung.
Sangkertadi, Prof.Dr.Ir (2008), Pidato Ilmiah "Arsitektur Bioklimatik : Hemat Energi, Nyaman dan Ramah Lingkungan", Fakultas Teknik Universitas Sam Ratulangi.
Wasilah, W., Hildayanti, A., & Hamzah, H. (2018). Green Building with Nature Concept on Lakeside Resort Design.
Wasilah, W., & Hildayanti, A. (2019). Transformation Form in Banua Layuk Mamasa Based on Linguistic Analogy. In 1st International Conference on Science and Technology, ICOST 2019. European Alliance for Innovation (EAI).
Widera, B. (2015). Bioclimatic architecture. Journal of Civil Engineering and Architecture Research, 2(4), 567-578.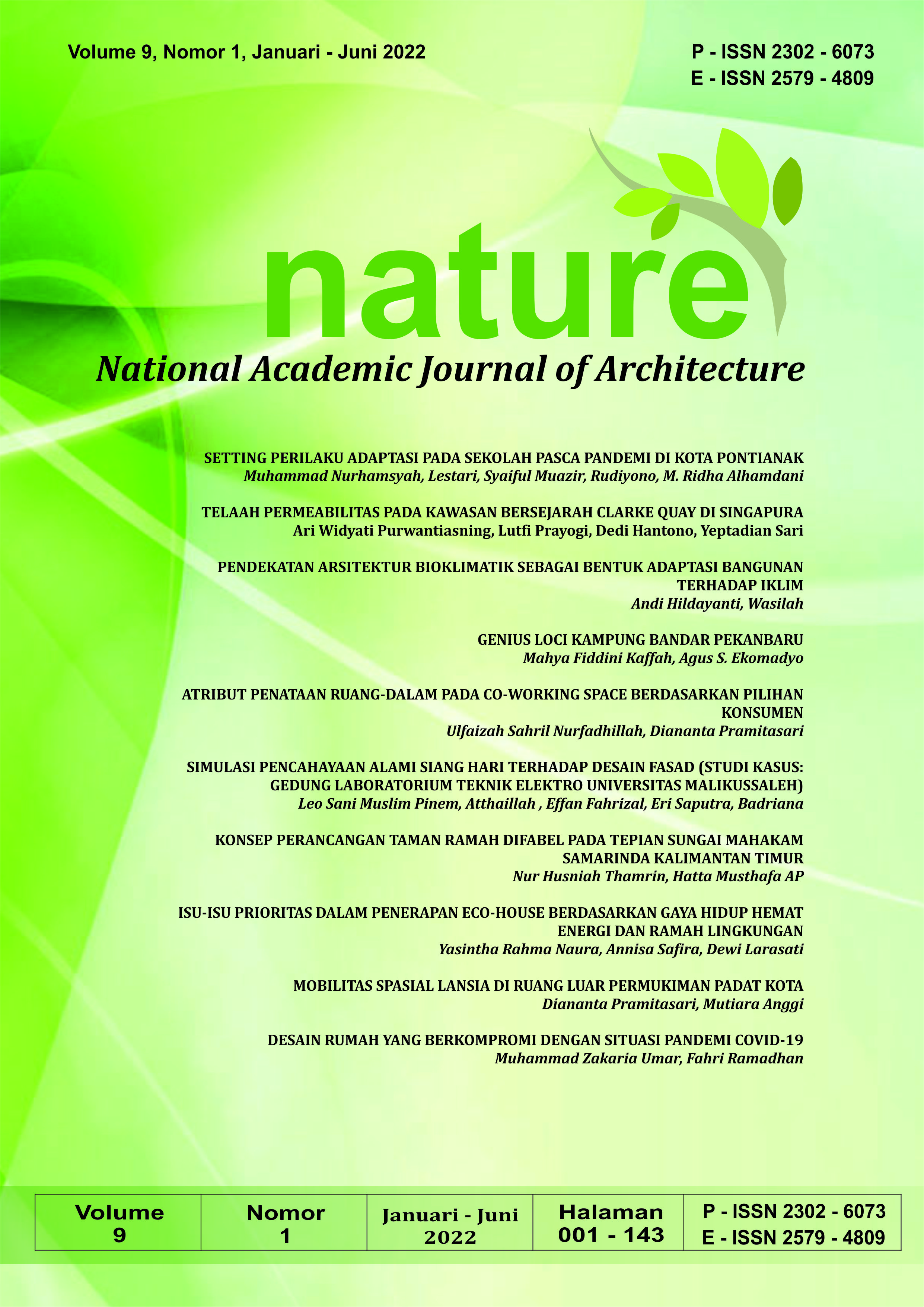 How to Cite
Hildayanti, A., & Wasilah. (2022). PENDEKATAN ARSITEKTUR BIOKLIMATIK SEBAGAI BENTUK ADAPTASI BANGUNAN TERHADAP IKLIM. Nature: National Academic Journal of Architecture, 9(1), 29-41. https://doi.org/10.24252/nature.v9i1a3
Copyright (c) 2022 Nature: National Academic Journal of Architecture
This work is licensed under a Creative Commons Attribution-ShareAlike 4.0 International License.

Abstract viewed = 895 times