BOLA PAKKA: RUMAH TRADISIONAL SUKU TOBALO DI KABUPATEN BARRU
Zulkarnain AS

Jurusan teknik Arsitektur , Fakultas teknik Universitas Islam Negeri Alauddin Makassar




(ID)
Abstract
Abstrak— Perkembangan fungsi kegunaan bangunan khususnya bangunan tradisional itu bereneka ragam, sesuai dengan struktur masyarakat dan kebudayaan penduduk yang bersangkutan. Akan tetapi pada umumnya sebagai bangunan tradisional maupun bangunan modern mempunyai kegunaan dan fungsi yang sama. Penelitian dilakukan di Kabupaten Barru, Kecamatan Pujanannting, Desa Bulo-Bulo, Dusun Labaka. Metode yang digunakan adalah deskriptif kualitatif dengan pendekatan rasionalistik. Secara makro dapat merujuk pada penggunaan batas kawasan berupa batu, kayu maupun vegetasi sebagai bentuk pembagian teritori, orientasi pembangunan rumah mengarah pada jalan, sungai dan mata perncaharian. Bola Pakka yang merupakan rumah milik Suku To Balo secara umummemiliki kesamaan bentuk pada rumah Bugis pada umumnya, hanya saja penggunaan serta cara merakit material (proses) yang sedikit berbeda. Bola Pakka  terbagi atas tiga tipe yakni Bola Sussa, Bola Sicandring dan Bola Amang.
Kata kunci: To Balo, Bola Pakka, Tradisional
Abstract — The development of utility functions of the building, especially the traditional building is various according to its societies structure and its population's culture. Generally whether in traditional buildings and modern buildings have, it has utility and similar functions. The research is conducted in Barru, District Pujanannting, village of Bulo-Bulo, Hamlet Labaka. The method  of the research is descriptive qualitative with rationalistic approach. In macro, it refers to the use of area boundaries such as stone, wood and vegetation as a form of division of territory, the house development orientation which leads to the roads, rivers and ricefield Bola, only the function and the way in assembling material (process) that make them different. Pakka ball is divided into three types namely Bola Sussa, Bola Sicandaring dan Bola Amang.
Key words ; To Balo, Bola Pakka, Architecture Local
Downloads
Download data is not yet available.
References
Gartiwa, Marcus. (2011). Morfologi Bangunan dalam Konteks Budaya. Bandung: Penerbit Muara Indah Bandung.
Hamid, abu. (2007). Sejarah Bone. Makassar: Dinas Kebudayaan Dan Pariwisata Kabupaten Bone.
Izarwisman, dkk. (1985). Arsitektur Tradisional Sulawesi Selatan. Inventarisasi dan Dokumentasi Kebudayaan Daerah Sulawesi Selatan, Departemen Pendidikan dan Kebudayaan.
Koentjaraningrat. (1977). Metode-metode Penelitian Masyarakat. Jakarta:Gramedia.
Lexy J. Moleong. (2002).Metodologi Penelitian Kualitatif. Bandung: PT.Remaja Rosdakarya.
Mattulada, A. (1998). SejarahMasyarakat dan Kebudayaan Sulawesi selatan. Ujung pandang: Hasanuddin University Press.
Noeng, Muhadjir. (1996). Penelitian Kualitatif edisi ke 3. Yogjakarta: PT Bayu Indra Grafika.
Rapoport, Amos. (1969). House Form and Culture. Prentice Hall, Englewood Cliffs NJ.
Rudofsky, Bernard. (1964). Architecture without Architects. New York: Museum of Modern Art. Sekolah Menengah Atas Negeri 1 Surade. (2012). Makalah Suku To Balo (Orang Belang).
Alamat Website: http://beenet215.wordpress.com/makalah-suku-tobalo. Diakses pada juni 11 th 2015.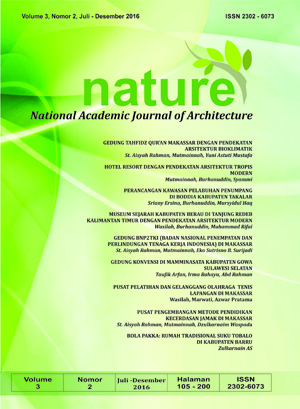 How to Cite

AS, Z. (2016). BOLA PAKKA: RUMAH TRADISIONAL SUKU TOBALO DI KABUPATEN BARRU. Nature: National Academic Journal of Architecture, 3(2), 191-200. https://doi.org/10.24252/nature.v3i2a9

Section

ARTICLE VOL 3 NO 2, DECEMBER 2016

Abstract viewed = 790 times