TIPOLOGI DENAH RUMAH BUGIS (BOLA UGI) DI DUSUN KAJUARA KABUPATEN BONE
Hamka Hamka

Institut Teknologi Nasional Malang




(ID)

Amar Rizqi Afdholy

Program Studi Arsitektur Institut Teknologi Nasional Malang




(ID)
Abstract
Abstrak_ Tipologi rumah bugis secara tampilan pada umumnya terlihat sama atau identik, dengan karakter rumah panggung, namun bagaimana dengan ruang dalamnya, dalam hal ini terkait dengan denah bola ugi itu sendiri. Penelitian ini bertujuan untuk mengidentifikasi tipe denah bola ugi yang ada di Dusun Kajuara Kabupaten Bone. Metode yang digunakan adalah  kualitatif deskriptif analisis dengan langkah pengumpulan data melalui pengamatan lapangan, wawancara, dan olah data. Identifikasi tipe denah bola ugi dilakukan pada beberapa objek penelitian dengan mengikuti acuan tipe standar menurut sanro bola (arsitek rumah bugis) yang telah dilakukan pada penelitian sebelumnya. Hasilnya menunjukkan bahwa keseluruhan tipe objek penelitian yang terdiri dari 3 tipe telah mengacu pada standar tipe rumah bugis yang berlaku di Dusun Kajuara, yaitu berdasarkan jumlah baris tiang alliri ke belakang pada bagian zona hunian utama. Memiliki 3 zona fungsi yang meliputi area lego-lego (bagian depan) merupakan  teras rumah, area lalang mpola (bagian tengah/ dalam) merupakan zona hunian utama yang terdiri dari ruang tamu, ruang keluarga, dan kamar tidur, area annasung atau bola annasung (area servis) merupakan area dapur, ruang makan, dan tempat mencuci. Adapun perbedaan dan perubahan tata letak ruang yang tidak sesuai zona fungsi diakibatkan dari kebutuhan pemilik, sehingga pemilik memanfaatkan ruang kosong yang ada.
Kata kunci : Tipologi; Rumah Bugis ; Denah.
Abstract_ The bugis house form typology generally looks the same or identical, with the character of the house on stilts, but what about the inside space, in this case, it is related to the bola ugi floor plan itself. This study aims to identify the type of floor plan of the bola ugi  in Dusun Kajuara, Bone Regency. The method used is descriptive qualitative analysis with data collection steps through field observations, interviews, and data processing. Identification of the type of bola ugi floor plan was carried out on several research objects by following the standard type reference according to the sanro bola (bugis house architect) that had been carried out in previous studies. The results show that the overall type of research object consisting of 3 types has referred to the standard type of Bugis house that applies in Dusun Kajuara, namely based on the number of rows of alliri poles to the back in the main  zone. Has 3 function zones which include the 'lego-lego' area (front area) which is the terrace of the house, the 'lalengmpola' area (middle/inside area) is the main residential zone consisting of a living room, family room, and bedroom, 'annasung' area or 'bola annasung' (service area) is the kitchen, dining room, and washing area. The differences and changes in the layout of the room that do not fit the function zone are caused by the needs of the owner, so that the owner takes advantage of the available free space.
Keywords :  Typology; Bugis House; Floor Plan.
Downloads
Download data is not yet available.
References
Agustin, Dyan, Mochamad Hamdan M, Renada Trifirdausi Nabila, and Ahmad Ikhbar Z. 2021. "Tipologi Ruang Dalam Rumah Lamin Berdasarkan Sistem Adat Pada Masyarakat Suku Dayak" 11 (1): 33–40.
Damayanti, Fifi, Agung Murti Nugroho, and Herry Santosa. 2017. "Tipologi Rumah Jawa Di Kawasan Perdesaan Sumber Polaman Lawang." Jurnal Reka Buana Volume 2 No 1, September 2016 – Februari 2017 2 (1): 56–73.
Güney, Yasemin Đ. 2007. "Type and Typology in Architectural Discourse." BAU FBE Dergisi 9 (1): 3–18.
Hamka, Antariksa, Wulandari, Lisa Dwi. 2015. "KARAKTERISTIK ORIENTASI RUMAH TRADISIONAL BUGIS ( BOLA UGI ) DI DUSUN KAJUARA KABUPATEN" 2 (2). https://doi.org/http://dx.doi.org/10.26418/lantang.v2i2.13832.
Hamka, Antariksa, Lisa Dwi Wulandari. 2015. "HIRARKI SPASIAL BOLA UGI DI DUSUN KAJUARA KABUPATEN BONE SULAWESI SELATAN." Arsitektur E-Journal 8 (1): 21–37. https://core.ac.uk/reader/198116590.
Hamka. 2017. "Nilai Kenusantaraan Arsitektur Bola Ugi Menurut Sanro Bola Di Dusun Kajuara Kabupaten Bone." ATRIUM Jurnal Arsitektur 3 (1): 59–68. https://doi.org/10.21460/atrium.v3i1.66.
Nawawi, Nurnaningsih, and Panrita Bola. 2020. "Teknologi Membangun Rumah Bugis Menurut Panrita Bola Ugi." Jurnal Teknosains 14 (1): 44–52.
Nurtantyo, and Wikantiyoso. 2018. "Tipologi Pintu Dan Jendela Pada Fasad Rumah Di Kampung Biru Arema Kelurahan Kiduldalem." LOCAL WISDOM 10 (2): 91–110.
Ramadanta. 2010. "KAJIAN TIPOLOGI DALAM PEMBENTUKAN KARAKTER VISUAL DAN STRUKTUR KAWASAN (Studi Kasus: Kawasan Ijen, Malang)." SMARTek 8 (2): 130–42.
Ratna Wijayanti, Wiwik Setyaningsih, Avi Marlina. 2019. "Tipologi Pola Ruang." Jurnal SENTHONG, no. 2016: 713–22.
Samra, Boby, Rico Faradika, and Junaedi Salat. 2020. "TIPOLOGI RUMAH TRADISIONAL MELAYU HILIR SUNGAI SIAK." In , edited by SH Suparmi, SE Dwi Prihatiningsih, M.Kom Ir. Gatot Budi Santoso, SE Tjutju R. Suprapto, and SH Sardiyanto, 1–11. Jakarta: Lembaga Penelitian Universitas Trisakti.
Subandi. 2011. "Deskripsi Kualitatif Sebagai Satu Metode Dalam Penelitian Pertunjukan." Harmonia: Journal of Arts Research and Education 11 (2): 173–79. https://doi.org/10.15294/harmonia.v11i2.2210.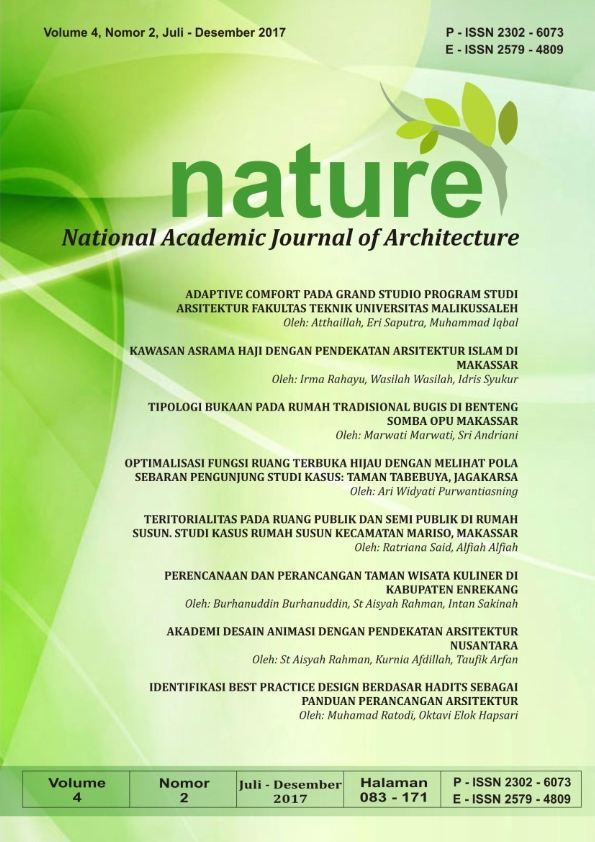 How to Cite
Hamka, H., & Afdholy, A. R. (2021). TIPOLOGI DENAH RUMAH BUGIS (BOLA UGI) DI DUSUN KAJUARA KABUPATEN BONE. Nature: National Academic Journal of Architecture, 8(2), 156-167. https://doi.org/10.24252/nature.v8i2a5
Copyright (c) 2021 Nature: National Academic Journal of Architecture
This work is licensed under a Creative Commons Attribution-ShareAlike 4.0 International License.

Abstract viewed = 120 times