INVESTIGASI DESAIN ARSITEKTUR YANG TIDAK TERKONDISI BERBASIS METODE PARTISIPATIF
Abstract
Abstrak_ Artikel ini menginvestigasi mengenai arsitektur yang tidak terkondisi, yakni desain dengan ruang dan elemen arsitektur yang hadir tanpa keteraturan dan tanpa perencanaan sebelumnya.  Pelibatan masyarakat menciptakan potensi variasi dalam membangun ruang dan elemen arsitektur yang bersifat non-conformity (ketidaksesuaian), dan dengan demikian berfungsi memperkaya ruang urban yang terbentuk. Arsitektur tidak lagi berfokus hanya pada estetika sebagai bentuk akhir desain, namun menjadi bagian dari upaya untuk memberikan masyarakat ruang untuk bermanuver dalam merancang ruang urban yang adaptif. Artikel ini membahas lebih lanjut akan metode desain arsitektur yang tidak terkondisi melalui riset kajian (desk research) studi kasus arsitektur berbasis partisipasi pada restorasi Amiriya Complex, pengembangan Kali Code, dan rumah bagi komunitas tradisional di Puebla, Mexico. Analisis studi kasus ini memperlihatkan bagaimana partisipasi masyarakat mengubah fungsi ruang dan menekankan lokalitas material yang tidak terkondisi sehingga menciptakan identitas baru sebagai ruang urban. Pemahaman akan mekanisme terbentuknya desain arsitektur yang tidak terkondisi diharapkan mampu menginisiasi cabang ilmu arsitektur yang melihat arsitektur di luar keteraturan serta melihat kemungkinan masyarakat sebagai aktor utama dalam produksi ruang keseharian pada konteks urban.
Kata Kunci :  Arsitektur  yang Tidak Terkondisi; Non-Conformity; Partisipasi; Urban.
Abstract_ This article investigates unconditional architecture, which is a form of design with space and architectural elements with disordered characters that arise in an unplanned way. Engagement with the community provides potential variation in developing space and architectural elements that value non-conformity, enriching the urban space. Architecture no longer focuses on aesthetics within the final form of the design but provides maneuvering opportunities for the community to develop an adaptive urban space. This article focuses on the design method of unconditional architecture through case studies of participatory architecture in Amiriya Complex restoration, Code river development, and Puebla traditional dwellings for the community in Mexico. The analysis of these case studies demonstrates how community participation changes function and emphasize material localities that are unconditioned that generate new urban identity. Understanding the mechanism of unconditioned architecture aims to expand architectural knowledge that values architecture beyond its orderliness, and highlights possibilities of the community as the main actor in the production of everyday urban space. 
Keyword: Uncoditional Architecture; Non- Conformity; Paritipatoru; Urban.
Downloads
Download data is not yet available.
References
Albrecht, J. (1988). Towards a Theory of Participation in Architecture: An Examination of Humanistic Planning Theories. Journal of Architectural Education (1984-), 42(1), 24–31. https://doi.org/10.2307/1424997
Alexander, C. (1964). Notes on the Synthesis of Form (Vol. 5). Harvard University Press.
Amiriya Restoration (Aga Khan Award for Architecture, 2007) https://archnet.org/sites/4916
Arnstein, Sherry R. "A Ladder of Citizen Participation," JAIP, Vol. 35, No. 4, July 1969, pp. 216-224
Jones, P. B., Petrescu, D., & Till, J. (Eds.). (2005). Architecture and Participation. Routledge.
Cousins, Mark. "THE UGLY [Part 1]." AA Files, no. 28, 1994, pp. 61–64. JSTOR, www.jstor.org/stable/29543923. Accessed 11 Jan. 2021.
Cousins, Mark. "THE UGLY [Part 2]." AA Files, no. 29, 1995, pp. 3–6. JSTOR, www.jstor.org/stable/29543944. Accessed 11 Jan. 2021.
Cousins, Mark. "THE UGLY [Part 3]." AA Files, no. 30, 1995, pp. 12–20. JSTOR, www.jstor.org/stable/29543944. Accessed 11 Jan. 2021.
Finn Kensing, Jesper Simonsen & Keld Bodker (1998) MUST: A Method for Participatory Design, Human–Computer Interaction, 13:2, 167-198, DOI: 10.1207/s15327051hci1302_3
Gospodini, Aspa (2001) Urban Design, Urban Space Morphology, Urban Tourism: An Emerging New Paradigm Concerning Their Relationship, European Planning Studies, 9:7, 925-934, DOI: 10.1080/09654310120079841
Groat, L. N., & Wang, D. (2013). Architectural Research Methods. John Wiley and Sons.
Guimera, Roger, and Marta Sales‐Pardo. "Form follows function: the architecture of complex networks. no. 1 (2006): 42.
Opazo, D., Wolff, M., & Araya, M. J. (2017). Imagination and the Political in Design Participation. Design Issues, 33(4), 73–82. https://doi.org/10.1162/DESI_a_00462
Schuler, Douglas. (1993). Participatory Design: Principles and Practices. London: Lawrence Erlblaum Associates, pp. 41-79.
Till, Jeremy and Wigglesworth, Sarah, eds. (1998) The Everyday and Architecture. Architectural design profile (134). Academy Editions, London.
Till, J. (2005). The Negotiation of Hope. In P. B. Jones, D. Petrescu, & J. Till (Eds.), Architecture and Participation. Spon Press.
Upton, D. (2002). Architecture in Everyday Life. New Literary History, 33(4), 707-723. Retrieved January 11, 2021, from http://www.jstor.org/stable/20057752
Wigglesworth, Sarah, and Till, Jeremy (1998) Table manners. In: Wigglesworth, Sarah, and Till, Jeremy, (eds.) The everyday and architecture. London, U.K.: Architectural Design. pp. 31-35. (Architectural Design Profile, (134)) ISSN (print) 0003-8504 ISBN 0471984248
Yin, R. K. (2017). Case Study Research and Applications: Design and Methods (6th edition). SAGE Publications, Inc.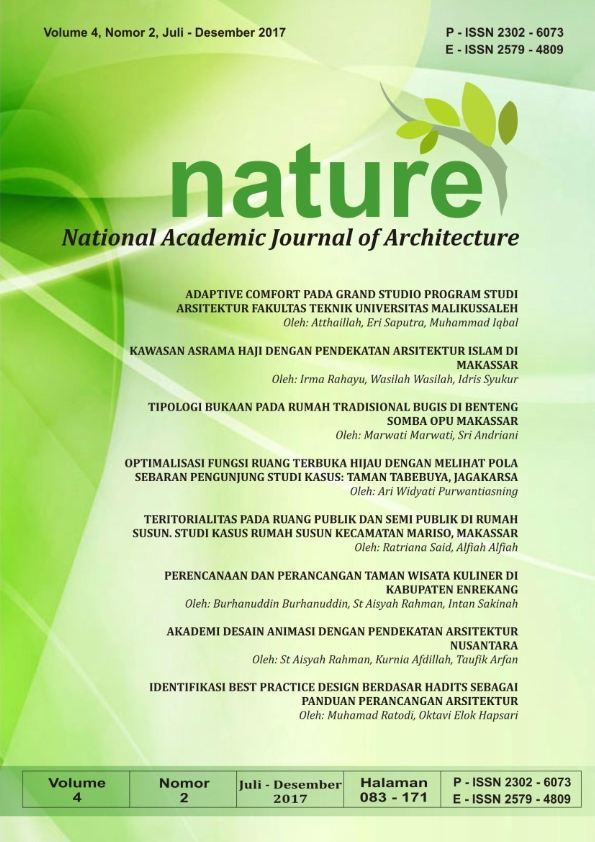 How to Cite
Asqhor, R. F., Yatmo, Y. A., & Paramita, K. D. (2021). INVESTIGASI DESAIN ARSITEKTUR YANG TIDAK TERKONDISI BERBASIS METODE PARTISIPATIF. Nature: National Academic Journal of Architecture, 8(2), 197-210. https://doi.org/10.24252/nature.v8i2a9
Copyright (c) 2021 Nature: National Academic Journal of Architecture
This work is licensed under a Creative Commons Attribution-ShareAlike 4.0 International License.

Abstract viewed = 128 times