TINJAUAN KONSTRUKSI BANGUNAN RUMAH TINGGI DI KAMPUNG ARAB AL-MUNAWAR PALEMBANG
Widi Dwi Satria

Institut Teknologi Sumatera




(ID)
Keywords:
Traditional Architecture, Rumah Tinggi, Arabian Village of Al-Munawar, Palembang
Abstract
Indonesia is a country that has traditional houses in almost every province. The architecture of traditional houses in Indonesia is identical to houses that use local materials obtained from the natural surroundings. The durability of the structure and construction of traditional houses is an essential concern, considering the materials used are constantly being consumed by the times. Rumah Tinggi is part of the typical Palembang pyramid house with the use of materials that are dominated by wood. Rumah Tinggi still survives today during the progress of the times. The review of high-rise construction is interesting to study considering the age of the building is more than 250 years, with occupants from the 7th generation. The research is located in the Arabian village of Al-Munawar, Palembang, with the object of Rumah Tinggi. The method used is qualitative with an observation and interview approach. This study aims to identify the existence of traditional houses called high houses against the development of the times. The study results show that using wood materials still dominates the structure and construction of Rumah Tinggi. Rumah Tinggi still survives to this day. Residents of the house still apply building maintenance by replacing damaged wood components and paint to rejuvenate the atmosphere of Rumah Tinggi. Adjustments in high houses do not fade the authenticity and characteristics of Rumah Tinggi.
Downloads
Download data is not yet available.
References
Fauziah, M. R., & Budiyuwono, H. (2019). Form, Space , and Order in Al-Munawar Arabic Bentuk , Ruang , Dan Tatanan Rumah Pada Kampung Arab Al-Munawar Palembang. Risa, Jurnal Arsitektur, Riset, 03(Juli).
Harapan, A. (2019). Sistem Bangunan Rumah Tradisional Di Kampung Adat Baduy Luar Kadu Ketug, Kabupaten Lebak, Banten. Jurnal Koridor, 10(1), 35–47. https://doi.org/10.32734/koridor.v10i1.1384
Helwa, W., & Kridarso, E. R. (2021). Komparasi Hunian Etnis Arab Di Kota Palembang – Sumatra Selatan. Vitruvian Jurnal Arsitektur Bangunan Dan Lingkungan, 11(1), 69. https://doi.org/10.22441/vitruvian.2021.v11i1.007
Herlina, R., & Hartono, Y. (2015). Etnomatematika dalam budaya rumah adat palembang. Prosiding Seminar Nasional Etnometnesia, 849–858.
Nurfahmi, M., Purnomo, H., & Irvansyah. (2019). Undagi : Jurnal Ilmiah Jurusan Arsitektur Universitas Warmadewa. Undagi: Jurnal Ilmiah Arsitektur, 7(Juni), 11–19.
Pratama, Y. (2019). Rumah Limas: Refleksi Sejarah Akulturasi Kebudayaan Masyarakat Sumatera Selatan. Jambura History and Culture Journal, 1(1), 29–40. https://ejurnal.ung.ac.id/index.php/jhcj/article/view/2529
Purwanti, R. (2016). Pola Pemukiman Komunitas Arab di Palembang. Prosiding Seminar Heritage IPLBI, 179–190. https://temuilmiah.iplbi.or.id/wp-content/uploads/2016/12/IPLBI2016-G-179-190-Pola-Permukiman-Komunitas-Arab-di-Palembang-0.pdf
Purwanti, R. (2017). Pelestarian Kawasan Kampung Arab Almunawar Palembang. October, B089–B094. https://doi.org/10.32315/sem.1.b089
Putra, M., Surbakti, br J., & Mailinar. (2020). Fungsi Arsitektur Rumah Tradisional. 26(02), 508–533.
Rilatupa, J., Arsitektur, J., & Indonesia, U. K. (2015). Rumah Tradisional Indonesia. 2(2), 253–261.
Rohmah, L. (2021). Nilai-Nilai Sejarah Dan Budaya Kampung Arab Al-Munawar Sebagai Kawasan Cagar Budaya Kota Palembang. JAMBE: Jurnal Sejarah Peradaban Islam, 3(1), 30–41. http://tamaddun.fah.uinjambi.ac.id/index.php/tamaddun/article/view/35%0Ahttp://tamaddun.fah.uinjambi.ac.id/index.php/tamaddun/article/download/35/33
Satria, W. D., Gharata, V. D., & Widya, A. T. (2022). Arsitektur Rumah Gudang Di Kawasan Kampung Songket Palembang. Langkau Betang: Jurnal Arsitektur, 9(1), 58. https://doi.org/10.26418/lantang.v9i1.48458
Siregar, A. H. (2018). Konstruksi Rumah Tradisional Di Kampung Pulo, Jawa Barat. 3, 101–107.
Siswanto, A. (2004). Studi Pengembangan Konstruksi Rumah Kayu Sistem Bongkar Pasang Berdasarkan Konsep Struktur Kayu Tradisional Sumatera Selatan The Study of Knock Down Timber Construction House Based on the Concept of South Sumatra Timber House Structure. Jurnal Ilmu & Teknologi Kayu Tropis, 2(2), 103–109.
Siswanto, A. (2009). Kearifan Lokal Arsitektur Sumatera Selatan Bagi Pembangunan Lingkungan Binaan. Local Wisdom, I(1), 37–45. http://localwisdom.ucoz.com/_ld/0/5_1ed_5_JLWOL_ari.pdf
Triyadi, S., & Harapan, A. (2008). Kearifan Lokal Rumah Vernakular Di Jawa Barat Bagian Selatan Dalam Merespon Gempa. Jurnal Sains Dan Teknologi EMAS, 18(2), 123–134.
Triyadi, S., Sudradjat, I., & Harapan, A. (2010). Kearifan Lokal Pada Bangunan Rumah Vernakular Di Bengkulu Dalam Merespon Gempa. Local Wisdom, II(1), 1–7.
Zain, Z. (2012). Pengaruh aspek eksternal pada rumah melayu tradisional di kota sambas kalimantan barat. Program Studi Arsitektur Fakultas Teknik Universitas Tanjungpura, Kalimantan Barat, 11 No.2, 101–124.
Zain, Z. (2017). Identifikasi Pola Struktur Rumah Tinggal , Studi Kasus : Arsitektur. Langkau Betang: Jurnal Arsitektur, 4(1), 44–66.
Zain, Z., Milenia, C. J., & Aulia, N. I. (2021). Identifikasi Arsitektur Rumah Tradisional Melayu Di Pulau Sumatera (Studi Perbandingan Komponen Pembentuk Arsitektur). Arsir, 4(2), 92. https://doi.org/10.32502/arsir.v4i2.2880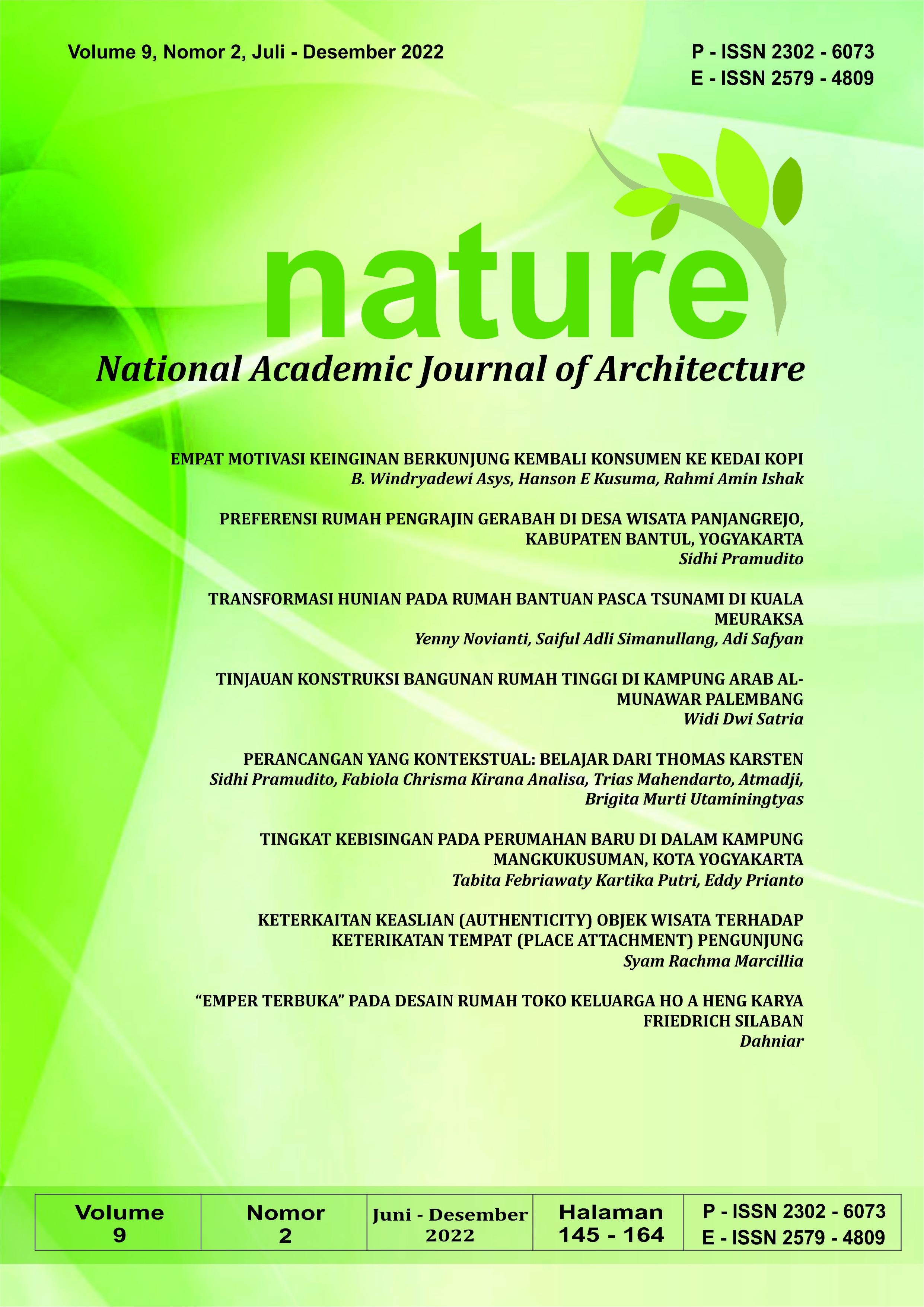 How to Cite
Widi Dwi Satria. (2022). TINJAUAN KONSTRUKSI BANGUNAN RUMAH TINGGI DI KAMPUNG ARAB AL-MUNAWAR PALEMBANG. Nature: National Academic Journal of Architecture, 9(2), 206-219. https://doi.org/10.24252/nature.v9i2a4
Copyright (c) 2022 Nature: National Academic Journal of Architecture
This work is licensed under a Creative Commons Attribution-ShareAlike 4.0 International License.

Abstract viewed = 321 times