TELAAH ARSITEKTUR HERITAGE TRAIL KOTA ISTANBUL, TURKI
Ari Widyati Purwantiasning

"Scopus ID: 57205221966, Sinta ID: 258474, Program Studi Arsitektur, Fakultas Teknik, Universitas Muhammadiyah Jakarta"




(ID)

http://orcid.org/0000-0001-9418-504X

Saeful Bahri

Universitas Muhammadiyah Jakarta




(ID)
Keywords:
Architecture, Cultural Heritage, Historic Area, Heritage Trail, Istanbul, Turkey
Abstract
Abstract_ This paper is a literature and precedent study examining the heritage trail of the City of Istanbul, Turkey. Istanbul, Turkey, was chosen as the object of the precedent study because the city is rich in history and Islamic civilization. As the title implies, this study also aims to reveal how the heritage trail is applied as a tourism of Islamic culture and history. As a reference, a guide on the heritage trail is used to review each trail presented for analysis. Four heritage trails in the City of Istanbul have been selected to represent all existing heritage trails. These four trails are the Istanbul Introduction Walk, the Istanbul Old CLineline, the Mosques of Istanbul Lane, and the Old European Quarter line. Four heritage trails were chosen as a representation of the many heritage trails in Istanbul, Turkey, and are four paths that have spatial meaning both spatially and in terms of building figures that can represent all heritage trails of Istanbul, Turkey. The study is carried out on the study of precedents by applying narratively the method of literature and precedent study. Data was collected through field observation techniques, observations, and experiences of the architectural space of the City of Istanbul. Direct description of objects is also done by doing the experience of architectural space on each object discussed in this precedent study. The results of this study are intended as a discourse and additional insight for all circles, both academics and the broader community, so that they better understand the existence of cultural heritage around it. With the guidance of the heritage trail, the study is carried out based on existing principles, looking at the grouping of buildings on each path presented based on the year of civilization, architectural style, history, and supporting elements.
Keywords: Architecture; Cultural Heritage; Historic Area; Heritage Trail; Istanbul; Turkey.
Downloads
Download data is not yet available.
References
Cheung, Sidney C.H. 1999. "The meanings of a heritage trail in Hong Kong." Annals of Tourism Research 26 (3): 570–88.
Fienig, Anouk, Parthesius Robert, Groot Brittany, Jaffe Rivke, Sjoerd van der Linde, dan Pauline van Roosmalen. 2008. "Heritage Trails International cultural heritage policies in a European perspective." In Dutch Colonialism, Migration, and Cultural Heritage: Past and Present, diedit oleh Geert Oostindie. BRILL: ProQuest Ebook.
Koscak, Marko. 2016. "Heritage trails through Dolenjska and Bela Krajina in Slovenia: A multi-stakeholder approach to tourism development." TIMS. Acta 10 (2): 109–18.
Laberschek, Marcin. 2019. "Barriers in Servicing Visitors of Heritage Trails – the Example of Cultural Trials in Małopolska Voivodeship." Perspektywy Kultury 26 (3): 113–34.
Mc Leod, N. 2016. "Self-Guided Trails – A Route to More Responsible Tourism." TourismRecreation Research 41: 134–44.
Nayan, N. Mat, D. S. Jones, S. Ahmad, dan M. K. Khamis. 2021. "Exploring the built-environment: Heritage trails, values, and perceptions." IOP Conference Series: Earth and Environmental Science 881 (1): 0–10.
NSWHO, New South Wales Heritage Office. 1995. Guidelines for Heritage Trails. New South Wales Heritage Office.
Patria, Teguh Amor. 2013. "Tinjauan Proses Perencanaan Heritage Trails Sebagai Produk Pariwisata dalam RIPPDA Kota Bandung." Binus Business Review 4 (2): 580–95.
Purwantiasning, Ari Widyati, Lili Mauliani, dan Wafirul Aqli. 2012. "Tipologi Konversi Bangunan Tua di Pusat Kota, Studi Kasus Pecinan di Singapura dan Petak Sembilan di Jakarta." Jurnal Arsitektur NALARs 11 (2): 181–98.
Santoso, Satmoko Budi. 2021. "Manfaat 'Heritage Trail' dalam Pengembangan Wisata Daerah." Cendana NEWS. 2021.
Shahimi, Syazana Suaidah, Izawati Tukiman, dan Mohd Ramzi Mohd Hussain. 2019. "People's Experiences about the City Liveliness of Urban Heritage Trail." Preprints.org, no. January.
Shamsuddin, S. 2018. Peran Induk Jejak Warisan Kuala Lumpur. Kuala Lumpur: Dewan Bandaraya Kuala Lumpur.
Sieng, Kong Teck, dan Oliver Valentine Eboy. 2021. "Pemetaan Jejak Warisan Untuk Tujuan Pelancongan Lestari Menggunakan Gis Di Tambunan." Jurnal Kinabalu, no. April: 57–80.
Timothy, D J, dan S W. Boyd. 2016. "Tourism and Trails: Cultural, Ecological and Management Issues." Channel View Publications, 2016.
Yunus, Nor Mazlan Mohd, Esmawee Endut, dan Shahrul Yani Said. 2021. "Cultural Mapping and Heritage Trail in Kuala Kangsar." Planning Malaysia 19 (15): 127–37.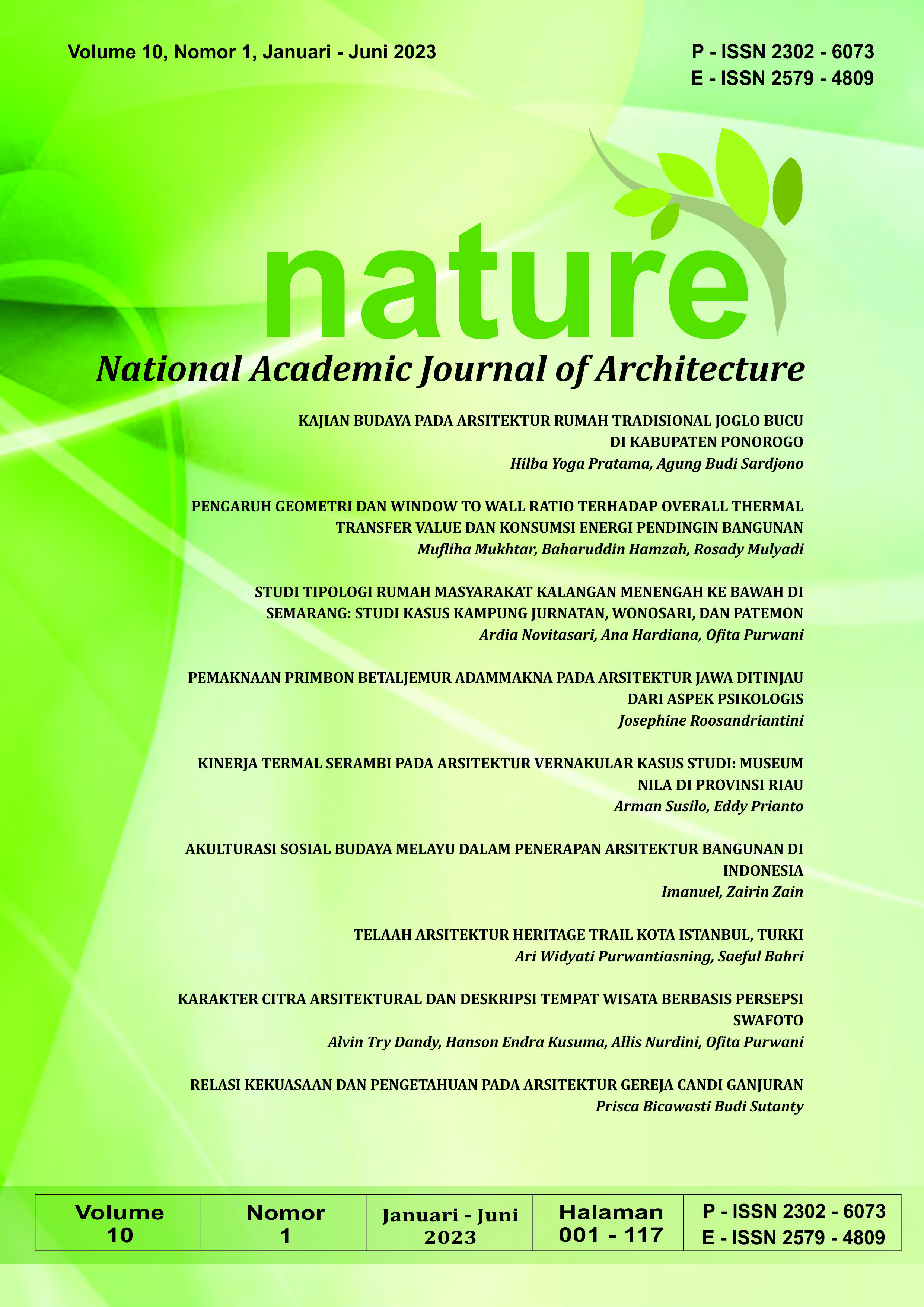 How to Cite
Ari Widyati Purwantiasning, & Saeful Bahri. (2023). TELAAH ARSITEKTUR HERITAGE TRAIL KOTA ISTANBUL, TURKI. Nature: National Academic Journal of Architecture, 10(1), 77-94. https://doi.org/10.24252/nature.v10i1a7
Copyright (c) 2023 Nature: National Academic Journal of Architecture
This work is licensed under a Creative Commons Attribution-ShareAlike 4.0 International License.

Abstract viewed = 120 times