EVALUASI EFEKTIFITAS PEMANFAATAN TAMAN MACCINI SOMBALA SEBAGAI RUANG TERBUKA PUBLIK MENURUT KEBUTUHAN MASYARAKAT
Iin Rosalyn Detuage

Universitas Hasanuddin




(ID)

Abd. Mufti Radja

Universitas Hasanuddin




(ID)

Ria Wikantari R

Universitas Hasanuddin



Abstract
Abstrak_Perkembangan kota yang bergulir cepat terkadang mengabaikan kebutuhan ruang terbuka yang sangat didambakan bagi kehidupan perkotaan, dimana faktor keamanan dan kenyamanan perlu diutamakan untuk pemenuhan ruang terbuka tersebut,  sebagai fasiltas interaksi sosial ruang publik diharapkan dapat mempertautkan  seluruh kepentingan pengguna tanpa membedakan latar belakang ekonomi, sosial, budaya dalam dinamika kehidupan kota. Taman Maccini Sombala merupakan taman yang berada di pusat kota, akan tetapi lokasi tersebut sangat terpencil. Akses untuk menuju taman tersebut sangat sulit, karena tidak dilalui oleh kendaraan umum. Taman Maccini Sombala juga memiliki beberapa fasilitas penunjang tapi tidak berfungsi dengan baik, bahkan beberapa fasilitas sudah rusak.Metode penelitian ini bersifat kualitatif deskriptif, yaitu merupakan penilaian yang mendeskripsikan suatu gejala, peristiwa-peristiwa, kejadian yang terjadi di masa sekarang. Studi ini bertujuan Menganalisis pola pemanfaatan ruang pada Taman Maccini Sombala Makassar, Mengidentifikasi faktor – faktor yang mempengaruhi efektifitas pemanfaatan fasilitas Taman Maccini Sombala Makassar dan Menganalisis efektifitas pemanfaatan fasilitas penunjang Taman Maccini Sombala Makassar sebagai ruang terbuka publik. Hasil penelitian menunjukan bahwa Taman Macini Sombala Makassar tidak efektif, dikarenakan infrastruktur untuk penunjang kegiatan perempuan tidak terdapat dilokasi tersebut. Sarana kegiatan bagi lansia tidak ada.Tidak terdapat fasilitas penunjang bagi pengunjung siswa, karyawan dan tidak bekerja.
Kata kunci: Evektifitas; Pemanfaatan; Ruang Terbuka Publik; Taman Maccini Sombala.
Abstract_ The development of a fast-rolling city sometimes ignores the need for opened space that is highly coveted for urban life, where security and comfort need to be prioritized for the fulfillment of opened space, as a facility of social interaction public spaces are expected to link the interests of users without distinguishing economic, social, culture in the dynamics of city life. The location of the Maccini Sombala Park is an interesting research location to study. Maccini Sombala Park is a park in the city center, but the location is very remote. Access to the park is very difficult because it is not passed by public transport. Maccini Sombala Park also has a number of supporting facilities but is not functioning properly; even some facilities have been damaged. This research method was qualitative descriptive, which is an assessment in describing a phenomenon, events, incidents that occurred in the present. This study is aimed to analyze the effectiveness of the use of supporting facilities of Maccini Sombala Park, identify the factors that influence the effectiveness of the user facilities of Maccini Sombala Park as a public open space. The results of the Makassar Maccini Sombala Park research were not effective, because the supporting infrastructure for female was unavailable. There were not supporting facilities for the student, employee, and unemployment.
Keywords: Effectiveness; Utilization, Opened Public Space; Maccini Sombala Park.
Downloads
Download data is not yet available.
References
Ching, Shanfun, Patricia Billing, and Julian Gordon. 1992. "Process for Immunochromatography with Colloidal Particles." Google Patents.
D, Karsono. 2010. "Peran City Walk Sebagai Ruang Terbuka Publik Dalam Mendukung Keindahan Dan Kenyamanan Kota. Studi Kasus City Walk Korido Jalan Slamet Ruyadi Surakarta." Teknik Sipil Dan Arsitektur, 7 (11).
Reiff, Daniel B, Athol U Wells, Denis H Carr, P J Cole, and D M Hansell. 1995. "CT Findings in Bronchiectasis: Limited Value in Distinguishing between Idiopathic and Specific Types." AJR. American Journal of Roentgenology 165 (2): 261–67.
Setiawan, Haryadi B. 1995. "Arsitektur Lingkungan Dan Perilaku." Ditjen Dikti. Jakarta.
Veloso, Eveline, Virgílio Almeida, Wagner Meira, Azer Bestavros, and Shudong Jin. 2002. "A Hierarchical Characterization of a Live Streaming Media Workload." In Proceedings of the 2nd ACM SIGCOMM Workshop on Internet Measurment, 117–30. ACM.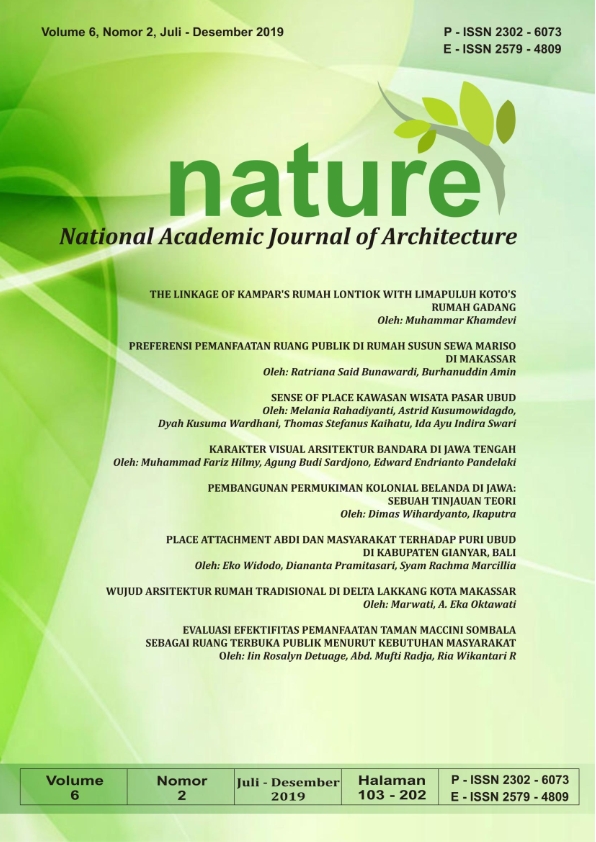 How to Cite

Detuage, I. R., Radja, A. M., & Wikantari R, R. (2019). EVALUASI EFEKTIFITAS PEMANFAATAN TAMAN MACCINI SOMBALA SEBAGAI RUANG TERBUKA PUBLIK MENURUT KEBUTUHAN MASYARAKAT. Nature: National Academic Journal of Architecture, 6(2), 194-202. https://doi.org/10.24252/nature.v6i2a8

Section

ARTICLE VOL 6 NO 2, DECEMBER 2019

Abstract viewed = 385 times