PREFERENSI RUMAH PENGRAJIN GERABAH DI DESA WISATA PANJANGREJO, KABUPATEN BANTUL, YOGYAKARTA
Sidhi Pramudito

Universitas Atma Jaya Yogyakarta




(ID)
Keywords:
Preference;, Craftsman's House;, Ideal
Abstract
Abstrak_ Rumah merupakan sebuah bangunan yang terus bertumbuh secar dinamis seiring dengan kebutuhan setiap penghuni yang selalu berkembang sesuai dengan putaran waktu. Preferensi pengguna hadir sebagai sebuah perangkat mental menyangkut perasaan, harapan, atau pilihan seseorang yang mengarahkan pada kecenderungan pilihan. Pemahaman mengenai preferensi pengguna sangat penting dalam sebuah proses perancangan arsitektur karena dapat digunakan sebagai masukan sehingga tercipta hasil rancangan yang cocok dengan kondisi penggunanya. Penelitian ini memiliki tujuan untuk mencari tahu faktor dari preferensi rumah tinggal dan produksi gerabah bagi pengrajin gerabah yang ideal di Desa Wisata Panjangrejo, Kabupaten Bantul. Penelitian bersifat eksploratif dan analisis dilakukan secara kualitatif. Data dikumpulkan melalui wawancara kepada pengrajin gerabah menggunakan kuesioner terbuka mengenai rumah tinggal dan produksi gerabah yang ideal. Tahapan yang dilakukan dalam analisis data yaitu open coding, axial coding, dan selective coding yang menggunakan metode analisis isi. Berdasarkan analisis, 5 faktor utama menjadi preferensi rumah tinggal dan produksi gerabah yang ideal. Kelima faktor tersebut yaitu rancangan rumah yang memiliki: (1) kebutuhan dan hubungan ruang jelas; (2) pertimbangan dalam kesehatan lingkungannya; (3) finishing desain yang baik; (4) konstruksi bangunan yang kuat; dan (5) ukuran ruang yang luas.
Kata kunci: Preferensi; Rumah Pengrajin Gerabah; Ideal
Abstract_ The house is a building that continues to grow dynamically in line with the needs of each occupant who always develops according to the cycle of time. User preferences exist as a mental set of feelings, expectations, or choices of a person that leads to a preference for choice. Understanding user preferences is very important in the design process because it can be used as an input to create a design that matches the user's conditions. This study aims to find out the factors of ideal residence preferences and pottery production for pottery craftsmen in Panjangrejo Tourism Village, Bantul Regency. The research is exploratory, and the analysis is done qualitatively. Data were collected through interviews with pottery craftsmen using questionnaires  regarding the ideal residence and pottery production. The steps taken in data analysis are open coding, axial coding, and selective coding, which using the method of content analysis. From the analysis, 5 dominant factors that become the preference for pottery craftsmen regarding the ideal housing and pottery production are house that have: (1) clear spatial needs and relationships; (2) considerations in environmental health; (3) good design finishing; (4) strong building construction; and (5) the size of the spacious room.
Keywords : Preference; Craftsman's House; Ideal
Downloads
Download data is not yet available.
References
Abdassah, R Kartika, Gustav Anandhita, and Mega Sesotyaningtyas. 2013. "Rumah Impian Mahasiswa." In Prosiding Temu Ilmiah IPLBI, 29–34.
Alqadrie, Auliya Maula, Laras Primasari, and Hanson Endra Kusuma. 2020. "Faktor Determinan Yang Mempengaruhi Preferensi Pengguna Terhadap Pakaian Dan Rumah Tinggal." EMARA: Indonesian Journal of Architecture 6 (1): 9–20. https://doi.org/10.29080/eija.v6i1.684.
Andoni, Heri, and Hanson E Kusuma. 2016. "Preferensi Hunian Yang Ideal Bagi Pekerja Dan Mahasiswa Pada Kelompok Umur Dewasa Awal/Early Adulthood." In Prosiding Temu Ilmiah IPLBI, 129–34.
Catalonia, R Muhammad Amanda. 2016. "Studi Preferensi Dalam Pemilihan Apartemen Ideal." In Temu Ilmiah Iplbi, 131–36.
Badan Pengembangan dan Pembinaan Bahasa, Kementerian Pendidikan dan Kebudayaan Republik Indonesia. 2016. https://kbbi.kemdikbud.go.id/entri/preferensi.
Indeswari, A., Antariksa, Pangarsa, G. W., & Wulandari, L. D. 2013. " Pola ruang bersama pada permukiman Madura Medalungan di Dusun Baran Randugading." Jurnal RUAS, 11(1) 37-46.
Monghaddam, Alireza. 2006. "Coding Issues in Grounded Theory." Issues In Educational Research, Vol 16.
Muchlis, Aulia Fikriarini, and Hanson E Kusuma. 2016. "Persepsi Kriteria Kenyamanan Rumah Tinggal." Temu Ilmiah IPLBI 2016, no. 1: D105–10.
Newmark, Thomposon. 1977. Self, Space and Shelter: An Introduction to Housing. New York: Harper and Row Publizer Inc.
Nursusandhari, E. 2009. "Persepsi, Preferensi, dan Willingness to Pay Masyarakat terhadap." In Kasus Kawasan Industri di Kelurahan Utama, Cimahi, Jawa Barat. Bogor: Institut Pertanian Bogor.
Porteus, J. 1977. Environment and Behavior Planning and Everyday Urban Life. Boston: Addison-Wesley.
Putra, Gierlang Bhakti, and Prinka Victoria Widyasanti. 2013. "Kriteria Dominan Rumah Tinggal Impian." In Temu Ilmiah IPLBI 2013, A21–24.
Sakina, Bunga, and Hanson E Kusuma. 2015. "Korespondensi Antara Kualitas Hunian Sewa Dan Tingkat Kepuasan Mahasiswa." Prosiding Temu Ilmiah IPLBI 100 (October 2015): 43.
Silas, Johan. 1993. "Housing Beyond Home; Case Study of Surabaya; ITS; Surabaya."
Syafrina, Andina, Angela Christysonia Tampubolon, Suhendri, Nunik Hasriyanti, and Hanson E Kusuma. 2018. "Preferensi Masyarakat tentang Lingkungan Perumahan yang Ingin Ditinggali." Jurnal RUAS Colume 16 No 1 32-45.
Tipple, A. G. 2004. "Settlement upgrading and homebased enterprises: Discussions from empirical data." Cities, 21 (5) 371-379.
Tipple, A. G. 2005. "The place of home-based enterpirses in the informal sector: Evidence from Cochabamba, New Delhi, Surababaya, and Pretoria." Urban Studies, 42 (4) 611-632.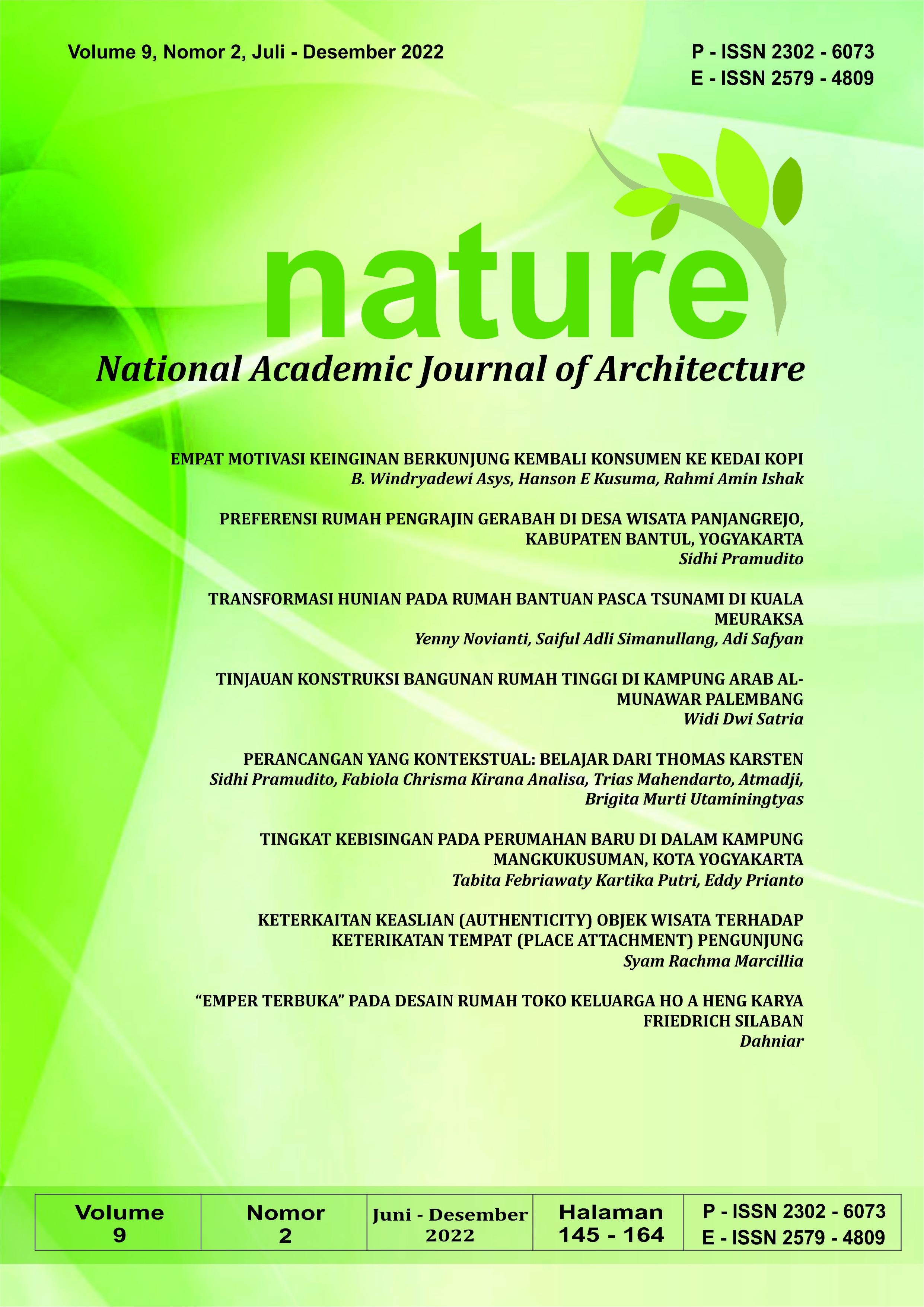 How to Cite
Pramudito, S. (2022). PREFERENSI RUMAH PENGRAJIN GERABAH DI DESA WISATA PANJANGREJO, KABUPATEN BANTUL, YOGYAKARTA. Nature: National Academic Journal of Architecture, 9(2), 176-188. https://doi.org/10.24252/nature.v9i2a2
Copyright (c) 2022 Nature: National Academic Journal of Architecture
This work is licensed under a Creative Commons Attribution-ShareAlike 4.0 International License.

Abstract viewed = 166 times