Al-Sihah: The Public Health Science Journal with registered number ISSN 2086-2040 (printed) and ISSN 2548-5334 (online) is a scientific journal covering public health science aspects published since 2009, and until now is consistently published twice a year, in June and December by Department of Public Health, Faculty of Medicine and Health Science, Universitas Islam Negeri Alauddin
This journal aims to publish high-quality articles dedicated to all aspects of the latest outstanding developments in the field of public health. This journal receives manuscripts encompass a broad range of research topics in public health sciences: epidemiology study, health nutrition, health promotion and behavior, occupational health and safety, environmental health, and health administration and policy. 
Al-Sihah: The Public Health Science Journal is a peer-reviewed journal that has been accredited by Akreditasi Jurnal Nasional (Arjuna), Directorate General of Research and Development Strengthening, Ministry of Research, Technology and Higher Education of the Republic of Indonesia.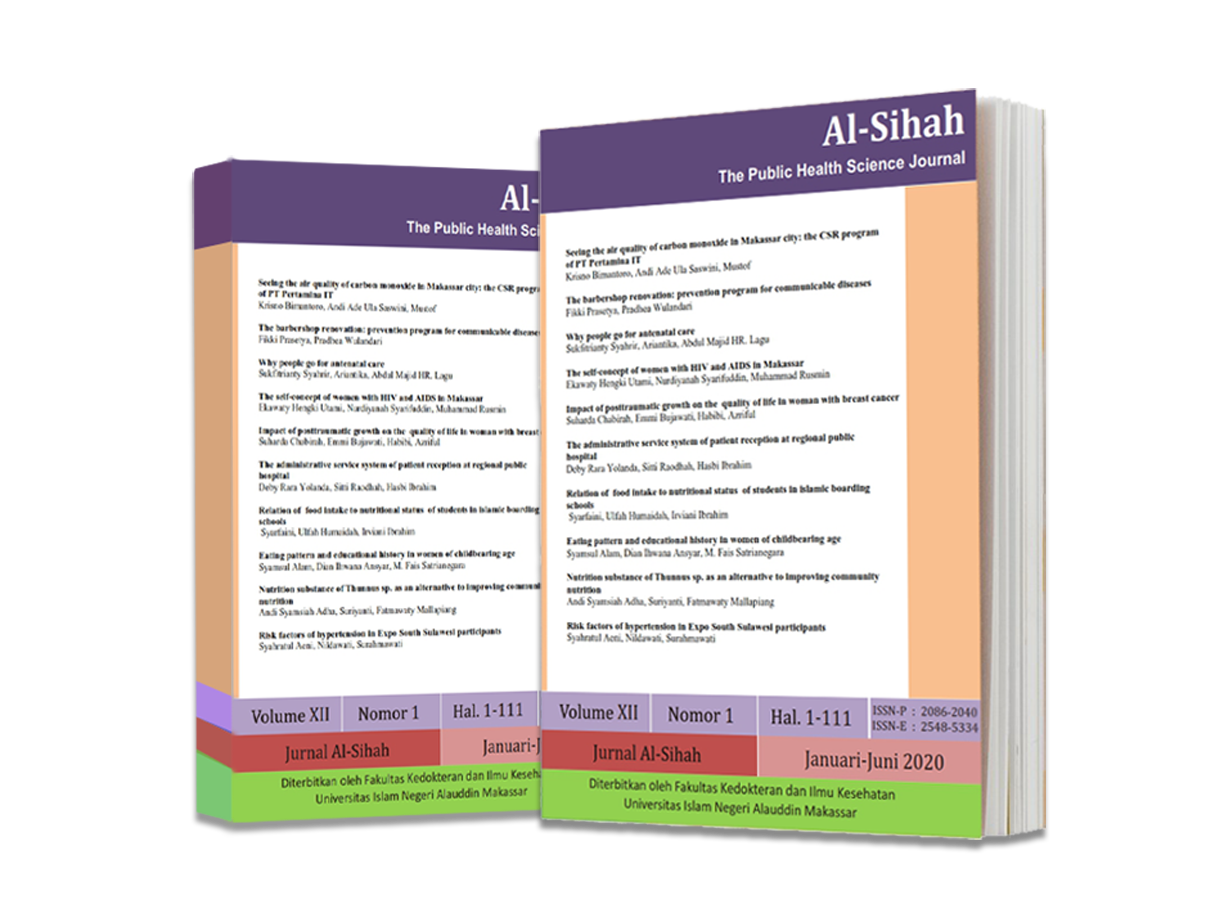 Announcements
No announcements have been published.
Volume 13, Nomor 2, Tahun 2021
Table of Contents
Journal Cover

Abstract - 2
Volume 13, Nomor 2, Tahun 2021
Ririn Pakaya, Yanti Hz. Hano, Muhammad Ramdhan Olii

Abstract - 34

126-139
Kahfi Karunia Ilahi, Erma Sulistyaningsih, Erfan Efendi

Abstract - 25

140-149
Deby Hizky Butarbutar, Nurjazuli Nurjazuli, Nikie Astorina Yunita Dewanti

Abstract - 40

150-160
Aenaya Delavera, Tris Eryando

Abstract - 30

161-175
Emmi Bujawati, Rahmi Awaliah, Jumriani Ansar

Abstract - 13

176-186
Nanda Rizkha Heratama, Kusnandar Kusnandar, Suminah Suminah

Abstract - 14

187-197
Muhammad Awal, Ashriady Ashriady, Darwis Durahim, Adriyani Adam

Abstract - 34

198-206
Irviani Anwar Ibrahim, Nadimin Nadimin, Musfirah Salsabilah

Abstract - 15

207-216
Sartini Risky, Faridah Moh Said, Asbath Said, Lodes Hadju

Abstract - 11

217-232
Nur Hidayah, Kristan Kristan, Ika Kartina, Muslimin Ardi

Abstract - 27

233-242