ETHNOMATHEMATICS: EXPLORING THE ACTIVITIES OF DESIGNING KEBAYA KARTINI
Maryati Maryati

SMP Muhammadiyah 1 Tepus Gunungkidul, Yogyakarta




(ID)

Rully Charitas Indra Prahmana

Scopus ID: 57192302745, Universitas Ahmad Dahlan, Yogyakarta




(ID)

http://orcid.org/0000-0002-9406-689X
Abstract
Abstract:
The study aims to explore the correlation between mathematics and culture, especially in the activities of designing Kebaya Kartini. This research uses ethnography approach, that is an empirical and theoretical approach to get the description and deep analysis of a culture based on the field note obtained from the data collection. The result shows the activities of designing Kebaya Kartini have the concept of mathematics, such as the angle, measure, and integer operations.
Abstrak:
Tujuan dari penelitian ini adalah untuk mengeksplorasi hubungan antara matematika dengan budaya, khususnya dalam kegiatan merancang kebaya kartini. Penelitian ini menggunakan pendekatan etnografi yang merupakan sebuah pendekatan empiris dan teoritis untuk mendapatkan gambaran dan analisis mendalam tentang sebuah budaya berdasarkan catatan lapangan yang telah diperoleh dari hasil pengumpulan data. Hasil penelitian ini menunjukkan bahwa dalam kegiatan merancang kebaya kartini memiliki berbagai konsep matematika, seperti sudut, pengukuran, dan operasi bilangan bulat.
Downloads
Download data is not yet available.
References
Abdullah, A S. (2017). Ethnomathematics in perspective of Sundanese culture. Journal on Mathematics Education, 8 (1), 1-6.
Anderson, S. E. (1990). World-math curriculum: Fighting eurocentrism in mathematics. Journal of Negro Education, 59 (3), 348-359.
Arisetyawan, A., et al. (2014). Study of ethnomathematics: A lesson from the Baduy culture. International Journal of Education and Research, 2 (10), 681-688.
Biembengut, M. S. (2016). Mathematical modelling, problem-solving, project, and ethnomathematics: Confluent points. Proceedings of the Birth Congress of the European Society for Research in Mathematics Education. 816-820.
D'Ambrosio, U. (1989). On ethnomathematics. Philosophica Mathematica, 2 (41), 3-14.
Ditasona, C. (2018). Ethnomathematics exploration of the Toba community: Elements of geometry transformation contained in Gorga (Ornament on Batak House). Materials Science and Engineering: Conf. Series 338.
Fouze, A. Q., & Amit, M. (2018). Development of mathematical thinking through integration of ethnomathematics folklore game in math instruction. EURASIA Journal of Mathematics, Science and Technology Education, 14 (2), 617-630.
Gulo, W. (2000). Research Methodology. Jakarta: New Grasindo.
Hariastuti, R. M. (2017). Permainan tebak-tebak buah manggis: Sebuah inovasi pembelajaran matematika berbasis etnomatematika. Jurnal Matematika dan Pendidikan Matematika, 2 (1), 25-35.
Haryanto, et. all. (2017). Ethnomathematics arfak (West Papua-Indonesia: Numeracy of Arfak. International Journal of Scientific & Technology Research, 6 (9), 325-327.
Kusuma, D. A., et al. (2016). The role of ethnomathematics in West Java (A preliminary analysis of case study in Cipatujah). Journal of Physics: Conf. Series 893.
Muchsin, S. B., Hartono, Y, & Putri, R. I. I. (2014). Invented strategies for partitive division on fractions using duration context. Proceedings of The Second South East Asia Development Research Conference (pp. 308-317).
Muhtadi, D., Sukirwan, Warsito, & Prahmana, R. C. I. (2017). Sundanese ethnomathematics: Mathematical activities in estimating, measuring, and making patterns. Journal on Mathematics Education, 8 (2), 185-198.
Niess, M. L. (2005). Preparing teachers to teach science and mathematics with technology: Developing a technology pedagogical content knowledge. Teaching and Teacher Education, 21 (5), 509-523.
Prahmana, R. C. I. (2017). Design research (teori dan implementasinya: Suatu pengantar). Jakarta: Rajawali Pers.
Prahmana, R. C. I., & Kusumah, Y. S. (2016). The hypothetical learning trajectory on research in mathematics education using research-based learning. Pedagogika, 123 (3), 42-54.
Prahmana, R. C. I., Zulkardi, & Hartono, Y. (2012). Learning multiplication using Indonesian traditional game in third grade. Journal on Mathematics Education, 3 (2), 115-132.
Pratikno, H. (2018). Etnomatematika pada bregada prajurit Keraton Yogyakarta. Prosiding Seminar Nasional Pendidikan Matematika Etnomatnesia.
Putri, L. I. (2017). Eksplorasi etnomatematika kesenian rebana sebagai sumber belajar matematika pada jenjang MI. Jurnal Pendidikan Dasar, IV (1), 21-31.
Risdiyanti, I., & Prahmana, R. C. I. (2017). Ethnomathematics: Exploration in Javanese culture. Journal of Physics, Conf. Series 943 012032.
Rosa, M., at al. (2016). Current and future perspectives of ethnomathematics as a program, ICME-13 Topical Surveys.
Runisah, et al. (2017). Using the 5E learning cycle with metacognitive technique to enhance students' mathematical critical thinking skills. International Journal on Emerging Mathematics Education, 1 (1), 87-98.
Sari, E. F. P., et al. (2018). Etnomatematika pada kebudayaan rumah adat Ogan Komering Ulu Sumatera Selatan. Journal of Medives, 2 (1), 137-144.
Spradley, P. J. (2007). Metode etnografi. Yogyakarta: Tiara Wacana.
Sudirman, et al. (2017). Penggunaan etnomatematika pada karya seni batik Indramayu dalam pembelajaran geometri transformasi. Pedagogy: Journal of Mathemathics Education, 2 (1), 74-85.
Tanujaya, B., Prahmana, R. C. I., & Mumu, J. (2017). Mathematics instruction, problems, challenges, and opportunities: A case study in Manokwari Regency, Indonesia. World Transactions on Engineering and Technology Education, 15 (3), 287-291.
Wahyuni, A., & Pertiwi, S. (2017). Etnomatematika dalam ragam hias Melayu. Math Didactic: Jurnal Pendidikan Matematika, 3 (2), 113-118.
Zaenuri & Dwidayati, N. (2018). Exploring ethnomathematics in Central Java. Journal of Physics: Conf. Series, 983.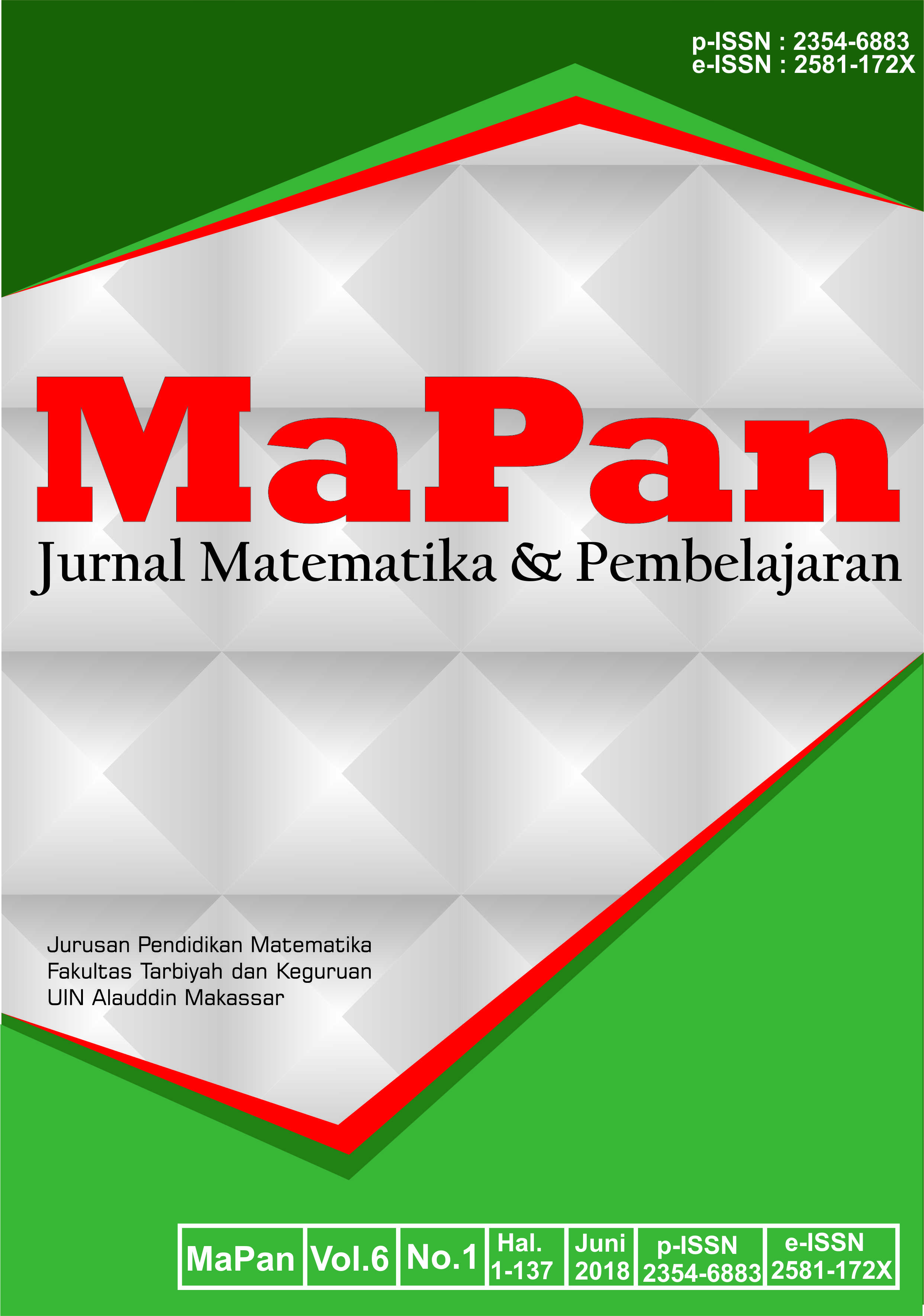 Copyright (c) 2018 Maryati Maryati, Rully Charitas Indra Prahmana
This work is licensed under a Creative Commons Attribution 4.0 International License.

Abstract viewed = 2585 times