THE PROFILE OF JUNIOR HIGH SCHOOL STUDENTS' PROBLEM SOLVING IN ANSWERING THE CONTENT PISA TEST OF UNCERTAINTY AND DATA BASED ON IDEAL PROBLEM SOLVING
Erlina Rahma Damayanti

Universitas Kristen Satya Wacana




(ID)

Tri Nova Hasti Yunianta

Universitas Kristen Satya Wacana, Salatiga




(ID)
Abstract
Abstract:
The study aims to find out the profile of junior high school students' problem solving in answering the content PISA test of uncertainty and data based on IDEAL (I-Identify problem, D-Define goal, E-Explore possible strategies, A-Anticipate outcomes and act, and L-Look back and learn) problem solving. Three students of the third grade state junior high school (SMPN) 1 Salatiga of academic year 2018/2019 were selected as the subjects of this study. The study used test, interview, and documentation as data collection techniques. Based on the results of the written test and interview, it is found that some students were able to implement all problem solving stages appropriately and sequentially. The subjects tended to ignore 'exploring strategies' and 'look and learning' stages.
Abstrak:
Penelitian ini bertujuan untuk mengetahui profil pemecahan masalah siswa dalam menyelesaikan soal PISA konten uncertainty and data berdasarkan pemecahan masalah IDEAL (I-Identidy problem, D-Define goal, E-Explore possible strategies, A-Anticipate outcomes and act, dan L-Look back and learn). Jenis penelitian ini adalah penelitian kualitatif. Subjek dalam penelitian ini adalah 3 siswa kelas VIII SMP Negeri 1 Salatiga tahun pelajaran 2018/2019. Teknik pengumpulan data yang digunakan adalah tes, wawancara, dan dokumentasi. Berdasarkan hasil tes tertulis dan wawancara diperolehbahwa sebagian siswa mampu melaksanakan tahapan pemecahan masalah dengan runtut dan tepat, dan cenderung semua subjek kurang dalam tahap explore strategies dan look and learning.
Downloads
Download data is not yet available.
References
Aini, R. N., & Siswono, T. Y. E. (2014). Analisis pemahaman siswa SMP dalam menyelesaikan masalah aljabar pada PISA. Jurnal Ilmiah Pendidikan Matematika, 3(2), 158–164. Retrieved from http://jurnalmahasiswa.unesa.ac.id/index.php/mathedunesa/article/view/8718/8768
Annizar, A. M. (2015). Analisis Kemampuan pemecahan masalah soal PISA menggunakan model IDEAL pada siswa usia 15 tahun di SMA Nuris Jember. Universitas Jember. Retrieved from http://repository.unej.ac.id/handle/123456789/73118
Bransford, J. D., & Stein, B. S. (1993). The ideal problem solver (2nd ed.). Duffield: Worth Publishers.
Budiono, C. S. (2014). Pembelajaran berbasis masalah berorientasi PISA berpendekatan PMRI bermedia LKPD meningkatkan literasi matematika peserta didik SMP. Unnes Journal of Mathematics Education, 3(3), 210–219. Retrieved from https://journal.unnes.ac.id/sju/index.php/ujme/article/view/4487
Depdiknas. (2006). Peraturan Menteri Pendidikan Nasional Republik Indonesia nomor 22 tahun 2006 tentang standar isi untuk satuan pendidikan dasar dan menengah. Jakarta: Depdiknas.
Hendriana, H., Rohaeti, E., & Sumarmo, U. (2017). Hard skills dan soft skills matematik siswa. Bandung: Refika Aditama.
Iswadi, H. (2016). Sekelumit dari hasil PISA 2015 yang baru dirilis. Retrieved from http://www.ubaya.ac.id/2014/content/articles_detail/230/Sekelumit-dari-Hasil-PISA-2015-yang-Baru-Dirilis.html
Kertayasa, I. K., Zulkardi, & Somakim. (2014). Achievement of indonesian student in assesment by using online mathematical problems. In Proceeding the 2nd SEA-DR (pp. 162 – 171). Palembang. Retrieved from http://eprints.unsri.ac.id/5203/1/I_Ketut_Kertayasa.pdf
National Council of Teachers Mathematics. (2000). Principle and standart for school mathematics. Reston, VA: NCTM.
OECD (Organisation for Economic Co-operation and Development). (2014). Education at glance 2014: OECD Indicators. Paris: OECD Publishing.
OECD (Organisation for Economic Co-operation and Development). (2015). PISA 2015: assesment and analitical framework. Paris: OECD Publishing.
Purnomo, E. A., & Mawarsari, V. D. (2014). Peningkatan kemampuan pemecahan masalah melalui model pembelajaran ideal problem solving berbasis project based learning. Jurnal Karya Pendidikan Matematika, 1(1), 24–31. Retrieved from https://jurnal.unimus.ac.id/index.php/JPMat/article/view/1042/1096
Silva, E. Y., Zulkardi, & Darmawijoyo. (2011). Pengembangan soal matematika model PISA pada konten uncertainty untuk mengukur kemampuan pemecahan masalah matematika siswa sekolah menengah pertama. Jurnal Pendidikan Matematika, 5(1). Retrieved from https://ejournal.unsri.ac.id/index.php/jpm/article/view/335/101
Susiana, E. (2010). Ideal problem solving dalam pembelajaran matematika. Kreano: Jurnal Matematika Kreatif-Inovatif, 1(2), 73–82. Retrieved from https://journal.unnes.ac.id/nju/index.php/kreano/article/view/1491/1615
Wardhani, S., & Rumiyati. (2011). Instrumen penilaian hasil belajar matematika SMP: belajar dari PISA dan TIMSS. Yogyakarta: Pusat Pengembangan dan Pemberdayaan Pendidik dan Tenaga Kependidikan (PPPPTK) Matematika.
Wulansari, D. (2015). Analisis kemampuan pemecahan masalah matematika suku banyak bagi siswa kelas XI IPA SMA Theresiana Salatiga. Universitas Kristen Satya Wacana Salatiga.
Yanti, A. P., & Syazali, M. (2016). Analisis proses berpikir siswa dalam memecahkan masalah matematika berdasarkan langkah-langkah Bransford dan Stein ditinjau dari adversity quotient.Al-Jabar: Jurnal Pendidikan Matematika, 7(1), 63–74. Retrieved from http://ejournal.radenintan.ac.id/index.php/al-jabar/article/view/132/122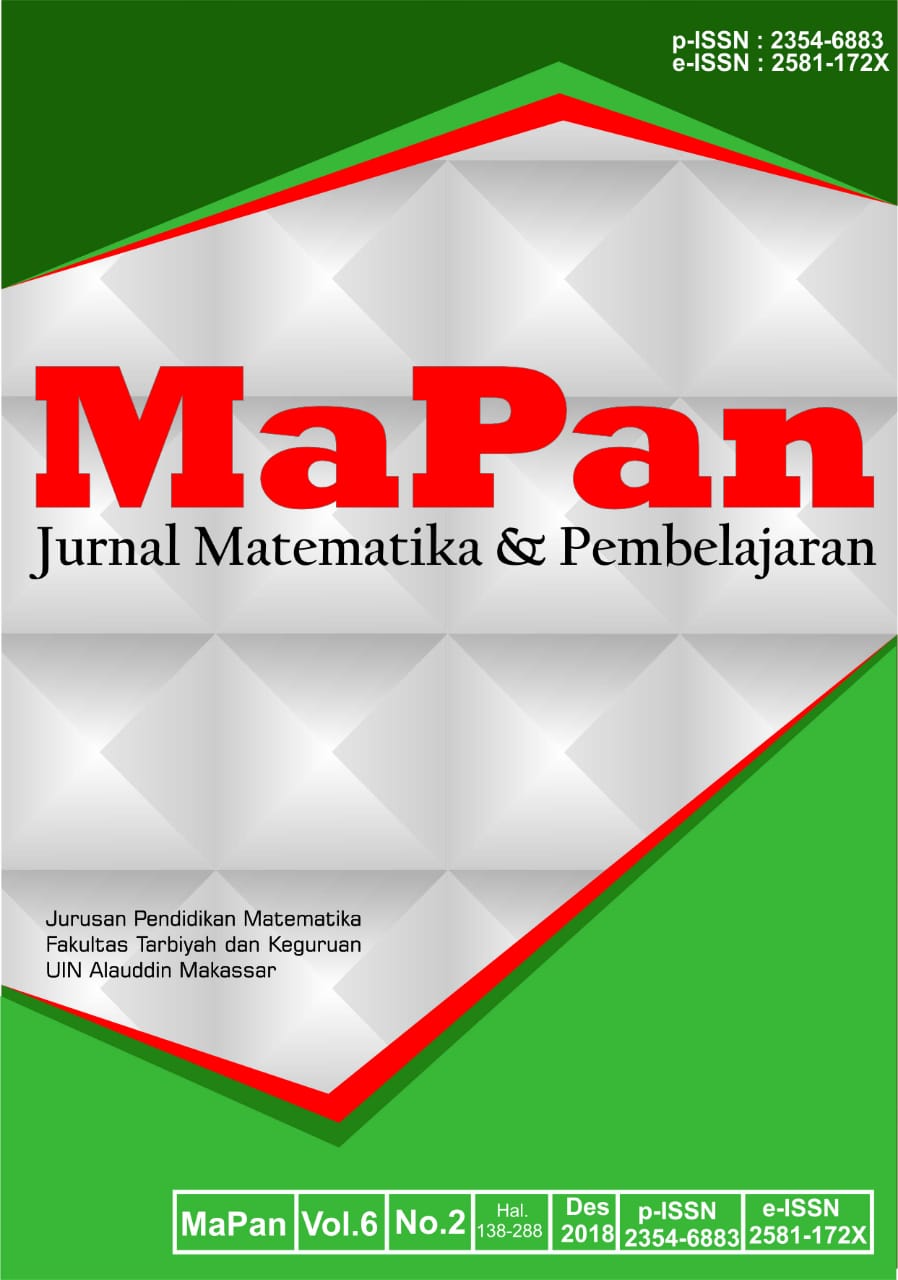 Copyright (c) 2018 Erlina Rahma Damayanti, Tri Nova Hasti Yunianta
This work is licensed under a Creative Commons Attribution 4.0 International License.

Abstract viewed = 666 times