Hawa` Dalam Perspektif Al-Qur'an (Studi Pendekatan Tafsir Maudhu`iy)
Muhammad Ilham Shaleh

Dosen di FAH UIN Alauddin Makassar




(ID)
Abstract
This writing explrores the term hawa and its meaning in al-Quran. This term is found as many as 36 times in various meanings and functions.It sometimes means a desire refering to kindness, sometimes to badness, empity and so forth.  Generally ulama interprites hawa as the inclination to love worldly life. Human being who is always busy with wordly life and ignores even forgets God has regarded hawa as his God. Such this human being will be funished by God not only in hereafter, also in his life in the world.
Downloads
Download data is not yet available.
References
Al-Khazin, Tafsir al-Khazin al-Musamma Lubab al-Ta`wil fi ma`ani al-Tanzil., selanjutnya disebut tafsir al-Khazin. Cet. II, Mesir: al-Halabi, juz vii, 1955=1345 H.
Al-Bagawi,Tafsir al-Bagawi al-Ma`ruf bi ma`lum al-Tanzil. Selanjutnya disebut Tafsir al-Bagawi., Mesir: al-Halabi, 1955.
Al-Gazali, Ihya Ulum al-Din., jilid III, Cet. III, Beirut, Dar al-Fikr, 1991.
Al-qadiri, Syekh Ismail said, al-Fuyudhat al-Rabbaniyah., Mesir: ttp, tth.
Muhammad al-Ra`zi, Mukhtar al-Shihah., Beirut: Dar al-Kitab al-Arabiyyi, 1981M=1401 H.
Muhammad Fuad Abdul Ba`qi, al-Mu`jam al-Mufahras Li al-Fadz al-Qur`n al-Karim, selanjutnya disebut al-Mufahras., Kairo : Dar al-Hadis, 1986M=1406 H.
Allamah al-Raghif al-Asgfahani, Mufradat al-Fazh al-Qur`an., Tahqiq Shafwab Adnan Dawudi, Dimask: Dar al-Qalam, Cet. I, 1992 M/1412 H.
Imam Qusyaeri, al-Risalah al-Qusyaeriyah.,Tahqiq Ma`ruf Zarik, Kairo: Dar al-Khaer, t.th.
CD al-Qur`an, Tafsir al-Qurtubi, Ibnu Katsir.
Zakariyayyah, Abu al-Husain Ahmad Ibn Faris, Mu`jam Maqayis al-Lughat, (Beirut: Dar al-Fikr, 1994), VI.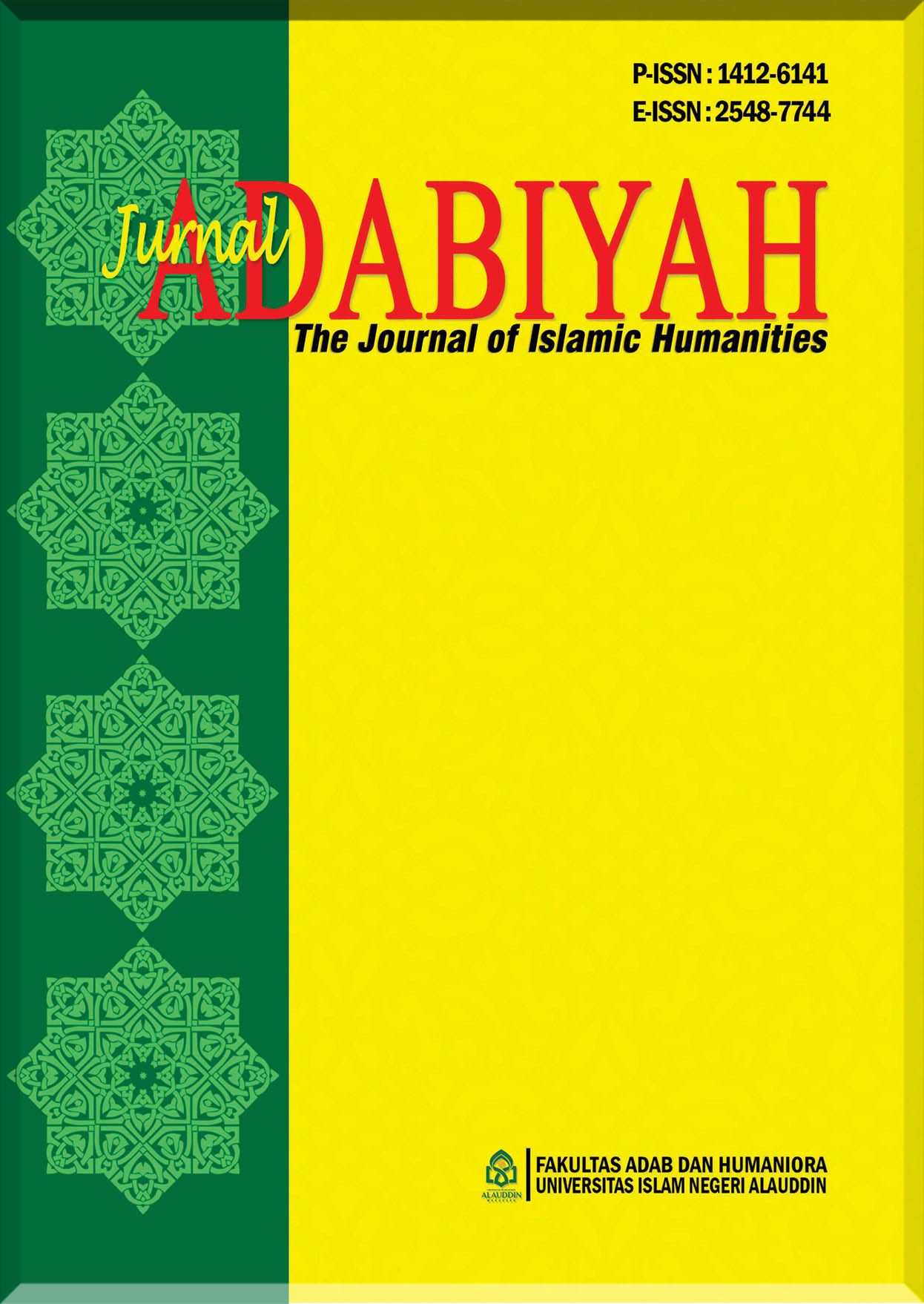 How to Cite

Shaleh, M. I. (2013). Hawa` Dalam Perspektif Al-Qur'an (Studi Pendekatan Tafsir Maudhu`iy). Jurnal Adabiyah, 13(2), 194-202. Retrieved from https://journal.uin-alauddin.ac.id/index.php/adabiyah/article/view/267

COPYRIGHT AND LICENSE STATEMENT

COPYRIGHT
Jurnal Adabiyah is published under the terms of the Creative Commons Attribution license. Authors hold the copyright and retain publishing rights without restriction to their work. Users may read, download, copy, distribute, and print the work in any medium, provided the original work is properly cited.

LICENSE TO PUBLISH
1. License
The use of the article will be governed by the Creative Commons Attribution license as currently displayed on http://creativecommons.org/licenses/by/4.0.

2. Author's Warranties
The author warrants that the article is original, written by stated author/s, has not been published before, contains no unlawful statements, does not infringe the rights of others, is subject to copyright that is vested exclusively in the author and free of any third party rights, and that any necessary written permissions to quote from other sources have been obtained by the author(s).

3. User Rights
Under the Creative Commons Attribution license, the users are free to download, reuse, reprint, modify, distribute and/or copy the content for any purpose, even commercially, as long as the original authors and source are cited. No permission is required from the authors or the publishers.

4. Co-Authorship
If the article was prepared jointly with other authors, the corresponding author warrants that he/she has been authorized by all co-authors, and agrees to inform his/her co-authors of the terms of this statement.

5. Miscellaneous
Jurnal Adabiyah may conform the article to a style of punctuation, spelling, capitalization, and usage that it deems appropriate. The author acknowledges that the article may be published so that it will be publicly accessible and such access will be free of charge for the readers.

Abstract viewed = 684 times