The Implementation of MUI's Fatwa on the Position of Transgender Individuals, Gender Reassignment Surgery and Genital Refinement
Misbahuddin

Department of Da'wah Management, Faculty of Da'wah and Communication, Alauddin State Islamic University of Makassar, Jl. Sultan Alauddin No.63, Romangpolong, Kec. Somba Opu, Kabupaten Gowa, Sulawesi Selatan, Indonesia. 92113




(ID)

Nasrullah Bin Sapa

Department of Sharia Banking, Faculty of Islamic Economics and Business, Alauddin State Islamic University of Makassar, Jl. Sultan Alauddin No.63, Romangpolong, Kec. Somba Opu, Kabupaten Gowa, Sulawesi Selatan, Indonesia. 92113




(ID)

Muhammad Syarif As'ad

Department of Islamic Economic Law, Faculty of Sharia and Law, Alauddin State Islamic University of Makassar, Jl. Sultan Alauddin No.63, Romangpolong, Kec. Somba Opu, Kabupaten Gowa, Sulawesi Selatan, Indonesia. 92113




(ID)

Andi Intan Cahyani

Department of Islamic Economic Law, Faculty of Sharia and Law, Alauddin State Islamic University of Makassar, Jl. Sultan Alauddin No.63, Romangpolong, Kec. Somba Opu, Kabupaten Gowa, Sulawesi Selatan, Indonesia. 92113




(ID)

Muhammad Zakir Husain

Faculty of Ushuluddin, Sultan Sharif Ali Islamic University, Simpang 347, Jalan Pasar Gadong, Bandar Seri Begawan, Brunei Darussalam. BE4119




(BN)
Keywords:
Fatwa, Transgender, Implementation, Gender Reassignment Surgery, Genital Perfection
Abstract
This research describes the implementation of the fatwa issued by the Indonesian Council of Ulama (MUI) regarding the position of transgender individuals, gender reassignment surgery, and genital perfection in Pangkep regency, South Sulawesi, Indonesia. The research employs a qualitative methodology through interviews and a literature review. The research results show the implementation of the MUI fatwa on the position of transgender individuals is hindered by several factors. Firstly, the recognition of human rights as regulated in the law emphasizes that basic human rights and freedoms are inherent rights that should be protected, respected, and upheld for the improvement of human dignity, welfare, happiness, intelligence, and justice. Secondly, the MUI fatwa is not legally binding in the concept of the Indonesian state. Thirdly, the fatwa cannot be fully implemented in areas where transgender individuals are recognized. The researchers concluded that the implementation of genital perfection provides legal status for transgender individuals with dual genders or genital anomalies.
الملخص
تتحدث هذه الدراسة عن تنفيذ الفتوى التي أصدرها مجلس علماء إندونيسيا (MUI) بشأن موقف الأفراد المتحولين جنسياً، وجراحة إعادة تعيين الجنس، والكمال الجنسي في منطقة بانكيب بجنوب سولاويسي. وتعتمد الدراسة منهجيةً نوعيةً من خلال المقابلات ومراجعة المكتبية. وتشير النتائج إلى أن تنفيذ فتوى MUI بشأن موقف الأفراد المتحولين جنسياً يتعرض لعدة عوامل عائقة، فأولاً، فإن اعتراف حقوق الإنسان التي تنظمها القانون تشدد على أن حقوق الإنسان الأساسية والحريات هي حقوق متأصلة يجب حمايتها واحترامها وتعزيزها لتحسين الكرامة والرفاهية والسعادة والذكاء والعدالة الإنسانية. ثانيًا، فإن فتوى MUI ليست ملزمة قانونًا في مفهوم الدولة الإندونيسية. وثالثًا، فإن الفتوى لا يمكن تنفيذها بالكامل في المناطق التي تم الاعتراف فيها بالأفراد المتحولين جنسيًا. ويتصل تنفيذ الفتوى المتعلقة بجراحة إعادة تعيين الجنس والكمال الجنسي بالإرث والزواج والنسب والعبادة. حيث يحق للأفراد المتحولين جنسيًا الذين يخضعون لجراحة إعادة تعيين الجنس الحصول على حقوق الإرث وفقًا لجنسهم قبل الجراحة، في حين يحق لأولئك الذين يخضعون للكمال الجنسي الحصول على حقوق الإرث وفقًا لجنسهم بعد الجراحة. الأفراد الذين يخضعون لجراحة تحويل الجنس والتبديل الجنسي لا يسمح لهم بالزواج من الجنس الآخر، ويعتبر زواجهم معادلًا لزواج المثليين. الأفراد الذين يخضعون لتحسين الأعضاء التناسلية يمكنهم الزواج من أي شخص ينتمي إلى الجنس الذي ينتمي إليه بعد العملية. أما أطفال الأفراد الذين يخضعون لتحسين الأعضاء التناسلية، فيتبعون نسب أبيهم. ينبغي للأفراد الذين يخضعون لجراحة تحويل الجنس العبادة وفقًا لجنسهم قبل الجراحة، في حين يجب على الأفراد الذين يخضعون لتحسين الأعضاء التناسلية العبادة وفقًا لجنسهم بعد الجراحة. وفي الختام، يوفر تنفيذ تحسين الأعضاء التناسلية الوضع القانوني للأفراد ذوي الجنس المزدوج أو التشوهات الجنسية.
مفتاح البحث:  فتوى MUI , المتحولون جنسيًا, جراحة إعادة تعيين الجنس, الكمال الجنسي, حقوق الإنسان
Abstrak
Penelitian ini menjelaskan tentang implementasi fatwa MUI tentang kedudukan Waria, operasi perubahan dan penyempurnaan kelamin di kabupaten Pangkep Sulawesi Selatan, Indonesia. Penelitian ini menggunakan metode kualitatif melalui wawancara dan kajian pustaka. Hasil penelitian menunjukkan bahwa implementasi fatwa MUI mengenai kedudukan individu transgender terkendala oleh beberapa faktor. Pertama, ada pengakuan hak asasi manusia yang diatur dalam Undang-Undang yang menegaskan bahwa hak asasi manusia dan kebebasan dasar adalah hak kodrati yang melekat pada manusia dan harus dilindungi, dihormati, dan ditegakkan demi peningkatan martabat kemanusiaan, kesejahteraan, kebahagiaan, kecerdasan, dan keadilan. Kedua, fatwa MUI tidak mengikat secara hukum dalam konsep negara Indonesia. Ketiga, fatwa tersebut tidak dapat sepenuhnya diterapkan di daerah di mana individu transgender diakui. Peneliti menyimpulkan bahwa implementasi operasi perbaikan kelamin memberikan status hukum bagi individu transgender dengan jenis kelamin ganda atau kelainan organ kelamin.
Kata Kunci: Fatwa; Implementasi; Transgender; Perbaikan Kelamin; Operasi Kelamin
Downloads
Download data is not yet available.
References
Al-Hamidy, Abu Dzarrin, 'Tinjauan Hukum Internasional HAM Dan Hukum Islam Terhadap LGBT Perspektif Human Dignity Mashood A. Baderin', ISLAMICA: Jurnal Studi Keislaman, 10.1 (2016) <https://doi.org/10.15642/islamica.2015.10.1.198-221>
Ali, Hasan, Masail Fiqhiyah, Haji Masagung, 3rd edn (Jakarta: Haji Masagung, 1992)
An-Nawawi, Imam, 'Syarah Shahih Muslim', Angewandte Chemie International Edition, 6(11), 951–952., 1967
Halim, Fatimah, 'Waria Dan Operasi Kelamin', Ar-Risalah, 11.1 (2011), 299–308
Hikmah, Warda Silwana, Hasnan Bachtiar, and Kukuh Dwi Kurniawan, 'Bisexual Orientation, Divorce, and Islamic Law in Indonesia: Legal Standing and Arguments', Ahkam: Jurnal Ilmu Syariah, 22.1 (2022), 137–60 <https://doi.org/10.15408/ajis.v22i1.25791>
Ismail, Abdul Manan, and Ahmad Syukran Baharuddin, 'Moderation in Fatwas and Ijtihad: An Analysis of Fatwas Issued by the MKI Malaysia Concerning the Covid-19 Pandemic', Ahkam: Jurnal Ilmu Syariah, 22.1 (2022), 111–36 <https://doi.org/10.15408/ajis.v22i1.22299>
Jurjani, Acep, 'Transgender Dalam Perspektif Hukum Pidana Islam', 2016, 1–166
Majelis Ulama Indonesia, 'Fatwa Operasi Perubahan/Penyempurnaan Kelamin', Himpunan Fatwa MUI, 1980, 561
Muh. Said, 'Peran Bissu Pada Masyarakat Bugis', Seminar Nasional, 2016, 71
Muhammad Yusuf Syafrul, 'Peran Etnis Bissu Dalam Masyarakat Bugis Di Segeri Kabupaten Pangkep'
MUI, 'Kedudukan Waria', Himpunan Fatwa MUI, 1997, 356–58
Nahdhiyah, Nahdhiyah, and Syahruni Junaid, 'A STUDY OF AL-QUR'AN TOWARDS ENVIRONMENTAL ISSUES OF BUGINESE ELONG-ELONG (ECOCRITICAL APPROACH)', Jurnal Adabiyah, 21.1 (2021), 234 <https://doi.org/10.24252/jad.v21i1a11>
Najah, Ahmad Zain An, Halal Dan Haram Dalam Pengobatan (Jakarta: Puskafi, 2011)
Netti, Misra, 'PELARANGAN TRANSGENDER MENURUT BUYA HAMKA (Dalam Kitab Tafsir Al Azhar)', Jurnal An-Nahl, 9.1 (2022), 28–38 <https://doi.org/10.54576/annahl.v9i1.45>
Riadi, M. Erfan, 'Kedudukan Fatwa Ditinjau Dari Hukum Islam Dan Hukum Positif (Analisis Yuridis Normatif)', Ulumuddin: Journal of Islamic Legal Studies, VI.IV (2010), 468–77 <https://ejournal.umm.ac.id/index.php/ulum/article/view/1305>
Syarifuddin, Amir, 'Ushul Fiqhi, Jilid II', (Prenada Media, 2017)
Utomo, Setiawan Budi, Fiqih Aktual: Jawaban Tuntas Masalah Kontemporer, ed. by Abu Hanifah (Gema Insani Press, 2003)
Yusuf, Sayid bin Ahmad Abu, Al-Ikhlash Syamsuir, Kumpulan Fatwa Kesehatan Wanita, ed. by Team Editor Gazzamedia, Cet. 1 (Semarang: Gazzamedia, 2009)
Zulkhaeriyah, Zulkhaeriyah, 'The Discursive Interaction Between Representative Man and Woman in Mappettu Ada Marriage Proposal in Buginese Society (a Semiotic Approach)', Jurnal Adabiyah, 18.1 (2018), 17–30 <https://doi.org/10.24252/jad.v17i118i1a2>
حسنين محمد مخلوف, المواريث في الشريعة الإسلامية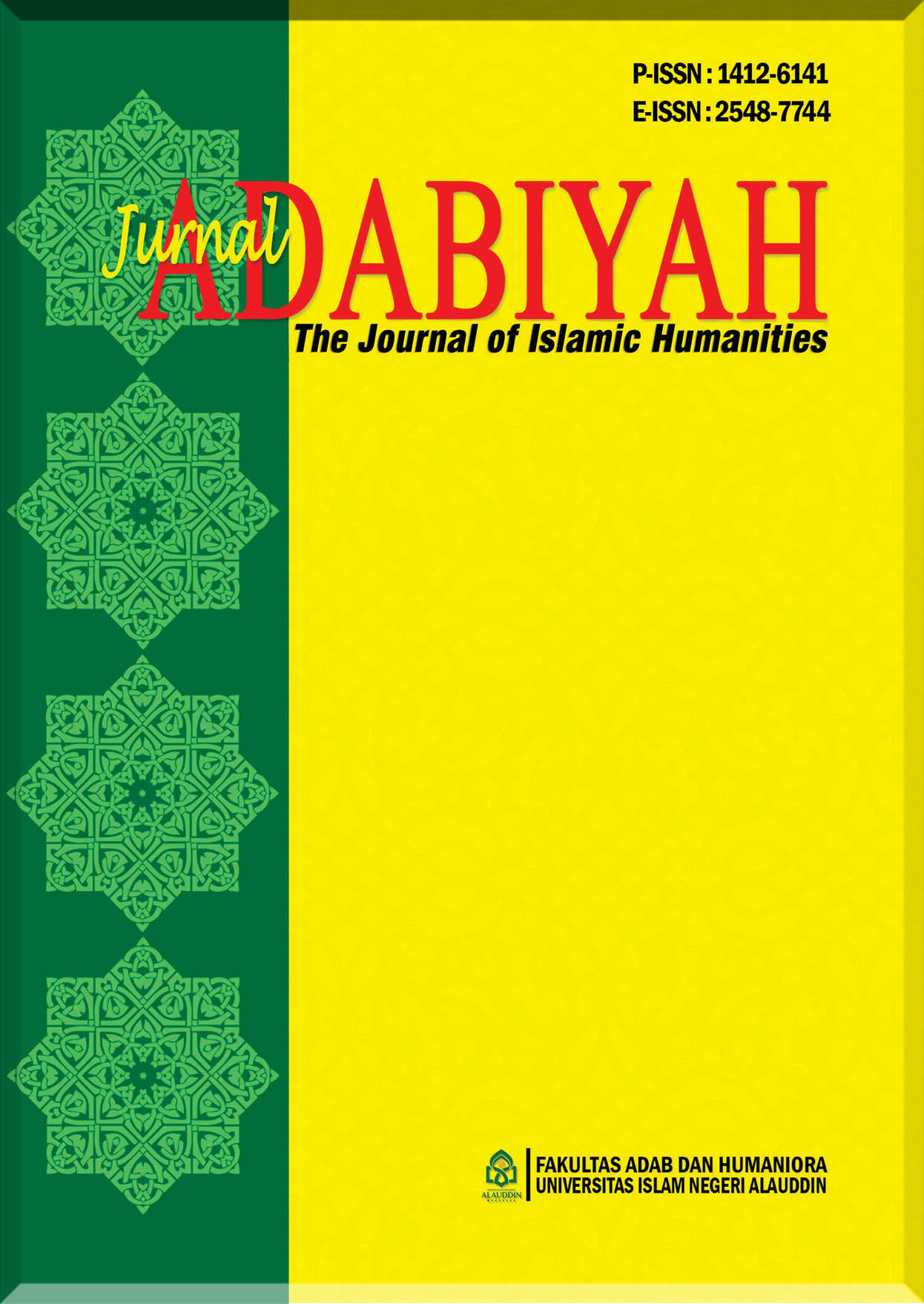 How to Cite
Misbahuddin, M., Bin Sapa, N., Syarif As'ad, M., Cahyani, A. I., & Husain, M. Z. (2023). The Implementation of MUI's Fatwa on the Position of Transgender Individuals, Gender Reassignment Surgery and Genital Refinement. Jurnal Adabiyah, 23(2), 103-121. https://doi.org/10.24252/jad.v23i2a1
Copyright (c) 2023 Misbahuddin Misbahuddin, Nasrullah Bin Sapa, Muhammad Syarif As'ad, Andi Intan Cahyani
This work is licensed under a Creative Commons Attribution-NonCommercial-ShareAlike 4.0 International License.

COPYRIGHT AND LICENSE STATEMENT

COPYRIGHT
Jurnal Adabiyah is published under the terms of the Creative Commons Attribution license. Authors hold the copyright and retain publishing rights without restriction to their work. Users may read, download, copy, distribute, and print the work in any medium, provided the original work is properly cited.

LICENSE TO PUBLISH
1. License
The use of the article will be governed by the Creative Commons Attribution license as currently displayed on http://creativecommons.org/licenses/by/4.0.

2. Author's Warranties
The author warrants that the article is original, written by stated author/s, has not been published before, contains no unlawful statements, does not infringe the rights of others, is subject to copyright that is vested exclusively in the author and free of any third party rights, and that any necessary written permissions to quote from other sources have been obtained by the author(s).

3. User Rights
Under the Creative Commons Attribution license, the users are free to download, reuse, reprint, modify, distribute and/or copy the content for any purpose, even commercially, as long as the original authors and source are cited. No permission is required from the authors or the publishers.

4. Co-Authorship
If the article was prepared jointly with other authors, the corresponding author warrants that he/she has been authorized by all co-authors, and agrees to inform his/her co-authors of the terms of this statement.

5. Miscellaneous
Jurnal Adabiyah may conform the article to a style of punctuation, spelling, capitalization, and usage that it deems appropriate. The author acknowledges that the article may be published so that it will be publicly accessible and such access will be free of charge for the readers.

Abstract viewed = 115 times