Language Style Applied on Indonesian Beauty Products in Digital Advertisements
Abd Halim

Makassar State University




(ID)

Nur Mutmainna Halim

Universitas Islam Makassar




(ID)
Keywords:
Language Style, Beauty, Products
Abstract
In modern today, people compete to beautify themselves since being beauty has become a primary needs for every woman, even for a man. Besides for personal reason such as taking care of themselves, very often because it is caused by demands of work that requires fine appearance. For now, there are lots of beauty products that are easily obtained from online or offline markets. To support each products, each company needs certain marketing technique to attract consumers. This research aims to investigate language style used in some advertisements for Indonesian beauty products. There were total of 10 advertisements of 5 Indonesian beauty brands investigated in this study. Researchers used note-taking as an instrument and applied purposive sampling technique.  Result of this study reveals that from several language style found in those advertisements, hyperbole appeared the most with 33 times appearance. Hyperbole is a kind of figure of speech that conceive heightened impact through the using, or even repetition, of purposeful exaggeration. This language style is often boldly overstated claims to emphasize things. Thus, most of beauty brands by locals investigated in this study used hyperbolic technique to advertise their products.
Downloads
Download data is not yet available.
References
Asher, R. E. (1994). The Encyclopedia of Language and Linguistics. Oxford: Pergamon Press.
Chaika, E. (1982). Language The Society Mirror. Massachusetts: New House Publisher.
Djubair, Rahmat Aidil. 2022. "Relationship of AIDA Model towards Data Analytics Capabilities, Marketing Strategies and Digital Marketing Performance on Small and Medium Enterprises (S.M.E.s)." International Journal of Social Science and Education Research Studies 02(10):559–64. doi: 10.55677/ijssers/v02i10y2022-07.
Dwi, Ananda, Putri Caesary, L. A. Sunra, and Yunitari Mustikawati. 2022. "LANGUAGE STYLE AT ADVERTISEMENT IN CNN Journal of English Literature and Linguistic Studies." 1(1):1–12.
Gaw, W. .. 1961. Advertising: Methods and Media. San Fransisco: Advertisement Worth.
Hanindo. 2022. "Pilihan Platform Terbaik Untuk Advertising Lebih On Point." PT Hanindo Mitra Lestari. Retrieved May 25, 2023 (https://www.hanindo.co.id/post/pilihan-platform-terbaik-untuk-advertising-lebih-on-point).
Indra and Hamzah. (2018). "E-Journal of English Language & Literature AN ANALYSIS OF LANGUAGE STYLE OF TEENAGERS FOUND IN FACEBOOK STATUS." E-Journal of English Language and Literature 7(1):98–105.
Jamil, Resa Ferara, and Nasrum. 2018. "Language Style Used in J . K. Rowling's Harry Potter." Elite Journal 05(02):190–200.
Keraf, Gorys. 2008. Diksi Dan Gaya Bahasa. Jakarta: Gramedia Pustaka Utama.
Kotler, P. (1997). Marketing Management. New Jersey: Prentice Hall International, Ltd.
Lambert, V.A., & Lambert, C. E. 2012. "Qualitative Descriptive Research: An Acceptable Design." Pacific Rim International Journal of Nursing Research 16(4):255–56.
Leech, G. N., & Short, M. H. (1981). Style in Fiction. London: Longman.
Nurgiyantoro, B. 2009. Penilaian Pembelajaran Bahasa. Yogyakarta: BPFE.
Permatasari, Sonia Niken, and Made Frida Yulia. 2016. "An Analysis of the Language Style of the Utterances in Magnum Advertisements." L.L.T. Journal: A Journal on Language and Language Teaching 16(1):31–40. doi: 10.24071/llt.v16i1.280.
Public. 2020. "Global Digital Ad Trends 2020."
Rahayu, Nisi Nispi, and Aseptiana Parmawati. 2020. "The Analysis of Language Style and the Illocutionary Act Found in Teen Lit Novel ' The Perfect Husband' Written By Indah Riyana." PROJECT (Professional Journal of English Education) 3(3):408. doi 10.22460/project.v3i3.p408-413.
Ramdhani, Muhammad Iqbal, Yanti Purnama Sari, and Shynta Amalia. 2020. "Available Online at : Http://Ijer.Ftk.Uinjambi.Ac.Id/Index.Php/Ijer Language Style in ' What A Girl Wants ' Movie Available Online at : Http://Ijer.Ftk.Uinjambi.Ac.Id/Index.Php/Ijer." 5(2):75–79.
Ratnawati, Ratnawati, Rosmiaty Rosmiaty, and Nurfaizah Nurfaizah. 2021. "Exploring Language Style in Makassar Cultural Tourism." E.L.T. Worldwide: Journal of English Language Teaching 8(1):18. doi: 10.26858/eltww.v8i1.20272.
Robinson, R. S. (2014). "Purposive Sampling." Pp. 5243–45 in Encyclopedia of Quality of Life and Well-Being Research, edited by A. C. Michalos. Dordrecht: Springer Netherlands.
Salsabila, Lilian, and Pradnya Permanasari. 2022. "An Analysis of Language Style Used in 'The Princess Switch' Movie and Its Implications in Teaching Speaking." Jurnal Lingua Idea 13(1):37. doi: 10.20884/1.jli.2022.13.1.5700.
Syukri, Masyitah, Herawati, and Sukmawaty. 2019. "Gaya Bahasa Fitzgerald Dalam The Great Gatsby." Jurnal Ilmu Budaya 7(2):223–30.
Tarigan, H. .. 1985. Menulis Sebagai Suatu Keterampilan Berbahasa. Bandung: Angkasa.
Team, CFI. 2023. "AIDA Model The Attention, Interest, Desire, and Action Model in Advertising." Corporate Finance Institute. Retrieved (https://corporatefinanceinstitute.com/resources/management/aida-model-marketing/).
Telkomsel DigiAds. (2021). "Digital Advertising Indonesia 2020 Is Still Growing Rapidly." Https://Digiads.Id/. Retrieved (https://digiads.id/en/digital-advertising-indonesia-2020-masih-berkembang-pesat).
Wang, B., & Becky Loo. (2019). "The Hierarchy of Cities in Internet News Media and Internet Search: Some Insights from China." Cities 84:121–33. doi 10.1016/j.cities.2018.07.013.
Weilbacher, W. M. 1984. Advertising. 2nd ed. New York: Macmillan Publishing.
Wuwur, Fransiska Inapaska. 2021. "Language Style Used By Katy Perry and the Hosts in Exclusive Interview on Tonight Show." Jurnal Ilmiah Spectral 7(2):63–74. doi 10.47255/spectral.v7i2.74.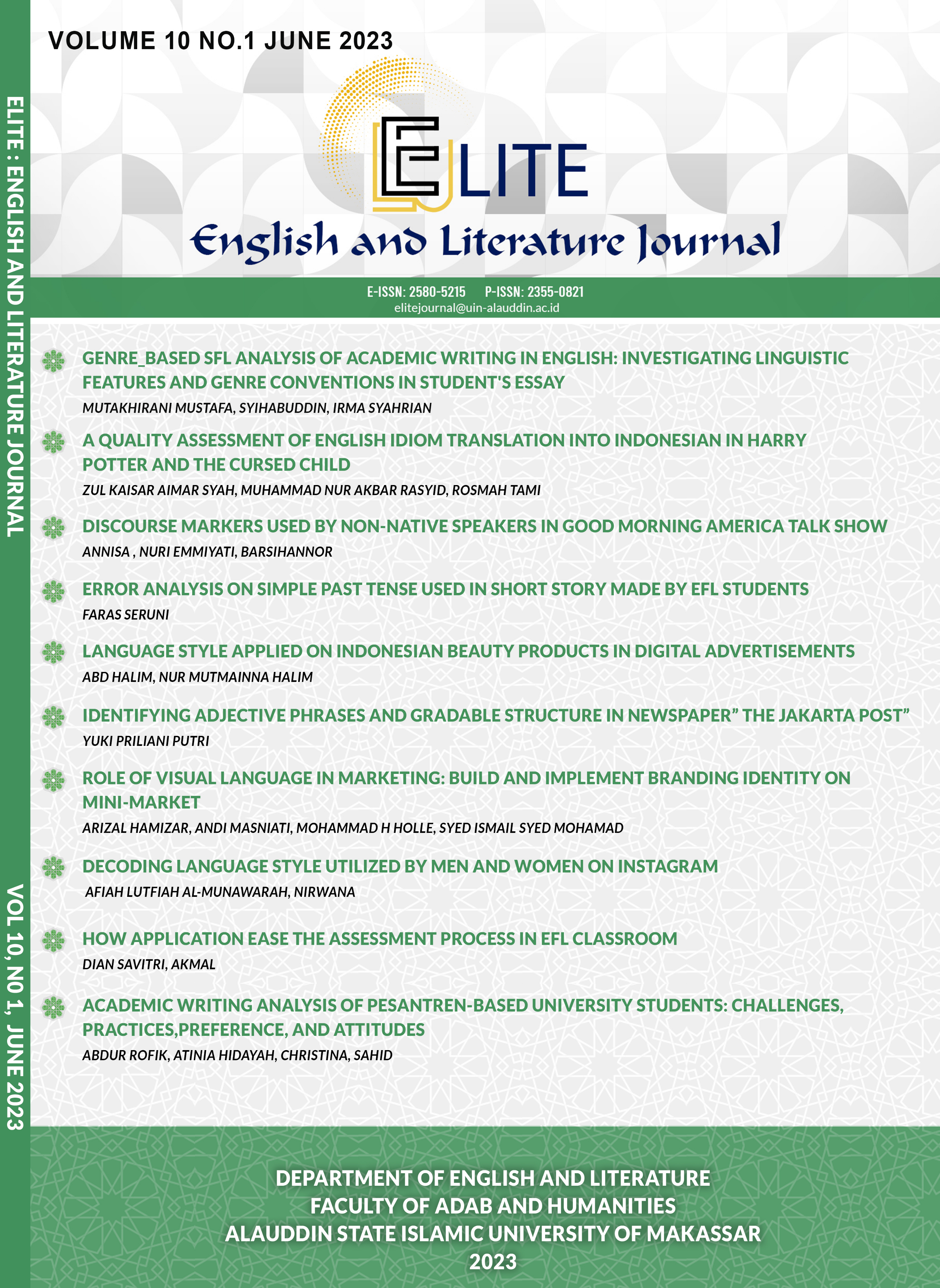 How to Cite
Halim, A., & Halim, N. M. (2023). Language Style Applied on Indonesian Beauty Products in Digital Advertisements. Elite : English and Literature Journal, 10(1), 49-62. https://doi.org/10.24252/elite.v10i1.31426
Copyright (c) 2023 Abd Halim, Nur Mutmainna Halim
This work is licensed under a Creative Commons Attribution-NonCommercial-ShareAlike 4.0 International License.

Once an article was published in the journal, the author(s) are:

granted to the journal right licensed under Creative Commons License Attribution that allows others to share the work with an acknowledgement of the work's authorship.
permitted to publish their work online in third parties as it can lead wider dissemination of the work.
continue to be the copyright owner and allow the journal to publish the article with the CC BY-NC-SA 4.0 license
receiving a DOI (Digital Object Identifier) of the work.



Abstract viewed = 134 times