Sejarah Perkembangan Perpustakaan di Indonesia
Nurlidiawati Nurlidiawati

JIP UIN Alauddin




(ID)
Abstract
Libraries in Indonesia have been established since the time of Majapahit, which then, according to the ebb and flow of Indonesian history. The development of the library at the time marked by the royal library cultivated a more religious and feudalistic. In the Dutch colonial era, libraries had been used as a vehicle to perform the occupation. Receding rapidly developing libraries in Indonesia occurred at the time of the Japanese. Later, a few years after Indonesian Independence Proclamation, libraries in Indonesia were gradually developed. In the New Order Era, library development had become one of the sub development outlined in REPELITA (Indonesian Development Plans for the next 5 years).

Downloads
Download data is not yet available.
References
Sulistyo-Basuki. (1994). Periodisasi Perpustakaan Indonesia, Bandung: Remaja Rosdakarya.
Nurhadi, Muljani A. (1983). Sejarah perpustakaan dan perkembangannya di Indonesia, Yogyakarta: Andi Offset.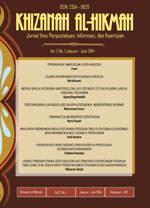 How to Cite
Nurlidiawati, N. (2014). Sejarah Perkembangan Perpustakaan di Indonesia. Khizanah Al-Hikmah : Jurnal Ilmu Perpustakaan, Informasi, Dan Kearsipan, 2(1), 18-27. Retrieved from https://journal.uin-alauddin.ac.id/index.php/khizanah-al-hikmah/article/view/137
Section
Volume 2 Nomor 1, Juni 2014
Once the article was online published in the journal, the authors are:
the copyright owner and allow the journal to publish the article with the CC BY-NC-SA license
granted to the journal right licensed under Creative Commons License Attribution that allows others to share the work with an acknowledgement of the work's authorship.
permitted to publish their work online in third parties as wider dissemination of the work, for instances in institutional repository, research gate, academia, etc.
receiving a DOI (Digital Object Identifier) of the work.
Abstract viewed = 3876 times