Khizanah al-Hikmah : Jurnal Ilmu Perpustakaan, Informasi, dan Kearsipan
Khizanah al-Hikmah : Jurnal Ilmu Perpustakaan, Informasi, dan Kearsipan (Khizanah al-Hikmah: Journal of Library, Information, and Archival Science) is an academic journal that has been publishing scholarly papers since 2013. This journal is provided for academicians, information specialists, librarians, information scientists, information managers, researchers, and archivists who are needed or interested in keeping up to date with the most recent issues and developments in the fields. The journal is managed by the Department of Library Science, Universitas Islam Negeri Alauddin Makassar. It regularly publishes two issues every year: June and December. The journal prefers to publish research-based papers regarding the Journal's Aim and Scope.
The Editors will initially evaluate all submitted papers before they are sent to the peer reviewers. From 2021 onwards, we invite authors to submit only research-based papers in excellent English academic writing. Since that, the accepted papers will then be required for the proofreading step. This step may involve agreed-upon charges between the parties and is assigned to either the author(s) with a certified language agency or the journal editors. Numerous improvements and modifications are also performed to journal management to maintain this reputation and the quality of the publications. We make great efforts to keep providing the best written works to our readers.
The Ministry of Research, Technology, and Higher Education of the Republic of Indonesia has officially accredited the journal through Akreditasi Jurnal Nasional (ARJUNA), as SINTA 2 since 2018 till Volume 11 Issue 1, 2023, according to SK Direktur Jenderal Penguatan Riset dan Pengembangan Kementerian Riset, Teknologi dan Perguruan Tinggi Nomor 10/E/KPT/2019 Tentang Peringkat Akreditasi Jurnal Ilmiah Periode II Tahun 2019. 
Current Issue
Vol. 10 No. 2 (2022): December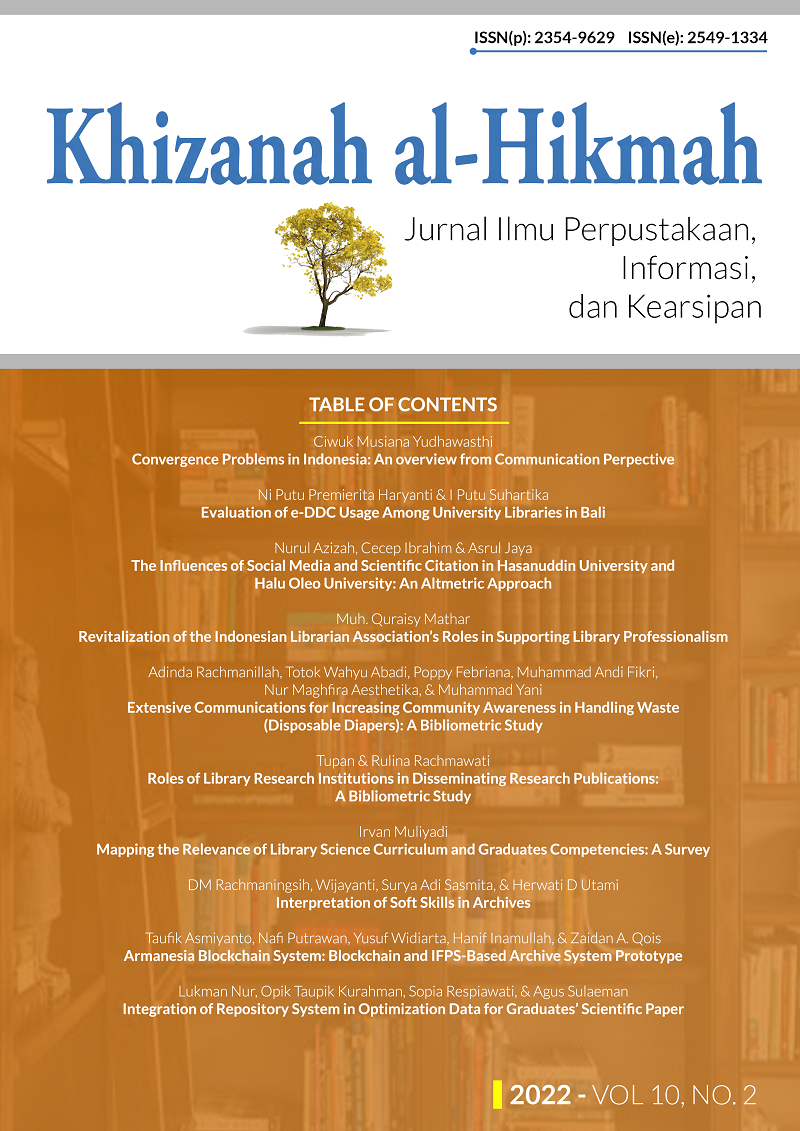 This issue has published 9 selected papers that discuss GLAMS convergence issues, bibliometrics, library classification, the Indonesian Librarian Association roles, and archival studies. In this issue, we also have one paper contribution from The 1st Indonesian Academic Library International Conference 2022 organized by Forum Perpustakaan Perguruan Tinggi Indonesia (FPPTI). The conference was held on October, 27 to 29, 2022 in Lombok, West Nusa Tenggara. 
Editorials
Views: 40 / PDF Downloads: 0
Articles
https://doi.org/10.24252/kah/v10i2a1

Views: 298 / PDF Downloads: 95

https://doi.org/10.24252/kah/v10i2a2

Views: 310 / PDF Downloads: 83

https://doi.org/10.24252/kah/v10i2a8

Views: 155 / PDF Downloads: 107

https://doi.org/10.24252/kah/v10i2a9

Views: 104 / PDF Downloads: 56
View All Issues