Penerapan Knowledge Sharing Untuk Peningkatan Layanan Perpustakaan Perguruan Tinggi
Dyah Safitri

Dosen Manajemen Informasi dan Dokumen Program Vokasi Universitas Indonesia




(ID)
Abstract
Sharing knowledge is one of important elements in academic libraries. The activity uses ICT to inform one another. Most academic libraries in Indonesia, supporting infrastructures and reward are the main factor to conduct the activity. The implementation of such activity, especially in academic libraries, has resulted some beneficial both for librarians and its users. Motivation is considered as one of important aspects in sharing knowledge. By having supporting facilities or infrastructures, the activity can run smoothly and properly.
Downloads
Download data is not yet available.
References
Allameh, Sayyed Mohsen, Ahmed Abedini, Javad Khazei Pool, Ali Kazemi.(2012). An analysis of factors affecting staffs knowledge sharing in the central library of the University of Isfahan using the extension of Theory of Reasoned Action. International Journal of Human Resources Studies. Vol.2 No.1
Chen, Dora Yu-Ting, Samuel Kai-Wah Chu, Shu-Qin Xu (2012). How Do Libraries Use Social Networking Sites to Interact with Users. ASIST October 28-31
Dong, Elaine Xiaofen (2008) Using Blog for Knowledge Management in Libraries, CALA Occasional Paper Series No.2
Forcier, Eric (2013). The Shoemaker's Son: A Substantive Theory of Social Media Use for Knowledge Sharing in Academic Libraries. Tesis Universitas Alberta Kanada
Indonesia. Departemen Pendidikan Nasional RI. (2004). Buku Pedoman Perpustakaan Perguruan Tinggi Jakarta: Departemen Pendidikan Nasional RI Direktorat Jenderal Pendidikan Tinggi.
Nonaka, I. & Takeuchi, H. (1995). The Knowledge- Creating Company. New York: Oxford University Press
Nonaka, I. (1994). A dynamic theory of organizational knowledge creation. Organization Science, 5(1), 14-37.
Polanyi, M. (1974). Personal Knowledge: Towards a Post- Critical Philosophy. Chicago, IL: University of Chicago Press. (karya asli terbit 1958).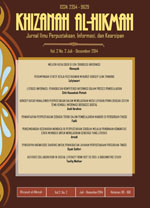 How to Cite
Safitri, D. (2014). Penerapan Knowledge Sharing Untuk Peningkatan Layanan Perpustakaan Perguruan Tinggi. Khizanah Al-Hikmah : Jurnal Ilmu Perpustakaan, Informasi, Dan Kearsipan, 2(2), 144-148. Retrieved from https://journal.uin-alauddin.ac.id/index.php/khizanah-al-hikmah/article/view/148
Section
Volume 2 Nomor 2, Desember 2014
Once the article was published in the journal, the author(s) are:
granted to the journal right licensed under Creative Commons License Attribution that allows others to share the work with an acknowledgement of the work's authorship.
permitted to publish their work online in third parties as it can lead wider dissemination of the work.
continue to be the copyright owner and allow the journal to publish the article with the CC BY-NC-SA license
receiving a DOI (Digital Object Identifier) of the work.
Abstract viewed = 1206 times