Bayan Traditional Library as the Source of Information, Education, and Cultural Preservation
Dahlia Bonang

UNIVERSITAS ISLAM NEGERI MATARAM




(ID)

Any Tsalasatul Fitriyah

Universitas Islam Negeri Mataram




(ID)
Keywords:
Traditional library, library functions
Abstract
This case study is aimed at exploring the development and role of Bayan traditional library as the source of information, education, and cultural preservation. The data were gathered through observation, interviews, and documentation. The study engaged traditional leaders, library managers, and Pokdarwis (tourism awareness group) as the informants. The study showed that Bayan traditional library was present among indigenous peoples due to the modernization which shifted the younger generation's paradigm to continue preserving culture. The library functions are as a forum to foster public interest in reading, a vehicle for Bayan traditional museum, and facilities for Bayan community to meet the book needs related to formal and informal education. It also provided numerous references for researchers to conduct research, learning facilities for local wisdom, and the arts of the native community. The library services are of course still conventional, as it can be seen from the concept of open library space, and circulation services are not organized technologically. Moreover, the role of the library in preserving culture is carried out by documenting various cultural activities, which are then translated into writings or works to increase the spirit of the younger generation to maintain cultural existence.
Downloads
Download data is not yet available.
References
Abumandour, E.-S. T. (2021). Public libraries' role in supporting e-learning and spreading lifelong education: a case study. Journal of Research in Innovative Teaching & Learning, 14(2), 178–217. https://doi.org/10.1108/jrit-06-2019-0063
Athhar, Z. Y. (2005). Kearifan Lokal dalam Ajaran Islam Wetu Telu di Lombok. Ulumuna. https://ulumuna.or.id/index.php/ujis/article/view/27
Bollido, M. A., et. all (2019). A Comparative Study on the Use of the Library and the Internet as a Source of Information at Bestlink College of the Philippines. Ascendent Asia Singapore- Bestlink College of the Philippines Journal of Multidisciplinary Reseach Abstracts, Vol. 1, No. 1. https://ojs.aaresearchindex.com/index.php/aasgbcpjmra/article/view/1144
Cahyono, T. Y. (2017). Fungsi Perpustakaan Sebagai Penyedia Informasi. In Jurnal Perpustakaan. lib.um.ac.id. http://lib.um.ac.id/wp-content/uploads/2017/07/Fungsi-Perpustakaan-Sebagai-Penyedia-Informasi.pdf
Centres, L. (2017). Library and Information Centres : Concept and. 1–13.
Dong, E. (2021). Automating Cataloging Workflow of Library Traditional Materials. International Journal of Librarianship, 6(1), 73–88. https://doi.org/10.23974/ijol.2021.vol6.1.183
Ezeokwuora, C. P., & Ifechukwu, C. N. (2021). Critical Analysis On The Availability And Use Of Traditional Library And Electronic Library Resources And Student's Reading Culture. Nnadiebube Journal of Education in Africa. Vol. 6 No. 1 (2021). https://www.acjol.org/index.php/njea/article/view/1372
Fitriya, A. H., & Sari, N. (2010). Pelestarian pola permukiman di desa adat bayan, kabupaten lombok utara. 2, 49–57.
Ghufron, A. (2017). Pengembangan Pembelajaran Berbasis Nilai-Nilai Budaya Yogyakarta Di Sekolah Dasar. Jurnal Cakrawala Pendidikan, 36(2). https://doi.org/10.21831/cp.v36i2.12449
Hufford, J. R. (2013). Can the library contribute value to the campus culture for learning? The Journal of Academic Librarianship. https://www.sciencedirect.com/science/article/pii/S0099133313000335
Islam, M. S., & Zabed Ahmed, S. M. (2012). The information needs and information-seeking behaviour of rural dwellers: A review of research. IFLA Journal, 38(2), 137–147. https://doi.org/10.1177/0340035212444513
Iwayemi, A., & Oyeniyi, S. (2019). Development of a Robust Library Management System. International Journal of Computer Applications, 178(12), 9–16. https://doi.org/10.5120/ijca2019918850
Juchnevič, L. (2014). Library roles in changing society. Social Transformations in Contemporary Society, 2014(2), 120–130.
Karekar, S. U., & Mudhol, M. V. (2014). Digitization of Library Archives as a Tool for Preservation of Cultural Heritage. SRELS Journal of Information Management. http://www.srels.in/index.php/sjim/article/view/56911
Krismayani, I. (2018). Mewujudkan Fungsi Perpustakaan di Daerah. Anuva, 2(2), 233. https://doi.org/10.14710/anuva.2.2.233-242
Mahwasane, N. P. (2017). The roles of libraries in sustaining quality education in secondary schools: A concept paper. Journal of Social Sciences, 51(1–3), 42–46. https://doi.org/10.1080/09718923.2017.1317512
Mangnga, A. (2015). Peran perpustakaan sekolah terhadap proses belajar mengajar di sekolah. XIV(1), 38–42.
Mansyur, M., & Abadi, A. (2020). Perpustakaan madrasah sebagai pusat informasi dan sumber belajar bagi siswa. IJAL (Indonesian Journal of …. http://journals.apptisjatim.org/index.php/ijal/article/view/87
Mutia, T., Sumarmi, S., Bachri, S., & Budidjanto, B. (2019). A Study on Bayan Community Perception Towards Awiq-awiq Local Wisdom Based Forest Management. 320(Icskse 2018), 47–50. https://doi.org/10.2991/icskse-18.2019.8
Ngafifi, M. (2014). Advances In Technology And Patterns Of Human Life In Socio-Cultural Perspective. 2(1), 33–47.
Nugraha, H. (2013). PERPUSTAKAAN DAN PELESTARIAN KEBUDAYAAN. 4(1), 50–61.
Nurhayati, A. (2018). Perkembangan Perpustakaan dalam Pemenuhan Kebutuhan Informasi Masyarakat. UNILIB : Jurnal Perpustakaan, 9(1), 21–32. https://doi.org/10.20885/unilib.vol9.iss1.art3
Okike, B. I. (2020). Information dissemination in an era of a pandemic (COVID-19): librarians' role. Library Hi Tech News, 37(9), 1–4. https://doi.org/10.1108/LHTN-04-2020-0040
Pujianto, F., & Yenny Gunawan. (2017). Berugaq sebagai identitas arsitektur desa tanah petak daye , lombok utara. Media matrasain, 14(1), 12–22.
Reith, D. (1984). The Library as Social Agency.The Library in Society. Limited, Libraries Inc.
Ribut, G., Triguna, I., & Suija, I. W. (2019). Didactic strategy of wetu telu cultural heritage on sasak tribe. International Journal of Linguistics, Literature and Culture. Vol 5 No. 3 May 2019. https://doi.org/10/21744/ijlc.v5n3.625
Saputra, K. A. (2021). Eksklusivitas Komunikasi Dalam Penyebaran Ajaran Tasawuf Lokal Pada Komunitas Islam Wetu Telu Di Desa Kayangan, Kecamatan Kayangan, Lombok Utara. JURNAL AR RO'IS MANDALIKA (ARMADA …. http://ojs.cahayamandalika.com/index.php/armada/article/view/296
Scott, R. J. (2021). A best-fit solution: transforming an NHS Library and Knowledge Service in readiness for a new hospital building without a traditional library space. In Journal of the Medical Library Association: JMLA. ncbi.nlm.nih.gov. https://www.ncbi.nlm.nih.gov/pmc/articles/PMC8485953/
Singh, M. (2014). A snapshot of traditional library to modern library using bar code technology: an experience of central library GNDEC, Ludhiana. In Journal of Advances in Library and Information Science. Vol 3 No. 2 egranthalaya.nic.in. https://egranthalaya.nic.in/Articles/Manpreet.pdf
Suharso, P., Arifiyana, I. P., & Wasdiana, D. (2020). Layanan Perpustakaan Perguruan Tinggi dalam Menghadapi Abstrak. Anuva, 4(2), 271–286.
Sulistyo-Basuki. (1991). Pengantar Ilmu Perpustakaan. Gramedia Pustaka Utama.
Sutton, S. A. (1996). Future Service Models and the Convergence of Functions: The Reference Librarian, 25(54), 125–143. https://doi.org/10.1300/j120v25n54_12
Tambunan, K. (2004). Kajian perpustakaan khusus dan sumber informasi di indonesia. 29–46.
Triyono, T. (2019). Pentingnya Literasi Budaya di Desa Seni Jurang Blimbing. Anuva, 3(1), 77–85. https://doi.org/10.14710/anuva.3.1.77-85
Tunardi. (2018). Memaknai Peran Perpustakaan dan Pustakawan dalam Menumbuhkembangkan Budaya Literasi. Perpustakaan Nasional Republik Indonesia, 25 (3)(3), 69–70.
Yang, L. (2011). Orientation and Functions of Library in Quality Education of College. International Education Studies, 4(2), 195–197. https://doi.org/10.5539/ies.v4n2p195
Zuhdi, M. H. (2018). Wetu Telu in Bayan Lombok: Dialectic of Islam and Local Culture. Kawalu: Journal of Local Culture. http://www.jurnal.uinbanten.ac.id/index.php/kwl/article/view/1879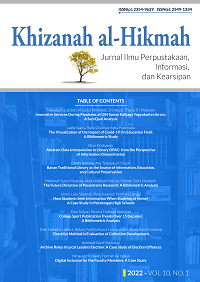 How to Cite
Bonang, D., & Fitriyah, A. T. (2022). Bayan Traditional Library as the Source of Information, Education, and Cultural Preservation. Khizanah Al-Hikmah : Jurnal Ilmu Perpustakaan, Informasi, Dan Kearsipan, 10(1), 36-45. https://doi.org/10.24252/kah.v10i1a4
Once the article was online published in the journal, the authors are:
the copyright owner and allow the journal to publish the article with the CC BY-NC-SA license
granted to the journal right licensed under Creative Commons License Attribution that allows others to share the work with an acknowledgement of the work's authorship.
permitted to publish their work online in third parties as wider dissemination of the work, for instances in institutional repository, research gate, academia, etc.
receiving a DOI (Digital Object Identifier) of the work.
Abstract viewed = 469 times