Perawatan dan Pelestarian Bahan Pustaka
Andi Ibrahim

Jurusan Ilmu Perpustakaan UIN Alauddin




(ID)
Abstract
Perawatan bahan pustaka sangat diperlukan untuk menunjang fungsi perpustakaan dalam melaksanakan jasa perpustakaan dengan mengusahakan agar kondisi bahan pustaka terpelihara sebaik mungkin dan siap pakai. Pada umumnya media yang digunakan pada bahan pustaka adalah kertas, baik dalam bentuk buku, surat kabar, naskah, peta, gambar, dokumen dan bahan cetakan lainnya, selain itu ada juga perpustakaan yang memiliki koleksi foto dan negatif foto. Dengan adanya perkembangan ilmu pengetahuan dan teknologi, bagi perpustakaan yang telah maju sudah melengkapi koleksinya dengan bentuk mikro (mikrofilm dan mikrofish), rekaman suara, film, penyimpan data elektronik, CD-ROM dan lain-lain. Semua koleksi tersebut pasti akan mengalami kerusakan.
Downloads
Download data is not yet available.
References
Departemen Pendidikan Nasional. "Kamus Besar Bahasa Indonesia". Balai Pustaka: Jakarta, 2001.
Dureau J.M & Clements D.W.G. "Principles for The Preservation and Conservation of Library Material, The Haque, IFLA, 1998
Echols, JM & Shadily H. "Kamus Indonesia-Inggris". Gramedia: Jakarta, 2003
Feildem B.M "Introduction to Conservation", Unesco, Rome, 1979
Helen Price "Stoping The Rot: A Handbook of Preventive Conservation for Local Studies Collection", Second, Australian Library and Information Association NSW Branch: Sydney, 1989
Mary Lynn Ritzenthaler, "Archive & Manuscripts Conservation: Basic Manual Series" Society of American Arcvests: Chicago, 1983
Martoatmodjo, Karmidi. "Pelestarian Bahan Pustaka". Depdikbud: Jakarta, 1993
Pamela W. Darling, "Preservation Planning Program" Association Research Libraries, Office of Management Studies, Washington DC, 1982
Muhammad Razak, dkk, "Petunjuk Teknis Pelestarian Bahan Pustaka", Perpustakaan Nasional RI, 1995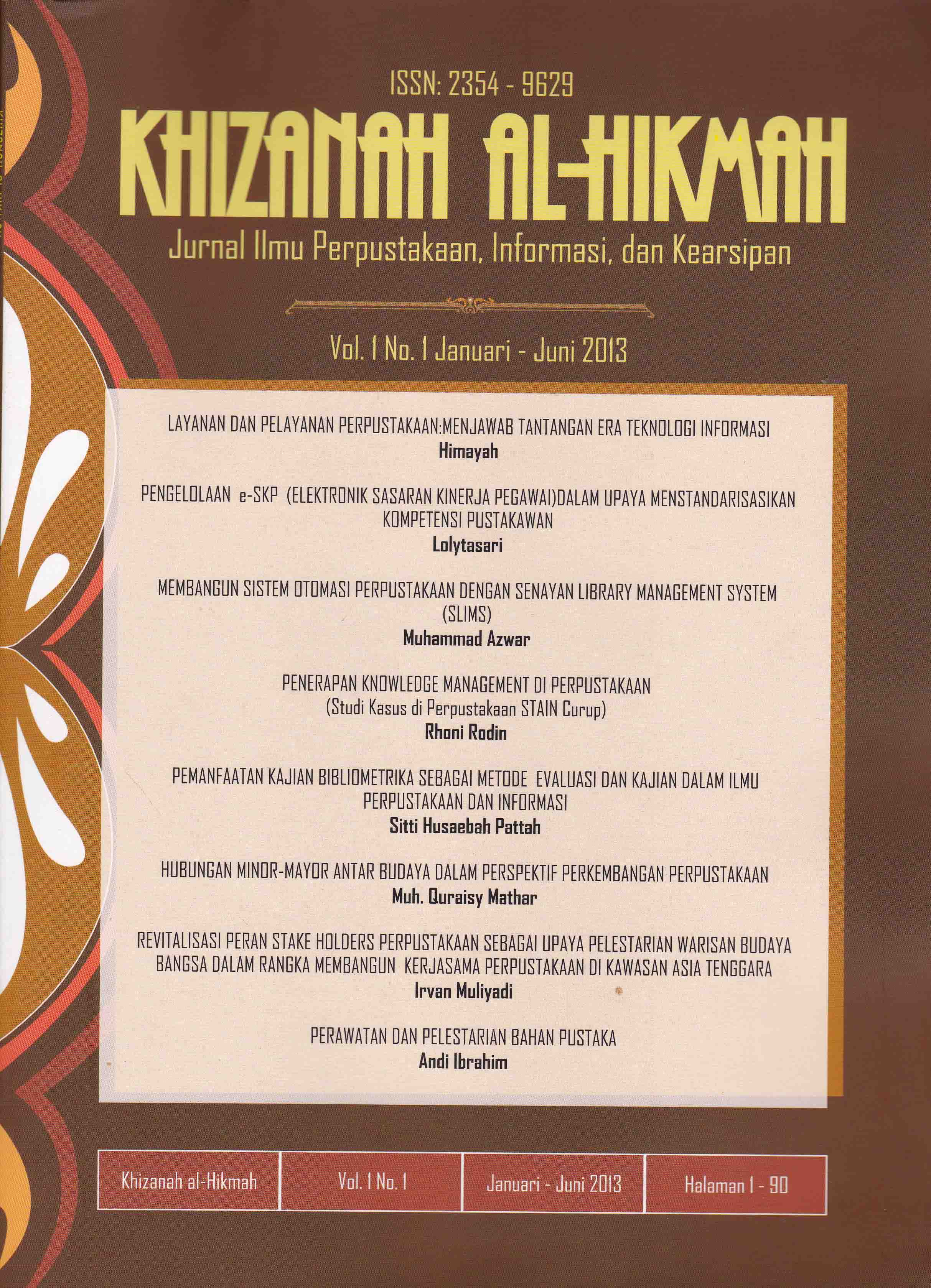 How to Cite
Ibrahim, A. (2013). Perawatan dan Pelestarian Bahan Pustaka. Khizanah Al-Hikmah : Jurnal Ilmu Perpustakaan, Informasi, Dan Kearsipan, 1(1), 77-90. Retrieved from https://journal.uin-alauddin.ac.id/index.php/khizanah-al-hikmah/article/view/30
Once the article was online published in the journal, the authors are:
the copyright owner and allow the journal to publish the article with the CC BY-NC-SA license
granted to the journal right licensed under Creative Commons License Attribution that allows others to share the work with an acknowledgement of the work's authorship.
permitted to publish their work online in third parties as wider dissemination of the work, for instances in institutional repository, research gate, academia, etc.
receiving a DOI (Digital Object Identifier) of the work.
Abstract viewed = 11301 times