Simpus and Promem as Library Management System: the Quality Measurement
Andi Ibrahim

UIN Alauddin Makassar




(ID)

Saenal Abidin

UIN Alauddin Makassar




(ID)

Asdar

UIN Alauddin Makassar




(ID)
Keywords:
Library management system, Simpus, Promem, Library quality
Abstract
Many libraries have used technology-based management services extensively. However, not all of them can live up to the standards stipulated by the library. This study will use the PIECES method to assess Simpus and Promem's level of excellence. This technique is one of the approaches for evaluating the program's library information system's level of quality. The population of this descriptive research, which uses a quantitative methodology, is 905 people, with a sample size of 90 respondents. The data is collected via online survey as a research tool and accidental sampling. The data analysis procedure used the PIECES analysis method and descriptive statistical analysis. The study's findings show that Simpus and Promem's quality level employs the PIECES analysis method for each indicator, with the performance indicator receiving a score of 4.96 (very high), the information indicator receiving a score of 3.92 (high), the economic indicator receiving a score of 3.98 (high), the control indicator receiving a score of 3.78 (high), the efficiency indicator receiving a score of 3.94 (high), and the service indicator receiving a score of 4.0 (high). Thus, this demonstrates that performance has the best quality of the six indicators, and control has the lowest rate.
Downloads
Download data is not yet available.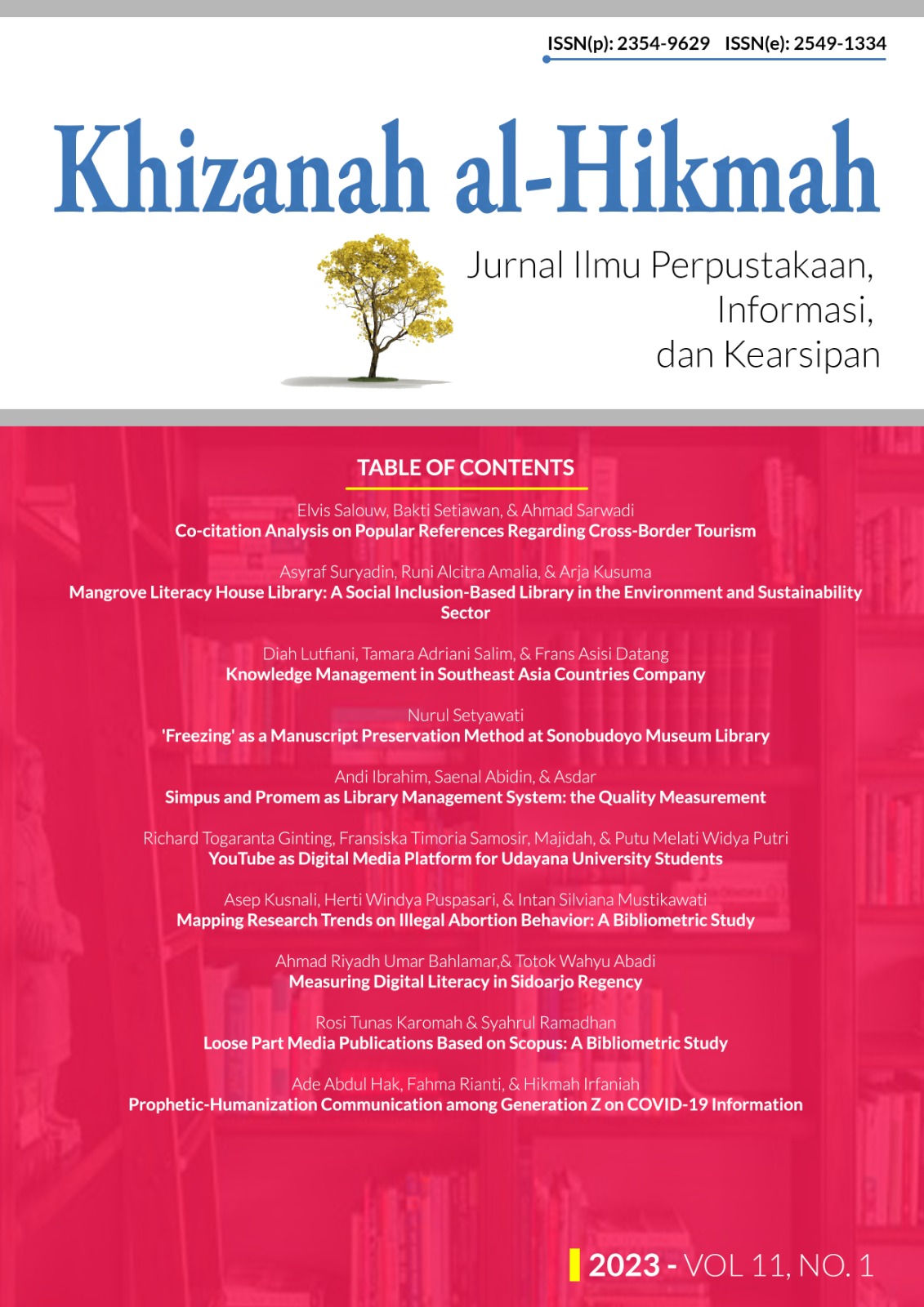 How to Cite
Ibrahim, A., Abidin, S., & Asdar. (2023). Simpus and Promem as Library Management System: the Quality Measurement. Khizanah Al-Hikmah : Jurnal Ilmu Perpustakaan, Informasi, Dan Kearsipan, 11(1), 43-52. https://doi.org/10.24252/kah.v11i1a5
Copyright (c) 2023 Andi Ibrahim, Saenal Abidin, Asdar
This work is licensed under a Creative Commons Attribution-NonCommercial-ShareAlike 4.0 International License.
Once the article was online published in the journal, the authors are:
the copyright owner and allow the journal to publish the article with the CC BY-NC-SA license
granted to the journal right licensed under Creative Commons License Attribution that allows others to share the work with an acknowledgement of the work's authorship.
permitted to publish their work online in third parties as wider dissemination of the work, for instances in institutional repository, research gate, academia, etc.
receiving a DOI (Digital Object Identifier) of the work.
Abstract viewed = 118 times