YouTube as Digital Media Platform for Udayana University Students
Richard Togaranta Ginting

Udayana University




(ID)

Fransiska Timoria Samosir

Universitas Bengkulu




(ID)

Majidah

Universitas Terbuka




(ID)

Putu Melati Widya Putri

BPTU-HPT Kementerian Pertanian, Denpasar




(ID)
Keywords:
Information media, YouTube, information retrieval technique
Abstract
Viewers can watch videos produced by media actors on YouTube, a well-known video-sharing platform. It requires searching methods because the volume of content is likewise growing. This study aimed to learn how Udayana University students could retrieve information via YouTube. A quantitative approach through a survey is the research method used. The study's object and population comprised 100 (one hundred) students from 13 (thirteen) distinct departments at Udayana University. Based on the study's results, most students access YouTube for entertainment. Students of Udayana University frequently watch YouTube videos. YouTube information search method does a decent job of choosing videos relevant to video recommendations (79%) but does an inadequate job of using the watch later function (55%).
Downloads
Download data is not yet available.
References
Bakri, M., & Yusni, Y. (2021). Pemanfaatan Youtube sebagai Media Pembelajaran Menulis Puisi. Silampari Bisa: Jurnal Penelitian Pendidikan Bahasa Indonesia, Daerah, Dan Asing, 4(1), 39–46. https://doi.org/10.31540/silamparibisa.v4i1.1183
Chau, C. (2010). YouTube as a participatory culture. New Directions for Youth Development, 2010(128), 65–74. https://doi.org/10.1002/yd.376
Darko-Adjei, N. (2019). The use and effect of smartphones in students' learning activities: Evidence from the University of Ghana, Legon. Library Philosophy and Practice, 2019.
de Bérail, P., Guillon, M., & Bungener, C. (2019). The relations between YouTube addiction, social anxiety and parasocial relationships with YouTubers: A moderated-mediation model based on a cognitive-behavioral framework. Computers in Human Behavior, 99, 190–204. https://doi.org/10.1016/j.chb.2019.05.007
Khan, M. L. (2017). Social media engagement: What motivates user participation and consumption on YouTube? Computers in Human Behavior, 66, 236–247. https://doi.org/10.1016/j.chb.2016.09.024
Komunikasi, J., Pemikiran, H., Penelitian, D., & Mujianto, H. (2019). Pemanfaatan Youtube sebagai Media Ajar dalam Meningkatkan Minat dan Motivasi Belajar. Jurnal Komunikasi Hasil Pemikiran Dan Penelitian, 5(1), 135–159. www.journal.uniga.ac.id135
Maziriri, E. T., Gapa, P., & Chuchu, T. (2020). Student perceptions towards the use of youtube as an educational tool for learning and tutorials. International Journal of Instruction, 13(2), 119–138. https://doi.org/10.29333/iji.2020.1329a
Qadriani, N. L., Hartati, S., & Dewi, A. (2021). Pemanfaatan Youtube dan Edpuzzle sebagai Media Pembelajaran Daring Berbasis Video Interaktif. Jurnal Pemberdayaan Masyarakat Universitas Al Azhar Indonesia, 4(1), 1. https://doi.org/10.36722/jpm.v4i1.841
Samosir, F. T., Pitasari, D. N., Purwaka, & Tjahjono, P. E. (2019). Efektifitas Pemanfaatan Youtube Melaui Video Online Sebagai Media Pembelajaran Oleh Mahasiswa (Studi Di Fakultas Fisip Universitas Bengkulu). Record and Library Journal, 4(2), 81. https://doi.org/10.20473/rlj.V4-I2.2018.81-91
Shao, G. (2009). Understanding the appeal of user‐generated media: a uses and gratification perspective. Internet Research, 19(1), 7–25. https://doi.org/10.1108/10662240910927795
Sianipar, A. P. (2013). Pemanfaatan YouTube di Kalangan Mahasiswa (Studi Penggunaan Youtube di Kalangan Mahasiswa Ilmu Komunikasi FISIP USU Medan dengan Pendekatan Uses and Gratification).
Tafesse, W. (2020). YouTube marketing: how marketers' video optimization practices influence video views. Internet Research, 30(6), 1689–1707. https://doi.org/10.1108/INTR-10-2019-0406
Xu, W. W., Park, J. Y., Kim, J. Y., & Park, H. W. (2016). Networked Cultural Diffusion and Creation on YouTube: An Analysis of YouTube Memes. Journal of Broadcasting & Electronic Media, 60(1), 104–122. https://doi.org/10.1080/08838151.2015.1127241
Yang, Y., Riyanto, E. D., & Yuadi, I. (2021). Information Seeking Behavior on YouTube's Recommendation System for Undergraduate Students in Surabaya Indonesia. Library Philosophy and Practice (e-Journal), 6775.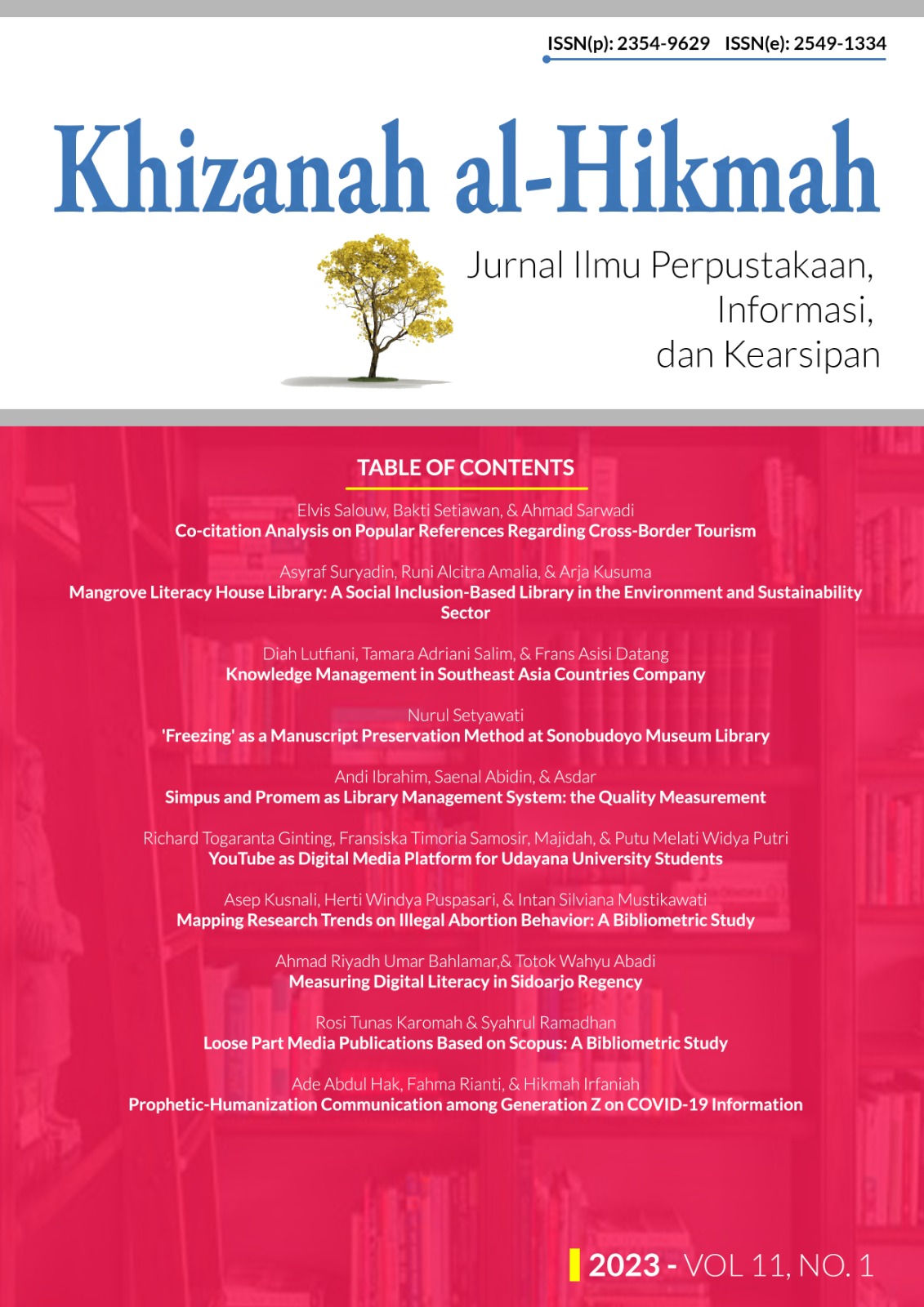 How to Cite
Ginting, R. T., Samosir, F. T., Majidah, & Putu Melati Widya Putri. (2023). YouTube as Digital Media Platform for Udayana University Students. Khizanah Al-Hikmah : Jurnal Ilmu Perpustakaan, Informasi, Dan Kearsipan, 11(1), 53-62. https://doi.org/10.24252/kah.v11i1a6
Copyright (c) 2023 Richard Togaranta Ginting, Fransiska Timoria Samosir, Majidah, Putu Melati Widya Putri
This work is licensed under a Creative Commons Attribution-NonCommercial-ShareAlike 4.0 International License.
Once the article was online published in the journal, the authors are:
the copyright owner and allow the journal to publish the article with the CC BY-NC-SA license
granted to the journal right licensed under Creative Commons License Attribution that allows others to share the work with an acknowledgement of the work's authorship.
permitted to publish their work online in third parties as wider dissemination of the work, for instances in institutional repository, research gate, academia, etc.
receiving a DOI (Digital Object Identifier) of the work.
Abstract viewed = 219 times