TRASNFORMASI ORGANISASI, PENGELOLAAN SUMBER DAYA, DAN APLIKASI SISTEM INFORMASI PADA PASCASARJANA UIN ALAUDDIN MAKASSAR
Muhammad Yaumi

Fakultas Tarbiyah dan Keguruan UIN Alauddin Makassar




(ID)

Muljono Damopolii

Fakultas Tarbiyah dan Keguruan UIN Alauddin Makassar




(ID)
Abstract
Abstract: This study aimed at constructing the system of (1) organizational transformation (2) human resources empowerment, and (3) information system application to support learning organization at the post graduate program of UIN Alauddin Makassar. The research type was a generic, basic, or interpretive qualitative research. The methods of data collection were interview guide, observation sheet, and documentation and analyzed data using data reduction, data display, data conclusion and data verification. The results showed that the model of organiza-tional transformation to support learning organization at post graduate program of UIN Alauddin combined vision, culture, strategy, and structure. Human resource empowerment was emphasized to the staff, faculty, and student's empowerment. The empowerment of the alumni, stake holders, parents, and community has not been integrated. Model of technology systems appli­cation that was used in the post graduate program of UIN Alauddin maximized the use of CCTV, Wi-Fi, and software for financial administration. Learning resources in this institutions included textbooks, handouts, papers, PowerPoint presentations, and the Internet. Electronic equipment supporting system the digitization process of online learning resources covered journal of post graduate program that contained online abstract. Other sources such as e-books, online journals, digitization of theses and dissertations have been agreed and are in the process of development.
Abstrak: Tujuan penelitian ini adalah untuk mendeskripsikan sistem (1) transformasi orga­ni­sasi, (2) pemberdayaan sumber daya manusia, dan (3) aplikasi sistem informasi untuk mendukung organisasi belajar pada Pascasarjana UIN Alauddin Makassar. Jenis penelitian ini adalah penelitian kualitatif generik, dasar, atau interpretatif. Metode pengumpulan data meng­gunakan pedoman wawancara, panduan obser­vasi, dan studi dokumen dengan reduksi data, sajian data, dan penarikan kesim­pul­an serta verifikasi untuk menganalisis data. Hasil penelitian menunjukkan bah­wa sistem transformasi organisasi Pascasarjana UIN Alauddin memadukan visi, budaya, strategi, dan struktur. Model pemberdayaan sumber daya manusia mene­kankan pada pemberdayaan staf, dosen, dan mahasiswa. Sedangkan pem­ber­dayaan kepada pengguna jasa alumni, orang tua mahasiswa, dan masyarakat belum terintegrasikan. Model aplikasi sistem teknologi yang digunakan pada Pasca­sarjana UIN Alauddin memaksimalkan penggunaan CCTV, WiFi, dan soft­ware untuk administrasi keuangan. Sumber belajar yang tersedia mencakup buku paket, handout, makalah, presentasi powerpoint dengan menggunakan laptop dan LCD, serta internet. Sistem pendukung peralatan elektronik dan proses digitalisasi sumber-sumber belajar online adalah jurnal Pascasarjana yang hanya memuat abstrak secara online. Sumber-sumber lain seperti e-book, jurnal online, digitalisasi tesis dan disertasi telah diwacanakan dan sedang dalam proses pe­ngem­bangannya.
Downloads
Download data is not yet available.
References
Abdullah, Amin. Filsafat Etika Islam: Antara Al-Gazali dan Kant. Cet. II; Bandung: Mizan, 2002.
Andrew. "Using Information Technology to Improve the Quality of Health Care" Online: http://www. andrew.cmu.edu/course/90-853/medis.dir/ otadocs.dir /05ch4.pdf (Diakses 12 September, 2013).
Badan Akreditasi Nasional. "Hasil Akreditasi Propinsi Sulawesi Selatan." Online: http://www. ban-sm.or.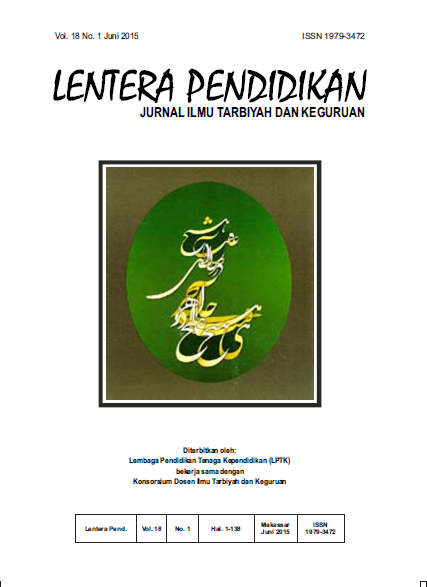 How to Cite

Yaumi, M., & Damopolii, M. (2015). TRASNFORMASI ORGANISASI, PENGELOLAAN SUMBER DAYA, DAN APLIKASI SISTEM INFORMASI PADA PASCASARJANA UIN ALAUDDIN MAKASSAR. Lentera Pendidikan : Jurnal Ilmu Tarbiyah Dan Keguruan, 18(1), 27-41. https://doi.org/10.24252/lp.2015v18n1a3

Authors who publish with this journal agree to the following terms:

1) Authors retain copyright and grant the journal right of first publication with the work simultaneously licensed under a Creative Commons Attribution License that allows others to share the work with an acknowledgement of the work's authorship and initial publication in this journal.

2) Authors are able to enter into separate, additional contractual arrangements for the non-exclusive distribution of the journal's published version of the work (e.g., post it to an institutional repository or publish it in a book), with an acknowledgement of its initial publication in this journal.

3)Authors are permitted and encouraged to post their work online (e.g., in institutional repositories or on their website) prior to and during the submission process, as it can lead to productive exchanges, as well as earlier and greater citation of published work (See The Effect of Open Access).

Abstract viewed = 537 times