Tracing the Rules of Sexual Abnormality in the Islamic Jurisprudence
Hannani

Institut Agama Islam Negeri Parepare




(ID)

Hamza Abed Al Karim Hammad

United Arab Emirates University




(AE)

Zulfahmi AR

Al-Azhar University




(EG)
Keywords:
Sexual Abnormality, Islamic Jurisprudence, Religious Values
Abstract
Sexual abnormality or deviation is a social disorder that is considered a violation of social norms and expectations of civility. Such behavior is deemed deviant because it goes against religious rules and values upheld by society. This research aims to establish a middle ground between sexual deviation and Islamic jurisprudence with regard to sexual deviation activities. To achieve this, a comprehensive review of linked data sources was conducted using qualitative and literary research. The findings showed that certain types of sexual deviance such as sadomasochism, exhibitionism, voyeurism, fetishes, and others have not been extensively discussed in fiqh books. According to the rules of Uşul Fiqh, "al-wasāil laha hukmu al-gāyah ", indicates that the law of means (instruments) follows the law of purpose. This shows sexual deviance is considered one of the means to adultery, and as such, it falls under the law of adultery.
References
'Audah, 'Abdul Qadir. (2013). al-Tasyrī' al-Jinā'i al-Islāmī; Muqāranan bi al-Qanūn al-Wadh'ī (II). Maktabah al-Taufiqiyah.
Abdullah. (n.d.). Penyimpangan Seksual. Diffy. http://www.diffy.com/cmm/artikel.
Abidin, A. A. (2017). Perilaku Penyimpangan Seksual dan Upaya Pencegahannya di Kabupaten Jombang. Prosiding, 1(7), 545–563.
Ahdi, H. (2014). Mastrubasi Dalam Prespektif Fiqih Muqarin (Studi Komperatif Antara Imam An-Nawawi Dan Ibnu Hazm). Universitas Islam Negeri Sultan Sarif Kasim Riau. https://repository.uin-suska.ac.id/6423/1/FM.pdf
Al-Syatibi, A. I. (2003). al-Muwafaqat fi Ushul al-Syari'ah Juz II. Maktabah al-Taufiqiyah.
Al-Tirmīżī, A. I. M. bin I. bin S. bin M. bin ad-D. as-S. (2006). Sunan at-Tirmīżī. Dar al-Ma'rifah.
Amalia, M. (2018). Prostitusi Dan Perzinahan Dalam Perspektif Hukum Islam. Tahkim (Jurnal Peradaban Dan Hukum Islam), 1(1). https://doi.org/10.29313/tahkim.v1i1.3265
Astuti, S., Darwis, A., Haddade, A. W., & Akmal, A. M. (2021). Sexual Deviation of Animals Between Law and Sharia ; a Comparative Analysis. Mazahibuna: Jurnal Perbandingan Mazhab, 3(2), 118–129. https://doi.org/10.24252/mh.v3i2.22017
Aulia, R., Rizqi, R., Negeri, S. M. A., Iii, S. S., Metro, I., & Corresponding, L. (2023). Pornography in the perspective of islamic criminal law. MILRev: Metro Islamic Law Review, 2(1), 79–89. https://doi.org/10.32332/milrev.v2i1.7354
Blackwood, E. (1986). Breaking the mirror: The construction of lesbianism and the anthropological discourse on homosexuality. Journal of Homosexuality, 11(3–4), 1–18. https://doi.org/10.1300/J082v11n03_01
Borah, U. (2020). A Conceptual Study to Necrophilia – A Review. Journal of Forensic Research, 11. https://doi.org/10.37421/jfr.11.461
Djazuli, A. (2000). Fiqih Jinayah (Upaya Menangulangi Kejahatan Dalam Islam). PT Raja Grafindo.
Djubaedah, N. (2010). perzinaan dalam peraturan perundang-undangan di Indonesia ditinjau dari hukum Islam.
Fauzi, M. H., Affandi, Y., & Arikhah, A. (2020). Survivor of Sexual Violence in Quranic Perspective: Mubādalah Analysis toward Chapter Joseph in Tafsir al-Azhar. Sawwa: Jurnal Studi Gender, 15(2), 173–192. https://doi.org/10.21580/sa.v15i2.6154
Hamzah. (1992). Kultur Masyarakat Indonesia. Pelita.
Haq, I., Bedong, M. A. R., Syatar, A., & Majdy, M. (2021). Paraphilia Exhibitionism between Sharia and Law: A Comparative Analysis. Al-'Adl, 14(1). https://doi.org/10.31332/aladl.v14i1.1925
Hazelwood, R. R., Dietz, P. E., & Warren, J. (1992). The Criminal Sexual Sadist. FBI Law Enforcement Bulletin, 61(2), 12–20. https://www.ojp.gov/ncjrs/virtual-library/abstracts/criminal-sexual-sadist
Id, L. K. C., & Gray, P. B. (2020). Women ' s use of intimate apparel as subtle sexual signals in committed , heterosexual relationships. PLoS ONE, 15(3), 1–18. https://doi.org/10.1371/journal.pone.0230112
Irfan, M. N. (2014). Gratifikasi dan Kriminalitas Seksual Dalam Hukum Pidana Islam.
Jamal bin Abdurrahman. (2016). Bahaya Penyimpangan Seksual. Darul Haq.
Janighorban, M., Boroumandfar, Z., Pourkazemi, R., & Mostafavi, F. (2022). Barriers to vulnerable adolescent girls' access to sexual and reproductive health. BMC Public Health, 22(1), 1–16. https://doi.org/10.1186/s12889-022-14687-4
Junaedi, D. (2010). 17+ Seks Menyimpang. Semesta Rakyat Merdeka.
Kartono, K. (2020). Psikologi abnormal dan abnormalitas seksual.
Kementerian Pemberdayaan Perempuan dan Perlindungan Anak. (2020). Angka Kekerasan Terhadap Anak Tinggi Di Masa Pandemi, Kemen Pppa Sosialisasikan Protokol Perlindungan Anak. Kementerian Pemberdayaan Perempuan Dan Perlindungan Anak. https://www.kemenpppa.go.id/index.php/page/read/29/2738/angka-kekerasan-terhadap-anak-tinggi-di-masa-pandemi-kemen-pppa-sosialisasikan-protokol-perlindungan-anak
Kristiani, M. D. (2014). Kejahatan kekerasan seksual (perkosaan) ditinjau dari perspektif kriminologi. Jurnal Magister Hukum Udayana, 3(3), 44124. https://doi.org/10.24843/JMHU.2014.v03.i03.p02
Lin, W. H., Liu, C. H., & Yi, C. C. (2020). Exposure to sexually explicit media in early adolescence is related to risky sexual behavior in emerging adulthood. PLoS ONE, 15(4), 1–26. https://doi.org/10.1371/journal.pone.0230242
Masmuri, & Kurniawan, S. (2016). Penyimpangan Seksual: Sebuah Interpretasi Teologi, Psikologi dan Pendidikan Islam. Raheema: Jurnal Studi Gender Dan Anak, 3(1), 100–112. https://doi.org/10.24260/raheema.v3i1.584 Article Metrics
Megasari, K., Ardhiyanti, Y., & Syukaisih. (2017). fenomena perilaku penyimpangan seksual LGBT. Fenomena Perilaku Penyimpangan Seksual Oleh LGBT, XI(78), 1–10. https://doi.org/10.33559/mi.v11i78.427
Musfianita, R. (2012). Penyesuaian Sosial pada Penderita Transvestisme. University of Muhammadiyah Malang.
Nadirah, S. (2017). Peranan Pendidikan Dalam Menghindari Pergaulan Bebas Anak Usia Remaja. Musawa: Journal for Gender Studies, 9(2), 309–351. https://doi.org/10.24239/msw.v9i2.254
Pandya, A., & Lodha, P. (2021). Social Connectedness, Excessive Screen Time During COVID-19 and Mental Health: A Review of Current Evidence. Frontiers in Human Dynamics, 3(July), 1–9. https://doi.org/10.3389/fhumd.2021.684137
Poerwanti, E., & Widodo, N. (2008). Perkembangan Peserta Didik. UMM Press. https://ummpress.umm.ac.id/katalog/detail/perkembanganpesertadidik.html
Prapti, K. (2020). Kajian Terhadap LGBT Dalam Relasi Tipitaka Pali. Jurnal Pendidikan, Sains Sosial, Dan Agama, 6(2), 65–72. https://doi.org/10.53565/pssa.v6i2.229
Probosiwi, R., & Bahransyaf, D. (2015). Pedofilia dan kekerasan seksual: Masalah dan perlindungan terhadap anak. Sosio Informa: Kajian Permasalahan Sosial Dan Usaha Kesejahteraan Sosial, 1(1). https://doi.org/10.33007/inf.v1i1.88
Puji Astuti, N. R. D., & Pamungkas, Y. P. (2018). Deteksi Dini Perilaku Penyimpangan Seksual Menggunakan Metode Forward Chaining Berbasis Web. JIKO (Jurnal Informatika Dan Komputer), 3(1), 52. https://doi.org/10.26798/jiko.2018.v3i1.61
Quayle, E. (2020). Online sexual deviance , pornography and child sexual exploitation material. Forensische Psychiatrie, Psychologie, Kriminologie, 14, 251–258. https://doi.org/10.1007/s11757-020-00607-y
Rangkuti, R. R. Y. (2012). Homoseksual dalam perspektif hukum Islam. Asy-Syir'ah: Jurnal Ilmu Syari'ah Dan Hukum, 46(1). https://doi.org/10.14421/ajish.v46i1.37
Rilyani, R., Wandini, R., Sari, I., Putra, K. E. A., & Kodriyansah, K. (2022). Penyuluhan kesehatan tentang pergaulan bebas. JOURNAL OF Public Health Concerns, 2(1), 18–26. https://doi.org/10.56922/phc.v2i1.170
Samad, I. (2012). Pelacuran Dalam Orientasi Kriminalistik. Lex Crimen, 1(4). https://ejournal.unsrat.ac.id/index.php/lexcrimen/article/view/902
Santrock, J. W. (2003). Adolescence: perkembangan remaja.
Scoats, R., & Anderson, E. (2019). 'My partner was just all over her': jealousy, communication and rules in mixed-sex threesomes. Culture, Health & Sexuality, 21(2), 134–146. https://doi.org/10.1080/13691058.2018.1453088
Sofiyanti, N., & Rianto, P. (2021). Media Sosial Dan Praktik-Praktik Voyeurism. Jurnal Mahasiswa Komunikasi Cantrik, 1(1), 55–66. https://doi.org/10.20885/cantrik.vol1.iss1.art5
Sulistiani, S. L. (2016). Kejahatan & Penyimpangan Seksual dalam Perspektif Hukum Islam dan Hukum Positif Indonesia. Nuansa Aulia.
Surachman, D. (2011). Pengaruh Penyimpangan Seksual Dalam Perilaku Dan Pola Pikir Siswa Terhadap Prestasi Belajar Pada Mata Pelajaran Pendidikan Agama Islam di SMPN 1 Kapetakan Kabupaten Cirebon. IAIN Syekh Nurjati Cirebon. https://repository.syekhnurjati.ac.id/2522/1/PPI-116020005.pdf
Syobromalisi, F. A. (2016). Penyimpangan seksual dalam pandangan Islam.
Wahyuni, A. (2018). Sodomi dalam Perspektif Ulama Fikih. Al-Mizan: Jurnal Hukum Dan Ekonomi Islam, 2(1), 84–94. https://doi.org/10.33511/almizan.v2n1.84-94
Widdjayanti, Y., Arnanda, A., & Silalahi, V. (2022). Sexual Risk Behavior Among Adolescents in a State Senior High School in East Java, Indonesia. In Proceedings of the International Conference on Sports Science and Health (ICSSH 2022) (Vol. 1). Atlantis Press International BV. https://doi.org/10.2991/978-94-6463-072-5
Wiramihardja, S. A. (2004). Pengantar psikologi klinis. Bandung: Refika Aditama.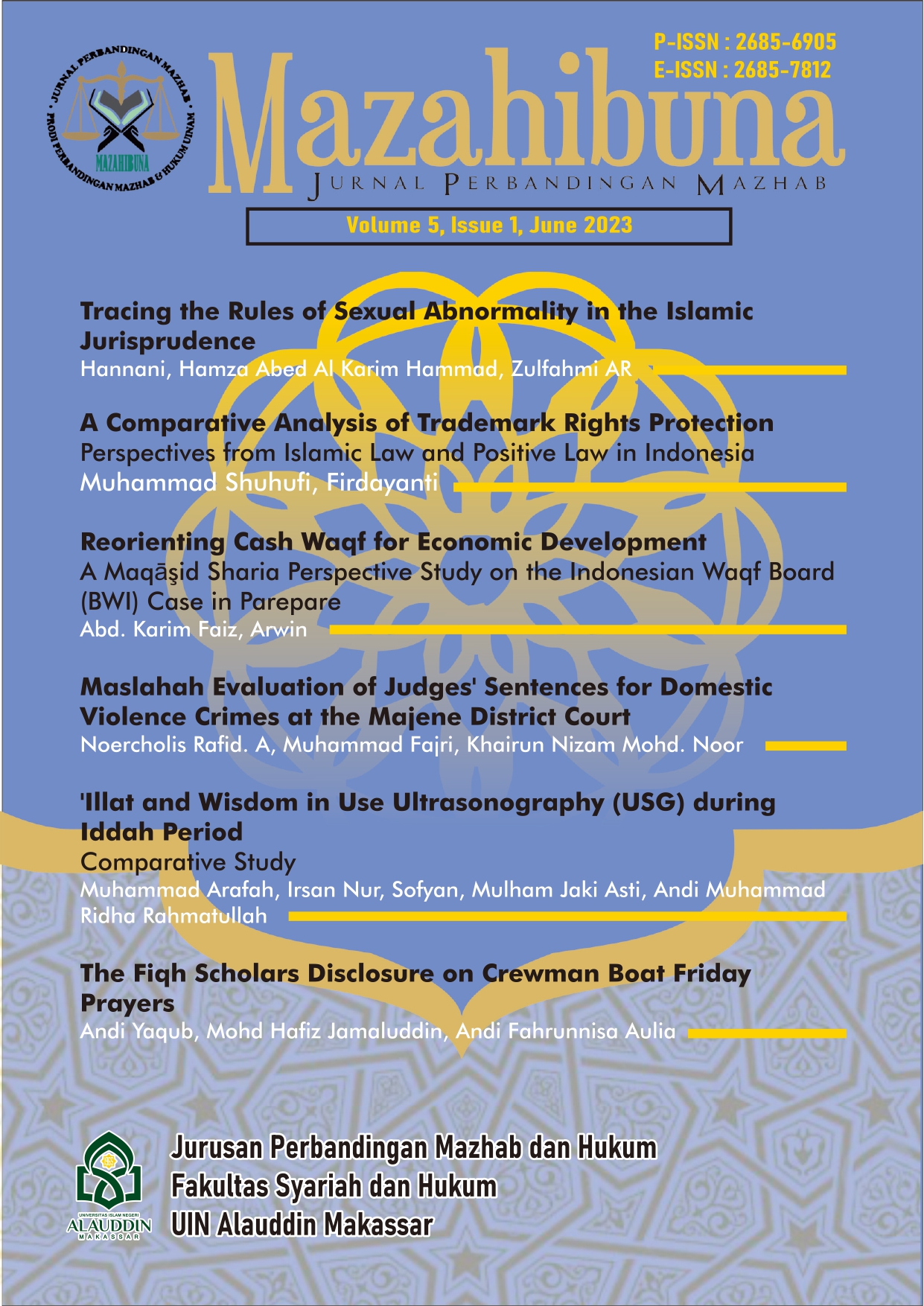 How to Cite
Hannani, Hammad, H. A. A. K., & AR, Z. (2023). Tracing the Rules of Sexual Abnormality in the Islamic Jurisprudence. Mazahibuna: Jurnal Perbandingan Mazhab, 1-16. https://doi.org/10.24252/mh.vi.35794
Copyright (c) 2023 Hannani, Hamza Abed Al Karim Hammad, Zulfahmi AR
This work is licensed under a Creative Commons Attribution 4.0 International License.

This work is licensed under a Creative Commons Attribution 4.0 International License.
Authors who publish with Mazahibuna: Jurnal Perbandingan Mazhab agree to the following terms:
Authors retain copyright and grant the Mazahibuna: Jurnal Perbandingan Mazhab right of first publication with the work simultaneously licensed under Creative Commons Attribution License (CC BY 4.0) that allows others to share the work with an acknowledgment of the work's authorship and initial publication in this journal.
Authors can enter into separate, additional contractual arrangements for the non-exclusive distribution of the published version of the work (e.g., post it to an institutional repository or edit it in a book), with an acknowledgment of its initial publication in this journal.
Authors are permitted and encouraged to post their work online (e.g., in institutional repositories or on their website) before and during the submission process, as it can lead to productive exchanges, as well as earlier and greater citation of published work.
Abstract viewed = 506 times